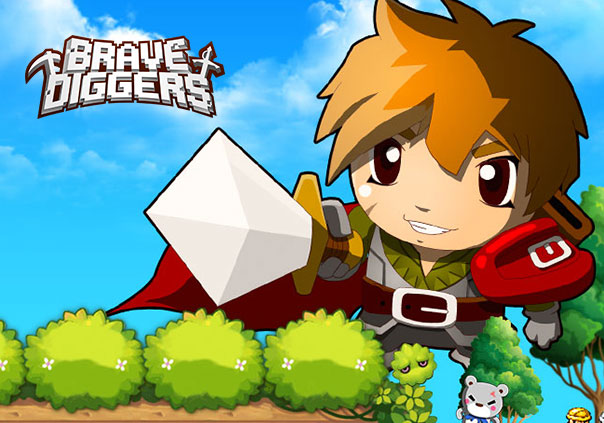 Brave Diggers is a free-to-play 2D RPG mining adventure developed by Reality Squared Games for iOS and Android. As you travel across the land you'll be able to recruit other characters to your party to help you slay any monsters that might try and stop you from acquiring the riches and gear you so desire. Some of these characters might seem a little familiar to you as well since Brave Diggers is meant to be lighthearted and parodies many different kinds of pop-culture icons and themes. Up to 25 of these exciting characters can be used at a time and over 200 can be found and collected, giving you a nearly infinite number of ways to make your party.
Don't think the game ends when you're away either. While you're busy going to practice, work, classes, or whatever else might have you tied up your diggers will be on their feet and earning you EXP, gold, and resources! Of course you can earn these things as well while you're playing the game by excavating the landscape. The resources you acquire can be used to craft new weapons that will grant your diggers even more power and new skills.
Every one of the 55 levels you come across on your adventure will grow in difficulty, providing you with an even greater challenge just when you think things can't get any tougher. New enemies and rewards will also become available with new stages.
If you've got a knack for mining and a love for adventure, Brave Diggers is just the mobile game for you to try. Collect resources, craft new weapons, and make the strongest digger party you can to obtain the glory and riches that you've always sought after!
Status: Released
Release Date: Mar 23, 2016
Business Model: Free to Play
Developer: Reality Squared Games
Publisher: Reality Squared Games
Category: Mobile
Genre(s): 2D, RPG, Fantasy, Strategy
Platforms: iOS, Android

Pros:

+Entertaining pop-culture parodies.
+Many characters to unlock.
+Numerous party combinations.

Cons:

-Tutorial isn't very informative.
-Auto-fighting that takes up time.
-Must pay to skip over auto-fights.



Recommended System Requirements:

OS: iOS 6.0 / Android 4.0 or later
HDD: 47.6 MB