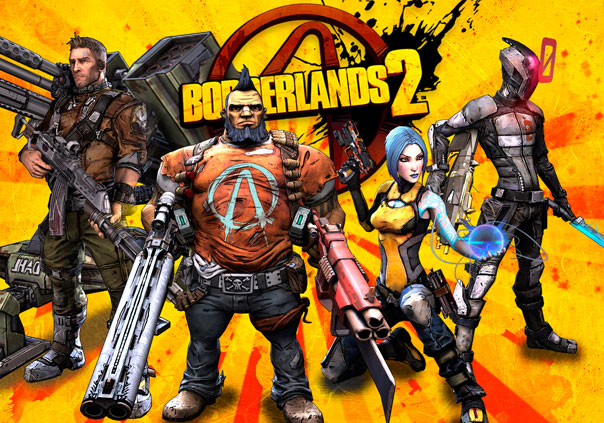 Borderlands 2 is the hit sequel to the amazing and award winning Borderlands.  Return to Pandora in this beautifully cell-shaded FPSRPG by 2K Games and Gearbox Entertainment. With an unbelievable amount of weapon combinations, arm your friends and engage in 4-player co-op. Experience quirky characters, fight off dangers at every turn, and find the truth of Pandora in Borderlands 2. Now available for PSVR.
Story
Shortly after the opening of the first Vault by the original cast of Vault Hunters, a strange alien material began appearing all over Pandora: Eridium. Capable of producing unimaginable energy, Eridium was much sought after by the CEO of the powerful Hyperion Corporation, Handsome Jack. Jack will stop at nothing to stop the new cadre of Vault Hunters from finding a second alien Vault, the Vault of the Warrior. Thankfully, some old familiar faces show up along the way to give the Vault Dwellers a helping hand.
Characters
Meet an all new cast of playable heroes, each with their own special skill, skill trees, and personalities. Play as Salvador, the Gunzerker, or perhaps Maya the Siren is more your style. Axton the turret deploying soldier will always stand his ground, and Zero, the mysterious ninja-like assassin, will go in close for the kill, or snipe from afar. Additionally two new characters showed up with DLCs: Krieg, the Psycho bandit and Gaige the Mechromancer with her powerful robot sidekick: Deathtrap.
Features
►Tiered randomly generated loot similar to Diablo, but with a whole lot of personality. No, really, some of the guns even talk to you.
►All new special attacks and a new class of weapon damage: Eridium.
►Explore an engaging storyline and encounter a whole slew of colorful characters, like Tiny Tina and Sir Hammerlock.
►Improved vehicle combat and control and vehicle focused missions.
Microtransactions
Yes, in the form of DLCs. See expansions.
Expansions
►Captain Scarlet and her Pirate's Booty – New enemies, new treasures and quests, new areas and missions. Just a whole horde of new playable content.
►Psycho Pack – Play as Krieg the Psycho Bandit and go nuts.
►Collector's Edition Pack – Cosmetic unlocks and the 'Contraband Sky Rocket Grenade'.
►Creature Slaughter Dome – You didn't think Moxxi would miss out on the fun, did you? Slay creatures to pass levels, earn loot, and gain experience, that carries back to the main campaign mode.
►Mechromancer Pack – Unlocks Gaige the Mechromancer. Deadly things come in small packages.
►Mr. Torgue's Campaign of Carnage – EXPLOSIVES?!
►Mr. Hammerlock's Big Game Hunt – Search for a crashed Hyperion ship while battling strangely mutated creatures.
►Tiny Tina's Assault on Dragon Keep – Tiny Tina wants to play "Bunkers and Badasses," and you're going to join her.
►Ultimate Vault Hunter's Upgrade Pack – Play up to level 61 (rather than the 50 from the base game) with new weapons, new gear, and more.
Status: Released
Release Date: Sep 17, 2012
Business Model: Retail
Developer: Gearbox Software
Publisher: 2K Games
Category:

Stand-alone

Genre(s):

3D, Sci-Fi, Shooter

Platforms:

PC, Mac, Steam, Xbox 360, Xbox One, PS3, PS4, Android, PSVR


Pros:

+Extensive storyline
+Four player co-op
+Uncountable numbers of weapon combinations

Cons:

-Buy-to-play game
-Not completely easy to figure out upgrades
-Not much change from the first game



Recommended System Requirements:

OS: Windows XP SP3, Vista, 7
CPU: 2.3 GHz Quad Core processor
RAM: 2 GB
GPU: NVIDIA GeForce GTX 560 / ATI Radeon HD 5850
HDD: ~20 GB



Description: Join a new crew of Vault Hunters in Borderlands 2, with twice the weapons, twice the danger, and twice the humor!
At long last one of most iconic and fascinating parts of Warcraft lore has made it to Hearthstone, the Lich King has made his arrival.
by Kings Decree
Publisher Iceberg Interactive and award-winning developer Amplitude Studios are delighted to reveal that the fantasy-strategy 4X game Endless ...
by Mikedot