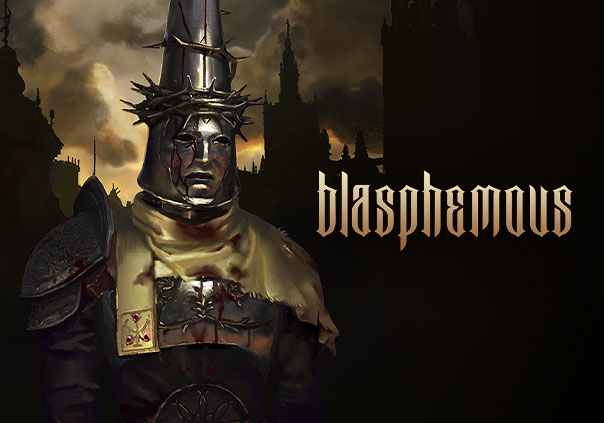 Blasphemous is a punishing, brutal Metroidvania game set in a dark, gothic world. With a sword born of guilt, the Penitent One hacks and slashes through grisly, horrific monstrosities. Players will explore open areas, discover secrets, and attempt to bring redemption to this land.
Story: Cvstodia has been ravaged by "The Miracle", which was a terrific curse, bringing sorrow and misery. The Penitent One is the only survivor and wields a mighty greatsword, Mea Culpa. This sword was forged from guilt and used to slaughter the monstrosities in his way. Cvstodia is bathing in anguish, and it's up to The Penitent One to reach the origin of all of this dread, and attempt to redeem this land, once and for all.
Features:
► A New (Open) World: The Metroidvania genre is popular, but this is a new, unexplored world. Cvstodia has plenty of areas to explore, discover new powers, and challenges to overcome.
► Retro, But Mature: Blasphemous uses the retro pixel art design seen in many Roguelikes and Metroidvanias, but opts for a more mature, brutal style of art. This helps it stand out among the other games in the genre. If you're looking for brutal executions, sickening combos, and a brutal take on religion and redemption, this is exactly what you are after.
► Customization: There's no wrong way to build The Penitent One. You will have a variety of Rosaries, Prayers, and other powers to unlock to demolish the forces of darkness.
Microtransactions: Cosmetic (Skins)
Status: Released
Release Date: Sep 10, 2019
Business Model: Free to Play
Developer: The Game Kitchen
Publisher: Team17 Digital
Category:

Stand-alone

Genre(s):

2D, RPG

Platforms:

Steam, Xbox One, PS4, Switch



Recommended System Requirements:

OS: Windows 10 (64 bit)
CPU: Intel Core i5 750 or AMD Phenom II x4 945
RAM: 4 GB
GPU: GeForce GTX 650 or Radeon HD 5770
HDD: 4 GB



Description: Blasphemous is a punishing, brutal Metroidvania game set in a dark, gothic world.
Jagex has announced the launch of the RuneScape Premier Club, a new membership package for RuneScape players.
by MissyS
RayCity is a fun racing game with has a certain 'high quality' feel to it.
by Guest
It's time for all Commanders of the military strategy game Desert Operations to face their destiny and engrave their names into the recor...
by MissyS