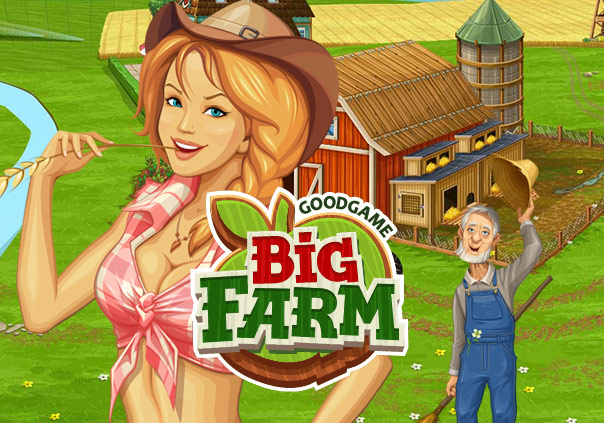 Big farm is a Farmville style farming simulator that can be played on your browser, or your iOS or Android compatible mobile device (as Big Farm: Mobile Harvest).
Story
When Uncle George wills you an old farm, it is your time to step up your farming skills and turn an untended field into flourishing farmland.
Features
►Players in Big Farm interact with their neighbors in order to set up self-sustaining and community economies.
►Prospective farmers can expand the borders of their farm, plant orchards and cash crops, and even raise livestock.
►Various events that occur throughout the year, such as UFO sightings, fairy tale festival, and of course, Christmas.
Microtransactions
Premium currency is used to advance to higher stages of gameplay.

Status: Released
Release Date: Nov 14, 2012
Business Model: Free to Play
Developer: GoodGames Studios
Publisher: GoodGames Studios
Category:

Browser, Mobile

Genre(s):

2D, MMO, Idle Gaming

Platforms:

PC, Mac, Linux, iOS, Android



Updated Browser Required.


Description: Big Farm is a large-scale, multiplayer farm simulator made in the image of Farmville. It intends to expand the genre of farm simulation and browser-based games by making farms larger scale and more involved.
Snail Games is delighted to announce that the release of "Alpha Test Drive" of Black Gold Online will take place on March 20th.
by Mikedot
Moonrise is available on Steam in its early access phases. There are plans to release the game for PC, Mac, iOS, and Android.
by Abubakr
Fairytale Distillery is offering everyone a full day of free alpha access to their fast-paced PvP focused sandbox MMORPG, Das Tal!
by MissyS