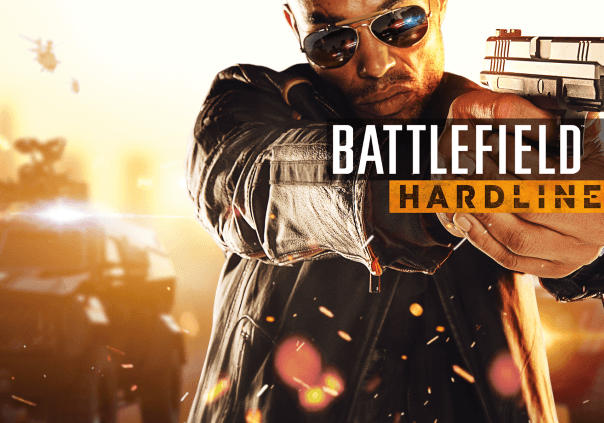 Battlefield Hardline is a multiplayer first person shooter (FPS) for PC, Xbox One, PlayStation 4, Xbox 360, and PlayStation 3. Miami is now in a full on drug war and Officer Nick Mendoza has just been promoted to detective. Alongside his partner, Nick will go on the search for the source of a drug supply chain in a series of off-the-books cases. What they find reveals just how far the grasp of corruption and power has grown.
Battlefield Hardline offers a new take on the popular Battlefield series by pitting players as cops and robbers in a modern urban environment. Themed after modern crime dramas, Battlefield Hardline features a single player narrative of law and crime along with competitive multiplayer in a variety of modes.
This installment also features Battlefield's "Levolution" mechanic, giving players the ability to drastically alter the look, feel, and playability of the map. For example, in the map Downtown players can send a construction crane crashing down onto buildings and ripping down debris, but that doesn't mean every "Levolution" event is this grand. Every map features ways to change it's playability through both small and grand-scale means.
Game modes include Hotwire, Heist, Rescue, Blood Money, Crosshair, Conquest, and Team Deathmatch. There are nine basic maps available to play on, from downtown Los Angeles to the Everglades.
Battlefield Hardline Expansions include:
Betrayal – Featuring four new maps (Alcatraz, Cemetary, Chinatown, and Thin Ice), and an assortment of gear.
Criminal Activity – Featuring four new maps (Backwoods, Code Blue, The Beat, and Black Friday), Bounty Hunter Mode, and new gear including masks.
Robbery – Featuring four new maps (Precinct 7, The Docks, Museum, and Break Pointe), Squad Heist Mode, and more gear.
Getaway – Featuring four new maps (Pacific Highway, Train Dodge, Double Cross, Diversion), Capture the Bag mode, Legendary Camo and more.

Status: Released
Release Date: Mar 17, 2015
Business Model: Retail
Developer: Visceral Games
Publisher: Electronic Arts
Category: Stand-alone
Genre(s): 3D, Shooter
Platforms: PC, Xbox 360, Xbox One, PS3, PS4


Recommended System Requirements:

OS: Windows 8 64-bit
CPU: Intel Quad-Core CPU, AMD Six-Core CPU
RAM: 8 GB
GPU: AMD 290, Nvidia GTX760 with 3MB RAM
HDD: 60 GB