*Note: This game has been cancelled or shut down and isn't available for play.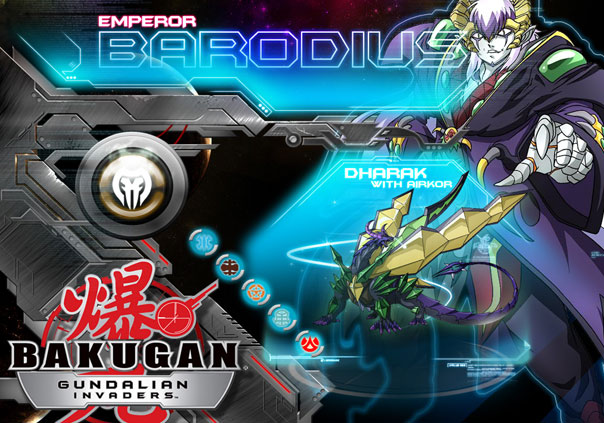 Bakugan started as an anime and eventually morphed into a mutli product franchise. Next came toys, single player video games, and finally a free to play MMORPG. Players can sign up and chose from six sets of starter Bakugans. To get new monsters to fight with, players can enter the code found on Bakugan toys and start using them in Bakugan Dimensions. Unlike the similarly themed Nanovor, Bakugan Dimensions is a browser based game that doesn't require a separate download.

Bakugan Types:

Pyrus – The Aggressive attribute of Fire. Pyrus Brawlers use fast attacks and attacks that ignore defense. Pyrus Bakugan also increase their fighting power throughout a battle.

Subterra – The powerful attribute of Earth. Subterra Brawlers use slow, but devastating, attacks at close range. Their strong, earthen durability gives them high defense.

Haos – The wise attribute of Light. Haos Brawlers know the importance of a strong defense. They lure their opponents in and strike hardest when they seem the weakest.

Darkus – The hidden attribute of Darkness. Darkus brawlers use Gates to exhaust their enemy while building their own power base.

Aquos – The flexible attribute of Water. Aquos brawlers shape both themselves and the environment to suit the needs of the battle.

Ventus – The quick attribute of Air. Ventus brawlers are always on the move. They use their incredible speed and mobility to both avoid their enemies and attack faster.

Status: Shut Down
Business Model: Free to Play
Developer: Flying Lab Software
Publisher: Spin Master
Category:

Browser

Genre(s):

2D, MMO

Platforms:

PC


Pros:

+Franchise includes an anime and toy line.
+Easy to learn.
+Battle against other players or NPCs.

Cons:

-Repetitive attack animations.
-Slow paced battles.
-Repetitive combat.



Recommended System Requirements:

Any up-to-date modern web browser.



Description: Bakugan Dimensions is a 2D browser based Sci-Fi game where players train and battle monsters called Bakugans. The game is aimed at children, but offers simple gameplay that anyone can enjoy. Brawl using three Bakugan at a time against other players or NPC opponents.
With a show floor full of space shooters, including the titanic Dreadnought and Elite: Dangerous, it was too easy to overlook Infinium Strike.
by MissyS
May Festival arrives in Digimon Masters, along with limited edition Digimon.
by MissyS