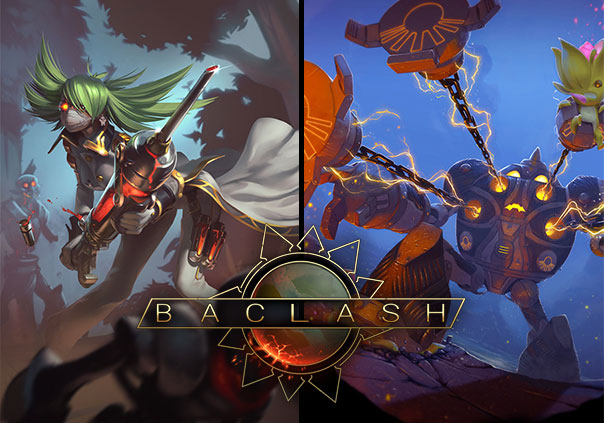 BAClash is a free-to-play mobile MOBA developed by Feerik Games for iOS and Android. In BAClash players can enjoy a fast-paced, player-versus-player gaming experience in short matches all from the convenience of their mobile devices.
BAClash's map is a classically typical MOBA map involving 3 different lanes, towers in each lane, and enemy bases on opposing ends of the lanes to be destroyed for victory. Jungle camps are also dispersed throughout the map that can be taken over to give you an edge in the game.
What makes BAClash different from most other mobile MOBAS is its control scheme. The game is played entirely from a top-down orientation of the game map where you will use slide-and-release mechanics to glide your mercenary pieces from one position to another, creating a fairly unique way for you to interact with a MOBA setup. The game is also turn-based, allowing you brief moments to plan out your strikes before you initiate them so you can effectively move your units in a particular direction as far as you'd like.
Clans also play an important role in BAClash. By joining clans you can trade tips with other players, strategize together, and work as a group to top the PvP charts and become known as one of the best clans in the game. You'll be able to trade spells with clans members and other players too, giving you even more possibilities to customize your gameplay.
If you've been intimidated in the past by other MOBAs that either have long match times or complex systems, then BAClash might be the MOBA for you. With its simplistic control-scheme and quick matches, you'll be learning how to play and conquer your foes in no time!
Status: Released
Release Date: Jun 25, 2016
Business Model: Free to Play
Developer: Feerik Games
Publisher: Feerik Games
Category:

Mobile

Genre(s):

3D, MOBA, Fantasy

Platforms:

iOS, Android


Pros:

+Unique mechanics.
+Fast gameplay.
+Short match times.

Cons:

-Shortness of matches takes away from some of the strategy.
-Very small community.



Recommended System Requirements:

OS: Android 2.3 / iOS 6.0 or later
HDD: 104 MB



Description: BAClash is a free-to-play mobile MOBA developed by Feerik Games for iOS and Android where players can take mercenaries into heated, quick matches with slide-mechanics that require precise aim and power.
Das Tal's Kickstarter has come to an unfortunate close, only reaching around $33,000 of its $50,000 goal.
by MissyS
Those who pre-order Civilization VI will exclusively gain early access to the Aztec civilization.
by MissyS