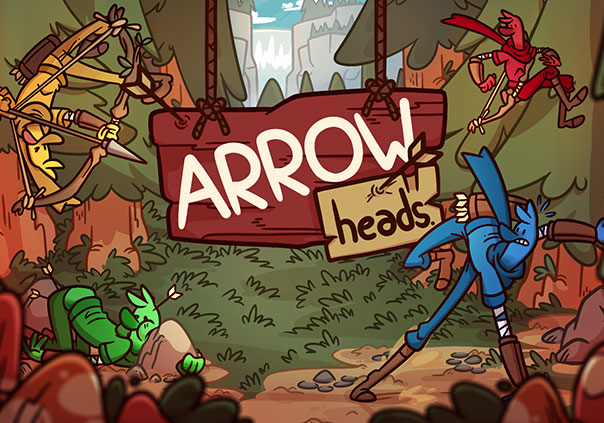 Arrow Heads is an upcoming 3D MOBA shooter developed by OddBird available for purchase on PS4, Xbox One, and on Steam for PC.  With a fun art style and exciting level of competition, Arrow Heads won both Best Overall Game and Artistic Achievement at the 2016 Level Up: Student Showcase. It was also the winner of the 2016 ESAC Student Game Competition. In Arrow Heads players wield only bows, using them to shoot arrows at their opponents while dodging and deflecting the hail of arrows that their opponents are firing towards them.
Battles are conducted in arena-like, chaotic environments where there are interactable elements that make every battle even more dynamic. Learn your battlefields and what interactable objects are on each one that you can use to your advantage. In every match arrows are unlimited for everybody participating, meaning you're going to be dodging and firing arrows as fast as you can if you want to keep up with your opponents.
Whether you're looking for cooperative gameplay or somewhere you can prove your archery skills to your friends Arrow Heads has you covered. Battle against a range of enemies in the cooperative 1-4 player wave challenge or fight against other players in competitive local or online 2-4 player battles. Collect power-ups in the midst of battle to gain new effects and an edge on the competition. As you play you can unlock different characters, bows, and arrows to customize your look and ensure your opponents remember the face of their ultimate rival.
Test your skills behind the bow in Arrow Heads and become the master archer you've always wanted to be. Show your friends just what you can do once you've got a bow and arrow in your hands!
Status: Pre-Release
Release Date: Sep 21, 2017
Business Model: Retail
Developer: OddBird
Publisher: OddBird
Category: Stand-alone
Genre(s): 3D, MOBA, Shooter
Platforms: PC, Steam, Xbox One, PS4


System Requirements not yet known.