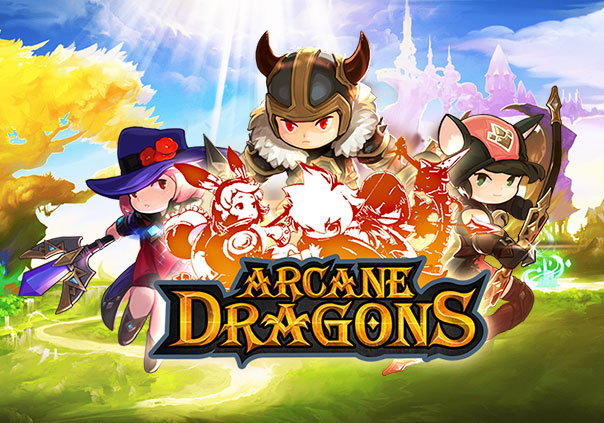 Arcane Dragons is a free-to-play mobile fantasy action RPG developed by Redbana Us Corp. for iOS and Android devices. In Arcane Dragons humans and monsters used to live in harmony with one another, but that clearly isn't the case anymore. It becomes the players job to act as a village defender and protect its people from the aggressive dragons that no longer seek a peaceful living.
Players can be one of three different classes: Archer, Wizard, or Warrior. Archers use a bow to damage enemies from afar, but are susceptible to anything that can close the gap between them. Wizards are intended to deal massive damage and give the party utility options. Warriors specialize in leading the party into combat, dealing damage and taking the brunt of the fight onto their shoulders.
By forming a party with other players, you'll be able to tag-team dungeons and the bosses at the end of them. Strategizing will be key in being victorious, so by forming a party you'll have more strategic options and chances to combine your skills for exciting combos! Throughout your adventures you'll earn new equipment that you can put on to change your appearance and strengthen your character. Costumes are also available to alter the appearance of your character further, helping set you apart from everybody else!
Don't think you're only limited to partying with players though. When you feel you're up to the challenge you can play in PvP battles with your friends and foes. If you're more of a lone wolf you can fight in 1v1 battles, or if you enjoy the dynamics of a full party you can jump into 3v3 battles. Climbing through the ranked leaderboards will be just another exciting way for you to get involved in the community.
Only you have the power and courage to help your village. Will you fall short of everyone's expectations or rise to the challenge with your elite combat skills?
Status: Released
Release Date: Nov 30, 2016
Business Model: Free to Play
Developer: Redbana Us Corp.
Publisher: Redbana Us Corp.
Category:

Mobile

Genre(s):

3D, RPG, Fantasy

Platforms:

iOS, Android


Editor's Score: 4/5

Pros:

+A lot of fun with friends.
+Fun and playful character design.
+Smooth gameplay.

Cons:

-Pay to win system.
-Few classes to select from.



Recommended System Requirements:

OS: iOS 6.0 / Android 3.0 or later
HDD: 134 MB



Description: Arcane Dragons is a free-to-play mobile fantasy action RPG where players can fight off aggressive dragons and protect their village from harm! Will you rise to the challenge and keep everyone safe with your combat skills or fall short of everyone's expectations?
Manifest, the first book in The Fairy's Tale series is now available on Amazon and Kindle Unlimited.
by NWOrpheus
It seems like a lot of new games today have either very limited or no Player versus player (PvP) options, which can be quite frustrating.
by Guest