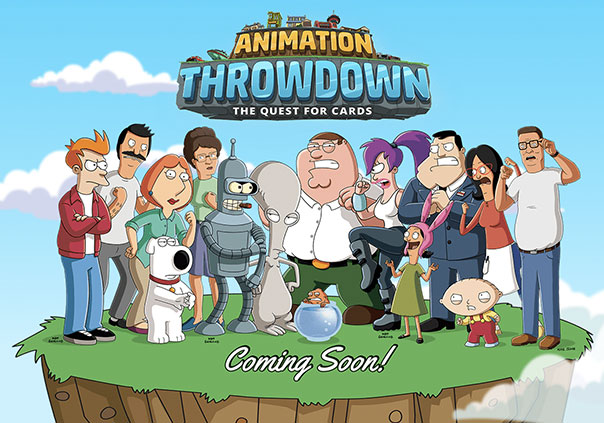 Animation Throwdown: TQFC
Animation Throwdown: TQFC (The Quest For Cards) is a free-to-play CCG developed by Kongregate for Android and iOS. Animation Throwdown: TQFC features some of your favorite characters from animated shows like Bob's Burgers, Futurama, American Dad, and Family Guy in a whacky, hilarious collectible card game!
By assembling your deck from hundreds of your favorite characters you'll be able to create a seemingly infinite number of possible attack combos that fit your playstyle with the characters you've grown to love. After all, who wouldn't want to see Lois Griffin and Linda Belcher duking it out?
Singleplayer mode will help you get a grasp on how the game is played and walk you through many different moments and locations from your favorite episodes of five different shows. In Multiplayer mode you can take on players from around the globe in the Arena, pitting your customized deck against theirs to see who is best fit to lead their cartoonish line-up to victory! To beef your deck up even more you'll be able to upgrade your cards as you gain experience. Card fusions can also take place, pushing your characters' strengths to even more impressive heights!
The fate of the world might not truly rest in your hands, but Stewie Griffin, Tina Belcher, Hank Hill and more are still waiting for your help. Collect, fuse, and battle to help them achieve victory in Animation Throwdown: TQFC, but try to not drop your phone in the process from laughter!
Status: Released
Release Date: Jul 21, 2016
Business Model: Free to Play
Developer: Kongregate
Publisher: Kongregate
Category: Mobile
Genre(s): 2D, Fantasy, Strategy
Platforms: iOS, Android

Pros:

+Fun, new way to experience favorite characters.
+Hilarious, good fun.
+Responsive developers.

Cons:

-Punishing energy timers and drop rates.
-Two hour timer on arena battles.
-Lacks complexity.



Recommended System Requirements: