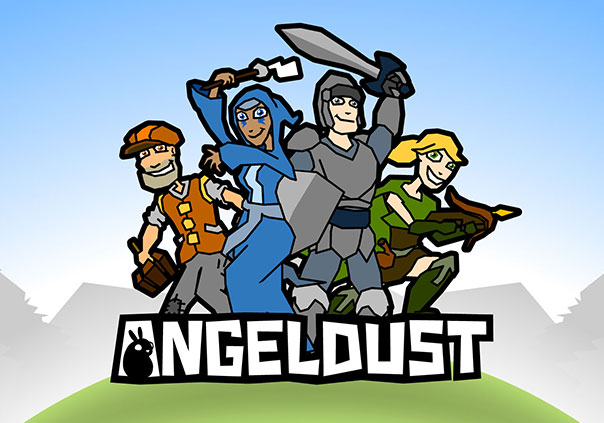 Angeldust is a free-to-play fantasy RPG developed by Frank Lucas for PC, Mac, Linux, iOS, and Android and is available for purchase on Steam Early Access. In Angeldust players can explore endless magical worlds where they can create, build, and adventure alongside friends.
Players will assume heroic role as a builder, fighter, scout, or sorceress and become the legend they've always been destined to be by crafting their worlds in the ways that they see fit. Each type of hero is also completely voice acted, meaning you'll never be at a loss for words and each class can be swapped to at any time in the game depending on your needs.
Players will be able to craft worlds in two different modes. By activating their Angeldust account they will be able to play with friends and millions of other players online, whereas 'alone'-mode can be used to build and explore game worlds entirely by themselves. Even your sign-in screen can be customized to your liking. In your games there will be over 250 different kinds of creatures to encounter and defeat, over 200 different tastefully designed materials for you to build with, and more than 25 different kinds of landscapes for you to explore like Marble Hills, Snowy Mounds, and Floating Sands. Your home can be built from materials you've acquired from the game's shop or from the outside world. As your wealth increases you'll find yourself acquiring even more expensive materials to really make your house stand out. Angeldust even includes over 200 levels of difficulty which will ensure that players of all skill levels will have a challenge to overcome.
Unleash every aspect of your imagination, construct fantastic buildings, and make new friends in Angeldust!
Status: Pre-Release
Release Date: Nov 18, 2016
Business Model: Free to Play
Developer: Frank Lucas
Publisher: Metagaming B.V.
Category: Stand-alone, Mobile
Genre(s): 3D, RPG, Fantasy
Platforms: PC, Mac, Linux, Steam, iOS, Android

Pros:

+Friendly community.
+Unique visual style.
+Don't need an expensive computer to play.

Cons:

-Controls a bit difficult to use on mobile.
-Mostly re-skinned creatures.
-Not enough to do in-game yet.



Recommended System Requirements:

OS: Windows XP / OS X 10.6 / Android 2.3.3
CPU: 1.0 GHz
RAM: 128 MB
GPU: 32MB VRAM, OpenGL
HDD: 256 MB