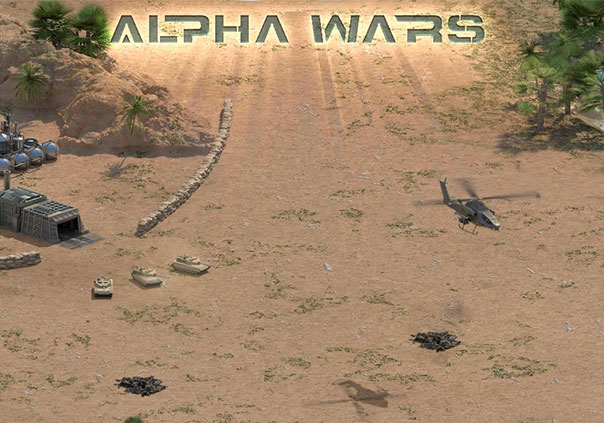 Alpha Wars is a free-to-play military strategy game developed by Studio Hoppe and can be played in compatible Internet browsers. In this RTS you will start with just a few simple units, tasked with finding your own base of operations and growing your power by whatever means necessary. Creating and nurturing your industry will help your armies grow in both numbers and strength, giving you a better chance at taking over new areas. However, watch out for other eager players looking to do the same thing. After all this is how the wars started and it doesn't look like they're going to end any time soon.
The emphasis for strategy in Alpha Wars is greater than most RTS games. Instead of the game ending for you once you've logged out the world stays very much alive with other online players eager to take over anyone who hasn't set their base up with the proper defenses. Make sure you take the time to increase your fortress' strength with different structures and units that will keep it safe while you're gone.
Combat in Alpha Wars is as intuitive as it gets. All you need to do is select the units you want and click on the enemy you want them to attack. The game map can be explored at any time so you can see what other areas are enduring heated conflicts in real time! Keep your eyes on your map so you know who to attack when they're weak and when to fortify your base because you expect an incoming attack from rampant players.
With the simple goal of expanding your influence as far as you possibly can, but the depth of very strategic choices and persistent gameplay Alpha Wars will draw you in with the addictive quality of creating a militaristic empire! Just how far are you willing to go to become the dominant force in the world?
Status: Released
Business Model: Free to Play
Developer: Studio Hoppe
Publisher: Studio Hoppe
Category:

Browser

Genre(s):

3D, Strategy

Platforms:

PC, Mac, Linux


Pros:

+Simple interface.
+Good graphics.
+Strategic choices pay off.

Cons:

-Gameplay feels repetitive.
-Too small of a community.
-Hard to compete with premium players.



Browser with Internet connection required.


Description: Alpha Wars is a free-to-play military strategy game where players can set up their base of operations and fight to expand their influence. Create powerful units, set up your defenses for while you're away, and do whatever it takes to become the dominant force in the world!
Snail announced the next chapter in its popularly acclaimed Age of Wushu title with the reveal of a new upcoming mobile version known as Age o
by DizzyPW
The newest expansion for Blizzard's CCG Hearthstone is now live: The Witchwood! 135 new cards come to the game with the new Year of the R...
by Ragachak