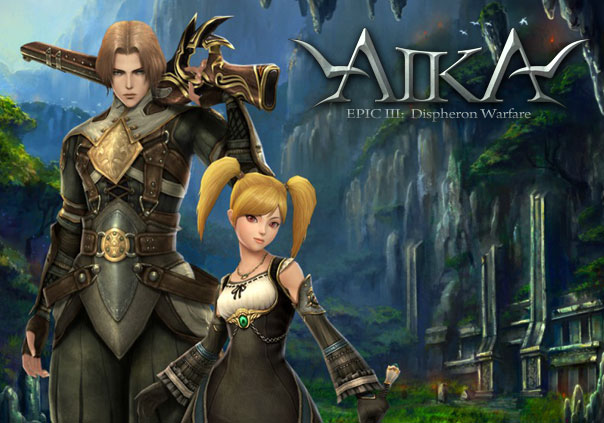 Aika is a PvP heavy free fantasy MMORPG that closely resembles the PvP elements in pay to play MMORPGs like Dark Age of Camelot and Warhammer Online. Perhaps the most interesting aspect of the game's Realm vs Realm battles is that the game can handle up to 1000 vs. 1000 battles, which is quite a feat as the game has beautiful graphics and effects. Aika is actually one of the first free to play MMORPGs with a large scale Realm vs Realm system and the first to actually have solid, genuinely fun gameplay. With many playable classes, a unique 'Pran' pet system and many more interesting features, Aika is certainly well worth checking out. The game's six playable classes are:
Fighter (M) – Like in most other MMORPGs, the fighter in Aika is a powerful melee oriented class. They have high hitpoints and defense and make great tanks. They wear metal armor.
Dual Gunner (F) – Dual Gunners specialize in mid-range DPS and Damage over Time skills. They wear leather armor.
Warlock (M) – Warlocks are the primary offensive spellcasters in Aika. They can deal quite a bit of damage with their spells, but have low hitpoints and defense. They wear cloth armor.
Paladin (F) – Paladins are a mix between warriors and clerics. They are capable fighters as well as a good supporting class. They wear metal.
Rifleman (M) – They specialize in dealing damage from a long distance, making them the ideal long-range DPS class. They wear leather armor
Cleric (F) – They are the primary supportive class in Aika. They are incredibly helpful to any party as they have both healing and supportive skills. They wear cloth armor.

Status: Released
Release Date: Jun 08, 2009
Business Model: Free to Play
Developer: JoyImpact
Publisher: T3Fun
Category:

Stand-alone

Genre(s):

3D, MMO, RPG, Fantasy

Platforms:

PC


Editor's Score: 2/5

Pros:

+Impressive PvP System (1000 Vs. 1000 RvR).
+Interesting 'Pran' pet system.
+Excellent voice overs.

Cons:

-Gender locked classes.
-Limited character customization options.
-Simple Point and Click Combat



Recommended System Requirements:

OS: Windows 2000 / XP / Vista
CPU: Pentium4 1.8GHz
RAM: 1 GB
GPU: Videocard with 256MB of VRAM
HDD: 1 GB



Description: Aika is a 3D Fantasy MMORPG with a strong emphasis on Realm vs Realm PvP combat. Fight for your nation in the game's epic Realm vs Realm system with up to 1000 vs 1000 player battles.
If you missed the livestream for Magic: The Gathering Arena, fear not, because we have a few of the most important bits here!
by Ragachak
Digital Extremes is proud to announce that with their sixth anniversary approaching, they are close to 50 million registered users.
by Ragachak
Warframe® began support for Steam Controller and recently joined Steam Workshop.
by MissyS