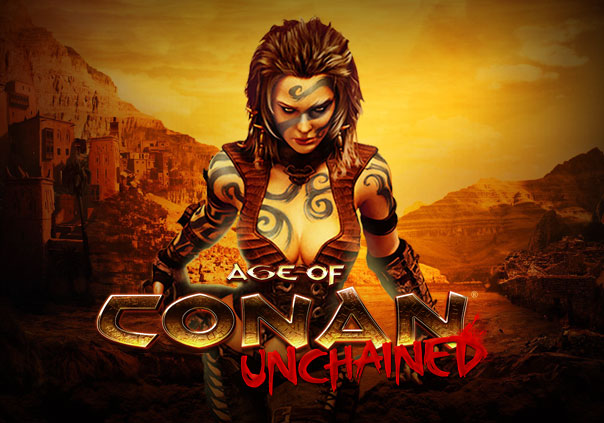 Age of Conan: Unchained boasts a combat system that gives the game a very unique feel. Players feel very much connected to their character in combat, as well as throughout the game. This combined with a strong storyline, complete character customization, and breathtaking graphics make Age of Conan a wonderfully entertaining and addictive title. Players are allowed to choose from three races: Aquilonian, Cimmerian, or Stygian. Each race offers three of the four class archetypes: (Each class archetype contains multiple playable classes)

Rogue: The rogue archetype is collection of high damage, low defense classes. Adept at sneaking around and dealing large amounts of damage, rogues are fragile and rely on avoiding be hit as much as possible.
(Playable classes: Assassin, Ranger, Barbarian)

Soldier: Soldiers are the up close and personal melee category of Age of Conan characters. They are capable of being proficient in both offensive and defensive situations, allowing soldiers to be the tanks of the Age of Conan.
(Playable classes: Guardian, Dark Templar, Conqueror)

Mage: The offensive casters of the game. Mages in Age of Conan use their magical abilities to devastate enemies. Like rogues, their damage comes at the cost of their survivability.
(Playable classes: Necromancer, Herald of Xotli, Demonoglist)

Priest: Priests are the supporting casters of Age of Conan. Healing, buffing, group utility, and even some offensive abilities appear in the priest's arsenal, allowing them to play a very important role in end game content.
(Playable classes: Priest of Mitra, Bear Shaman, Tempest of Set)

With Twelve playable classes, and one of the most detailed character creation processes in the MMORPG market give each player the chance to create something unique and add their own personal flavor to the game play.

Note: Age of Conan is rated 'M' for Mature. This game has a lot of violence and Boobs.

Status: Released
Release Date: May 20, 2008
Business Model: Free to Play
Developer: Funcom
Publisher: Funcom
Category:

Stand-alone

Genre(s):

3D, MMO, Adventure, RPG, Fantasy

Platforms:

PC, Xbox 360


Pros:

+ Great visuals
+ Voice acted quests
+ Powerful storyline

Cons:

- Tedious amount of abilities / key binding
- Steep learning curve
- Lackluster quest rewards



Recommended System Requirements:

OS: Windows XP & Up
CPU: Pentium 4 / AMD Athlon x2 4800+ or Better
RAM: 2 GB+
GPU: Any 256 MB DirectX 9.0c complaint card (Nvidia 7800 GT +)
HDD: 27 GB Free



Description: Age of Conan: Unchained is a 3D fantasy MMORPG with a well developed story line, stunning graphics, and a unique combat system and set in the sexy, savage and brutal world of Conan the Barbarian
Black Desert's Xbox One release received a new update today, which is free for all players.
by Ragachak
Meta description preview: The Elder Scrolls Online has today launched Update 11: Shadows of Hist on PC/Mac.
by MissyS