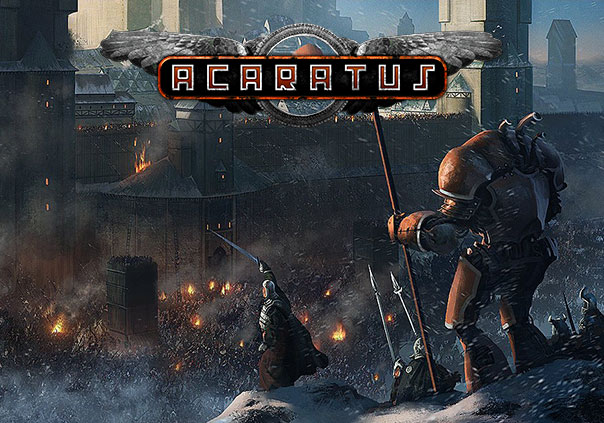 Acaratus is a buy-to-play tactical RPG developed by NODBRIM INTERACTIVE set in a medieval steampunk world where you will fight to take down an oppressive Emperor named Helios. How you might ask? With none other than your trusty mechanized battle suits and your own strategic knowledge!
Since the Valerian Conflict ended the land has been taken over by emperor Helios, who has lead with a strong hand. One might say too strong of a hand. A rich slave dealer called Adina has unwillingly become the leader of a small rebellion against the oppression of Helios, starting to recruit slaves to fight back. They are attempting to set an example of human rights, but they need someone like you to help them reach the peak of their potential if they wish to succeed.
Battles in Acaratus are turn-based with a timer that defines how long you have for your turn. Each unit has its own abilities that can use up stamina, so you'll have to choose wisely as to when you want to use what skills. Cards can also be played to enhance abilities of your units or give them buffs before your turn has ended, strengthening them up for attacks or defense.
Before combat you can decide on what units you want to bring into battle with you. There are only six that can be brought along, so choose wisely! Each unit can be customized with different steampunkish bits and pieces to your heart's content. Units will become specialized as their capabilities change with the swapping of these parts, meaning you can customize them for any situation you can predict.
If you're looking for a game that gives you great control over units and lets you fight for the freedom that you deserve, then look no further. Join up with Adina, help the rebellion, and take down emperor Helios!
Status: Pre-Release
Release Date: Feb 25, 2016
Business Model: Retail
Developer: NODBRIM INTERACTIVE
Publisher: NODBRIM INTERACTIVE
Category:

Stand-alone

Genre(s):

3D, RPG, Strategy

Platforms:

PC, Steam


Editor's Score: 2/5

Pros:

+Quick matches nice for people crunched for time.
+Simple UI that's easy to pick up.
+Tons of potential.

Cons:

-Lacks information on some game aspects.
-Typical early development bugs.



Recommended System Requirements:

OS: Windows 7/8/10 (64 bit)
CPU: Intel i5 series or AMD equivalent
RAM: 2 GB
GPU: NVIDIA 1 GB VRAM
HDD: 3 GB



Description: Acaratus is a buy-to-play tactical RPG where players can fight with mechanized battle suits and defeat an oppressive emperor! Join up with Adina and help the rebellion by customizing your own steampunkish units to take into battles with you!
Welcome to part 2 of MMOHuts Galactic Drop WildStar reveal. Because if you can fit everything in a Galactic Drop reveal in a single article, y...
by DizzyPW
InnoGames announces the release of Thracian Conquest, a new event for its Strategic cross-platform game Grepolis. Players will be able to part...
by Mikedot