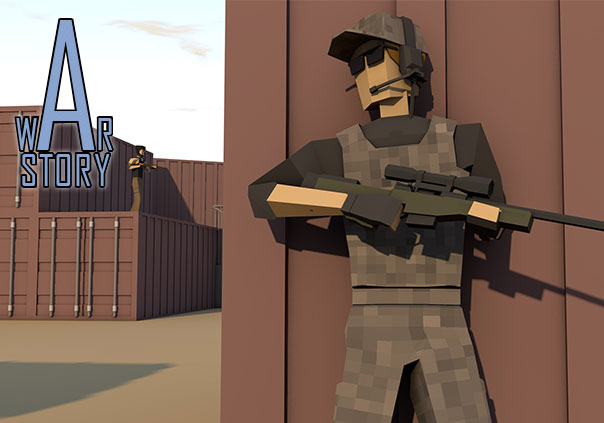 A War Story is a low poly first-person shooter developed by Partical Studios for PC and is available for purchase on Steam. The game is still in a very early development stage and doesn't have many features, but in A War Story there are two different kinds of gameplay to take part in: singleplayer and multiplayer which can be enjoyed by yourself or alongside your friends.
In singleplayer mode there is a group of terrorists making plans to blow up the city. You take on the role in the short campaign as one of the best soldiers of a mercenary team, fighting to foil their plans. By destroying the terrorists' bombs and their nuclear bomb plans you can successfully save the city in this short story.
Multiplayer mode features a deatmatch type of gameplay where players will battle for the most kills to secure victory. Start in the lobby outside of the match where you can set up your game and invite any of your friends. Finally settle once and for all which of your friends is the better shooter!
The terrorists are making their move and gearing up to destroy the city. Only you and your band of mercenaries can bring them down and save the civilians. Fight for what is right, then take your fight online to prove your worth against other eager mercenaries in A War Story!
Status: Released
Release Date: Oct 13, 2017
Business Model: Retail
Developer: Partical Studios
Publisher: Maruf ARTUKOĞLU
Category: Stand-alone
Genre(s): 3D, MMO, Shooter
Platforms: PC, Steam

Pros: Cons:

-Lack of support.
-Little singleplayer content.
-In too early of a stage for release.
-Poorly optimized.



Recommended System Requirements:

OS: Windows 10
CPU: Intel Core i5 3470 @ 3.2GHZ (4 CPUs) / AMD X8 FX-8350 @ 4GHZ (8 CPUs)
RAM: 2 GB
GPU: NVIDIA GTX 660 2GB / AMD HD7870 2GB
HDD: 500 MB