*Note: This game has been cancelled or shut down and isn't available for play.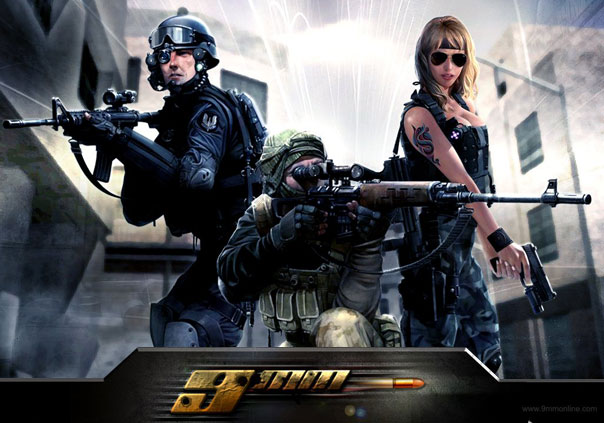 9mm Online is a fast-paced tactical MMOFPS game by Uforia. Choose from one of the game's factions, level up, and customize your character. Unlike other MMOFPS games that are very linear and have limited character customization, 9mm Online has a great deal of emphasis on individual character growth – much like a traditional RPG. Players can increase their stats like speed, accuracy and health every time they level up. Gameplay-wise, 9mm Online doesn't deviate from the norm, as it has many of the popular game modes of other titles and practically the same mechanics.
The five game modes are:
Team Deathmatch – Two teams face-off and whichever team reaches the required number of 'kills' first wins. This is one of the most popular game modes in 9mm Online.
Plant the Bomb – This game mode is identical to Counter Strike, as one team wins by planting and detonating a bomb and the other wins by preventing the first team from ever planting the bomb or defusing it before it detonates. Nearly every MMOFPS has this exact same game mode.
Mercenary Team Deathmatch – This is exactly the same as 'Team Deathmatch', but has some AI controlled players on each team. It's a great way to keep playing when few people are online. Win by reaching the set number of kills before the opposing team.
Destruction Race – This is by far the most 'original' game mode in 9mm Online. Each of the two teams have a number of destroyable targets on their side of the map. Whichever team eliminates the opposing side's targets first wins.
Free For All – As the name implies, the 'Free For All' mode involves no teams and is by far the most chaotic mode. It's every man for himself.
The game is planned for release in Korea. There is no confirmation yet if the game will come to the West.

Status: Shut Down
Business Model: Free to Play
Developer: Funizen Solutions Pvt Ltd
Publisher: Funizen Solutions Pvt Ltd
Category: Stand-alone
Genre(s): 3D, MMO, Shooter
Platforms: PC

Editor's Score: 1/5

Pros:

+Unique 'stat' growth system.
+Detailed player ranking system with over fifty ranks.

Cons:

-Few game modes.
-Very similar to other MMOFPS games.
-Gameplay feels awkward.
-Many, many bugs.
-Few unique weapons in the store.



Recommended System Requirements:

OS: Windows XP / Vista / 2000
CPU: Intel Pentium 4 2.5 Ghz
RAM: 1024 MB
GPU: Geforce6 Series GPU or ATI Equivalent
HDD: 2.0 GB Free