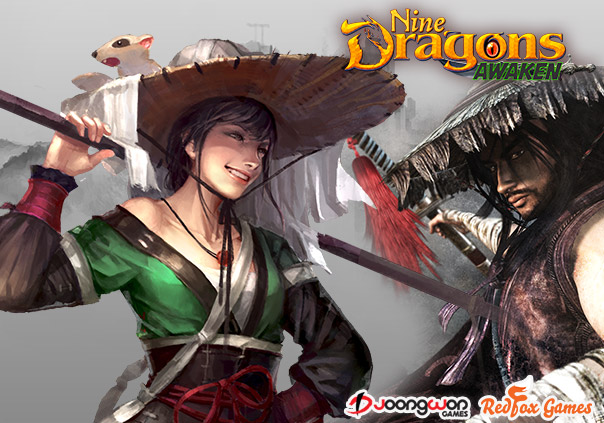 9Dragons may seem like a traditional fantasy MMORPG but it has quite a few unique characteristics that make it stand out. During character creation you do select which starting location you prefer, with each of the 6 choices representing the base of one of the six clans, but it is not until level 25 that players chose their class. While there are four basic class types, each of the clans has a different name for them. Below is a short description of each class type, what each clan calls them and what weapon is preferred by each class:
Warrior: Masters of close quarter combat, warriors excel at dealing heavy damage directly to their opponent. Their main stats are Constitution, Dexterity, and Strength.
Strategist (Healer): Healers are the support class of their clan. They possess both healing and buffing spells with which to aid their allies. Their main stats are Essence and Wisdom.
Chi Kung Artist (Nuker): Chi Kung Artists are the masters of magic. They have by far the most damage potential but are frail in melee combat. Their main stats are Essence and Wisdom. Currently, Chi Kung Artists are the most powerful PvP class.
Holist (Hybrid): Holists are the jack of all trades who can stand toe to toe with their enemies but also have healing and supportive skills. Essence and Constitution are their primary stats.
White Clans

Shaolin (male only)

Luohan Monk (Warrior) Polearms
Diamond Monk (Healer) Gloves
Exorcist Monk (Nuker) Bracers
Deva Monk (Hybrid) Gloves

Wu Tang

Blue Dragon (Warrior) Swords
Red Phoenix (Healer) Gloves
Black Tortoise (Nuker) Bracers
White Tiger (Hybrid) Gloves

The League of Beggars

Vanguard Beggar (Warrior) Staves
Strategy Beggar (Healer) Gloves
Dragon Beggar (Nuker) Bracers
Spirit Beggar (Hybrid) Gloves
Black Clans
Sacred Flower (female only)

Mistress of War (Warrior) Flying Wheels
Mistress of Heaven (Healer) Daggers
Mistress of Spirit (Nuker) Bracers
Mistress of Cloud (Hybrid) Daggers

Heavenly Demon

Blood Demon (Warrior) Sabers
Phantom Demon (Healer) Gloves
Storm Demon (Nuker) Bracers
Fire Demon (Hybrid) Gloves

The Brotherhood of Thieves

Warrior Bandit (Warrior) Spears
Strategist Bandit (Healer) Axes
Armored Bandit (Nuker) Bracers (weapons that aid in energy channeling)
Taishan Bandit (Hybrid) Axes
Status: Released
Business Model: Free to Play
Developer: Joon Gwon Games
Publisher: RedFox
Category:

Stand-alone

Genre(s):

3D, MMO, RPG, Fighting

Platforms:

PC


Editor's Score: 3/5

Pros:

+Great skill system.
+Each clan has slightly different versions of the 4 class types.
+Innovative mini games.

Cons:

-Too much game text.
-Limited graphic settings.
-Unhelpful tutorial, poor quests.



Recommended System Requirements:

OS: Windows XP / Vista
CPU: Pentium 4 2.4GHz or higher
RAM: 1 GB
GPU: N/A
HDD: 2.0 GB Free



Description: 9Dragons is a 3D oriental fantasy MMORPG set in ancient China. Join one of 6 clans and master the various Kung Fu arts. 9Dragons emphasizes martial arts and has a very fluid combat system.
Global game publisher Reality Squared Games (R2Games) has just updated the official teaser site for Stormthrone: Aeos Rising, giving players a...
by Mikedot
Poppermost Productions releases a new patch and video update on their freeform skiing title, SNOW, currently available on Steam Early Access.
by DizzyPW
League of Legends announces a seven hour Q&A session for its community regarding its latest champion, Braum.
by MissyS