*Note: This game has been cancelled or shut down and isn't available for play.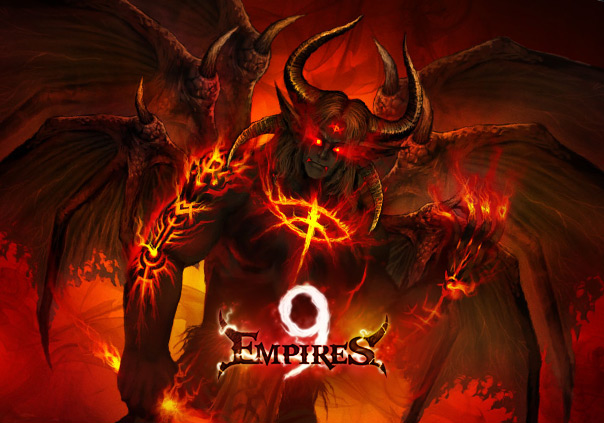 9 Empires is a fantasy themed browser MMO with strategy and RPG gameplay elements. Construct various buildings to expand the size of your city while traveling across the world and battling monsters in turn-based combat. 9 Empires has quest driven progression, and encourages players to join or form Legions where they can work together against rival alliances. Each of the nine playable races has unique units, bonuses, and weaknesses. Troops must be lead by heroes, and players have the option of manually controlling their units in combat or letting the battle unfold automatically.
Playable Races – Human, Elf, Highlander, Underworld, Undead, Subterranean, Orc, Sirens, Spirit
Deities – Aruemar – God of War, Meshayna – God of Wisdom, Fiona – Goddess of Light
Resources – Lumber, Ore, Sulphur, Mercury, Crystal, Gem, Gold
Status: Shut Down
Business Model: Free to Play
Developer: Capital Games GmbH
Publisher: Capital Games GmbH
Category:

Browser

Genre(s):

2D, MMO, Strategy

Platforms:

PC


Pros:

+Large selection of races.
+Helpful tutorial.
+Mixes RPG and strategy game elements.
+Battle manually or automatically.

Cons:

-Slow paced gameplay.
-Paying players receive large advantages.
-Still feels similar to many other strategy games.



Recommended System Requirements:

Any up-to-date modern web browser.



Description: 9 Empires is a 2D browser based MMO that combined RPG and strategy gameplay. Chose from nine races and three deities. Train heroes, hire troops, build cities, and explore the fantasy themed world of 9 Empires!
Fiesta, one of the first and most beloved free-to-play anime fantasy MMOs, is turning five years old this month.
by MissyS
Aion: Ascension, the free-to-play model of Aion, has officially launched today.
by MissyS