*Note: This game has been cancelled or shut down and isn't available for play.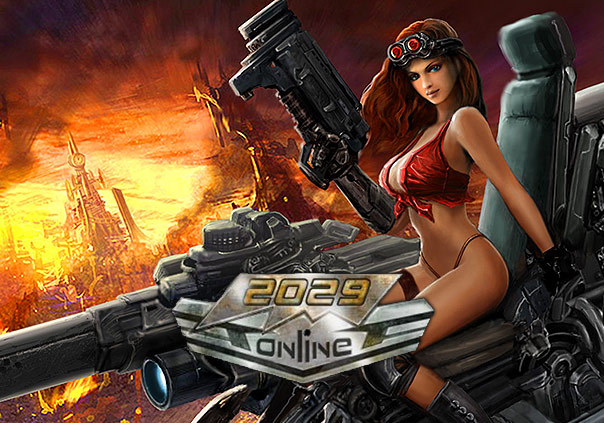 2029 Online is an innovative MMORPG by IGG that combines RTS (Real Time Strategy) tactics and social interaction to enhance its gameplay. The player is allowed to create a character by selecting from one of the three available races and a gender to suit. A static avatar can be selected from a sizable selection to help players differentiate their character from others. The game's story unfolds on an alien planet named Helen Continent, where different cultures struggle for survival. 2029 Online's great user interface promotes and allows for great social interaction and a rich gaming experience. Like most free MMORPGs, character diversity is unfortunately quite limited, as players are allowed to choose between only three different races:
Humans: The humans have arrived on Helen Continent due to the destruction of their home, Earth. They are portrayed to care mainly about politics and wealth, and favor the use of guns.
Dryads: These forest giants are supposed to be the peaceful brutes of nature. Starting off with primitive club-type weapons, Dryads use their strength and connection to nature to their advantage.
Electric Elves: This mysterious race has a background that remains largely unknown. They are said to be conceited and keep mainly to themselves, wielding their intelligence as their main weapon.

Status: Shut Down
Business Model: Free to Play
Developer: IGG
Publisher: IGG
Category:

Stand-alone

Genre(s):

2D, MMO, RPG, Sci-Fi

Platforms:

PC


Editor's Score: 3/5

Pros:

+Plenty of quests to complete.
+Unique mercenary system.
+Simple and effective user-friendly interface.

Cons:

-Only three classes.
-PvP restricted until level 40.
-Little end game content.
-Little character customization options.



Recommended System Requirements:

OS: Windows XP, Vista
CPU: P4 1.6GHz or above
RAM: 512MB or above
GPU: GF4, 32MB or more
HDD: 2GB



Description: 2029 Online is a 2D, sci-fi MMORPG that utilizes well known gameplay mechanics, but delivers them to the user with a wonderful array of bells and whistles. 2029 Online successfully sets itself out from the crowd with its easy to use and functional interface.
S2 Games releases its latest beta patch for Strife, making some significant improvements while launching a new website.
by MissyS
In August 2012, NCSoft announced the closure of Paragon Studios and the subsequent sunsetting of its premier MMORPG, City of Heroes.
by MissyS