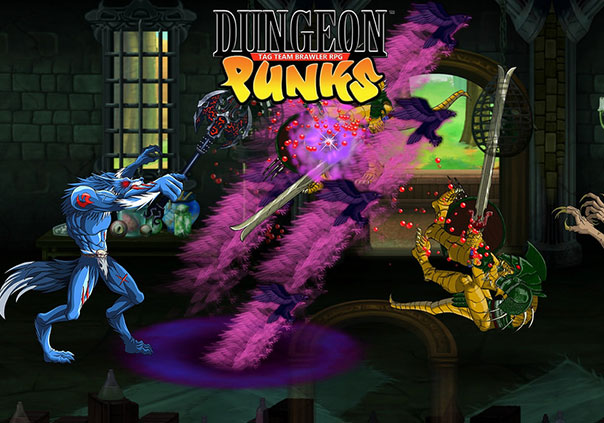 Dungeon Punks is a buy to play fantasy arcade style brawler being developed by Hyper Awesome Entertainment for PC, Playstation 4, and Xbox One. The world of Dungeon Punks is full of magic, mystery, and the corporate greed of the RezCorp resurrection insurance agency. As long as you're willing to pay your resurrection insurance premium, then death is no longer a problem you'll have.
A band of misfit delivery-men accidentally stumble upon RezCorp and find out just how much easier life becomes when you're working alongside them. In an effort to take down the head honchos these delivery men will have to take down mutants, monsters, and the weirdest beings imaginable who all want nothing more than to stop them in their tracks. Saber tooth cats, gorillas, and even unicorns will be some of the powerful creatures you come across on your adventure.
In battles you will be able to unleash magical spells and utilize a tag-team combat system that lets you play as two complete different characters with their own move sets and equipment. You might even be lucky enough to come across some of the rare and magical items within the game that you can equip. As you progress you will be able to learn new sets of customizable attacks for each character and become a master at using them. Your attack moves won't be the only thing you need to master though. You will also need to interact with the environment to get a leg up on your enemies by doing things like lighting dryads on fire or throwing bombs at each other.
Be prepared for anything that might come your way and craft your perfect playstyle to become the best Dungeon Punk around.
Status: Pre-Release
Business Model: Retail
Developer: Hyper Awesome Entertainment
Publisher: Hyper Awesome Entertainment
Category: Stand-alone
Genre(s): 2D, Fantasy, Fighting
Platforms: PC, Xbox One, PS4

Pros:

+Craft your own playstyle.
+Unique, humorous storyline.
+Interactive environments.
+Smooth animations.

Cons:

-Lack-luster graphics.
-Little room to move around.



System Requirements not yet known.