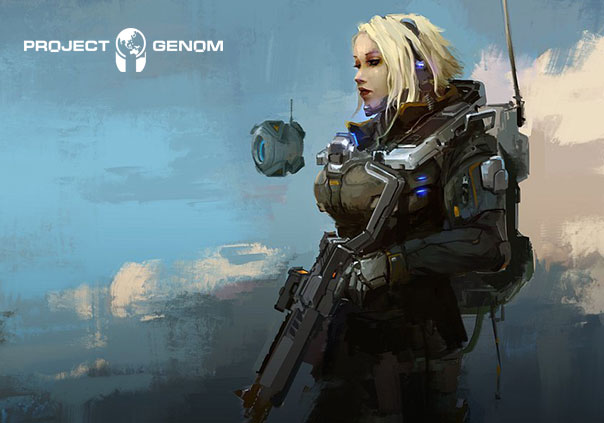 Project Genom is a buy to play sci-fi MMO shooter developed by Neuronhaze for PC and Mac that is slated for an early access release in May 2016. In Project Genom you will become one of the survivors of an ecological disaster on Earth, embarking on an intergalactic journey to find new planets to survive on. Throughout your journey you will encounter new and exciting biomes with their own alien wildlife and enemies. You will soon realize in Project Genom that the universe is alive where your progression will cause evolutions in enemies and cause massive global events that will require players to stand side-by-side to face down impending threats.
A sophisticated role system will allow you to formulate a character that lets you fight for humanity in whatever way you choose, whether that be with mental abilities, a diverse set of firearms, or by getting up close and personal with your enemies. You can even become a master of trade or choose to go on fantastic adventures that your friends will never be able to believe.
Project Genom's storyline is very dynamic and will impact many different parts of the game. There is no "correct" way that the game can be played as each mission can be completed in different ways. Your choices will impact what skills you obtain and even affect the game world as a whole.
PvP arenas will allow players to face off against one another and prove who is truly suited to protect humanity's interests. Besides what could be better than showing off your skills that you just learned against your friends and other players?
Crafting will also play an important role in Project Genom and won't become useless once end-game content has been reached. You will be able to craft things like weapons, trinkets, exoskeletons, and mounts from the same blueprint using whatever alloys you see fit. Some will be make your weapon look gorgeous, and others will turn it into a complete war-machine.
Don't just protect humanity, but do it by your own means in Project Genom.

Status: Pre-Release
Business Model: Retail
Developer: Neuronhaze
Publisher: Neuronhaze
Category: Stand-alone
Genre(s): 3D, MMO, RPG, Sci-Fi, Shooter
Platforms: PC, Mac

Pros:

+Dynamic universe content and events.
+Skill-based non-targeting combat system.
+Crafting with a purpose.
+Usage-leveled skills.



Recommended System Requirements:

OS: Windows 7/8/10 64-bit
CPU: 2.5 GHz quad-core Intel or AMD
RAM: 8 GB
GPU: GeForce GTX 680 or Radeon R9 280x



Somebody is Buying Outspark!
Outspark, the publisher behind Fiesta Online, Divine Souls, and other free to play MMORPGs is in talks to be acquired. No word on who the suit...
by Guest