Social City is a city building simulation game. Create a virtual city and play as its mayor. Players control the growth and design of their metropolitan area. Users can add roadways, homes, factories, restaurants, terrain, and other building structures to create a city worthy of the history books.
Publisher: Playdom
Playerbase: High
Graphics: High
Type: Social MMO
EXP Rate: High
PvP: N/A
Platform: Facebook
Pros: +One of few city building games. +Plenty of customization. +Updated regularly.
Cons: -Free gifting feature limited. -Might be too basic for more advanced city building genre players. -Needs much more variety.
Overview
Social City Overview
Social City is a 2D city building game on Facebook that allows players to experience running their own bustling metropolis. Earn money by operating manufacturing facilities to help grow your small city into an impressive megalopolis. Build residential areas, parks, forests, burger joints, schools, and shopping centers for citizens to enjoy. Using strategy players must find a way to keep citizens happy while continually increasing their district's overall population. Social City is a fun and challenging game that is different than some of the more popular farming games many Facebook users play like Farmville or Lil' Green Patch. In Social City players build their dream city to govern.
Social City Screenshots
Social City Featured Video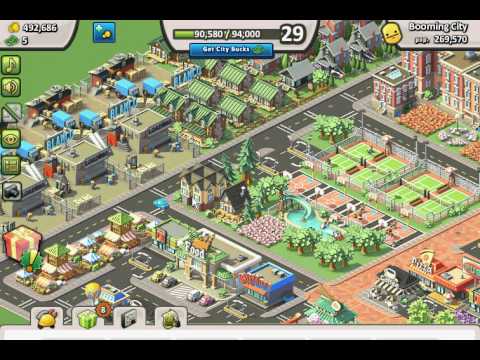 Full Review
Social City Full Review
By Ange Perdu
Social City is a 2D city building simulation game where players become the mayor and sole creator of their own virtual megalopolis. Starting with a small plot of land they can build streets, homes, factories, and an assortment of other structures to keep their growing population busy. Construct cottages, brick houses, burger joints, gas stations, movie theatres, parks, gardens, and create different roadways for residents to drive through. In Social City it's all about the numbers. Players advance as they increase their population and continually expand into nearby districts. Re-create one of your favorite cities or build the ultimate metropolitan getaway and rule.
Grab Your Hard Hat, the Gameplay
The gameplay in Social City can be quite challenging. To earn money to buy buildings players have to build factories. These facilities operate through contracts. Users can click a contract icon or directly on the factory to browse different available contracts to produce various products for profit. Manufacture soda pop, treats, prom dresses, CDs, stuffed animals, cookies, tires, recliners, fertilizer, solar panels, cars, or airplanes. Each contract takes an allotted amount of time for the factory to assemble. When they are ready a box icon will hover above the facility. Users simply click to collect coins and XP. Players also have to build homes in their virtual city. There are a variety of residential homes to choose from. Build cottages, log huts, hotels, bungalows, cabins, traditional two-story houses, apartments, condos, or even an Italian Villa. Each individual home will increase your population by a specific count. Similar to the way the factories work an icon will appear above the home when more people are ready to join your city. Clicking it will boost the total population. All building structures, terrains, and roads will be used by the residents. Cute cartoonish animations of miniature people walk around or cruise through town. At the top right side of the screen is a face which monitors the level of happiness of the residents. In Social City it's important to keep all the citizens occupying the area pleased. Failing to do so will result in a nasty population cap slowing a player from leveling up.
Citizens on Patrol
Players have to use strategy and a bit of mathematics to maintain a balance between the number of residents living in the city and the amount of leisure buildings functioning in order to keep citizens content. Leisure buildings provide local townspeople with activities to do. Each structure is set to entertain a specific quantity of residents. Users must construct enough of these buildings to serve their growing population in order to avoid experiencing a cap. Add basketball courts, tennis courts, gas stations, bowling alleys, pizzerias, public swimming pools, casinos, offices, sub shops, quick marts, coffee shops, pet stores, farmer's market, burger joints, corner pubs, book stores, schools, and used car dealerships. As players level up they unlock more advanced recreational places for their metropolitan dwellers to enjoy. After excessive use each building can be collected and cleaned by a quick click of the hovering icon. The constant revision and ongoing construction of your city creates a fun challenge for players.
Adding That Metropolitan Flair
Users can go crazy with the customization in Social City. Every inch of your district can be developed in any particular way. Lay down pavement or dirt roads. Add beautiful brick streets to suburban areas. Design a massive park with colorful flower patches, wooded grove, large fountains, and a fish pond. Build a modern downtown complete with historic statues in front of the court house. Set up condos adjacent to a Zen garden. Build art galleries and amphitheatres. Create a tourist attraction by adding a giant Ferris wheel, water slide pool, and Royal Casino. Make your district into a media headquarters through the construction of several popular radio stations and news outlets. Players can build an assortment of diverse cities to form their dream megalopolis. Social City has a lot to offer players new to the city building genre. Although, some advanced players might find the easy to use layout for customization too basic. It helps speed up the progression of the game.
City Bucks Over Gifts
Social City isn't that social despite its name. There is little interaction between neighbors. This minimizes the chances of having to spam friends on Facebook for special items but it also gives players one less activity to do. In Social City players can visit their neighbors, occasionally help them out when a prompt pops up by clicking, and send free gifts. The free gifting feature in this game is weak. It contains all the items you neither want nor need like a big orange tiger balloon, palm path, or super-sized letters. The lack of variety and value in sending and receiving free gifts makes it not worth the hassle. However having neighbors is required. The more neighbors a player has the easier it is for them to expand their district. Social City has a nice currency balance that uses City Bucks, coins, and even a combination of neighbor count to make smooth transactions. Players can upgrade their lot size by paying in coins if they have a certain amount of neighbors. The same size expansion can also be purchased with City Bucks.
Final Verdict: Good
In Social City players can create their own world. It's possible to customize by adding a variety of family homes, towers, shops, restaurants, café, theatres, gardens, factories, and roadways. The challenging gameplay requires players to grow their population while keeping the masses happy using strategy. Although, Social City doesn't have special games or challenges for neighbors to play together like YoVille or FarmVille. This city building game is still fun and addictive.
Screenshots
Social City Screenshots