Overview
Ravenwood Fair Overview
Ravenwood Fair is a fantasy role-playing game set in a cursed forest known to the woodland creatures as Ravenwood. Players become an adorable male bear or female raccoon entrepreneur attempting to turn the haunted property into a popular amusement park. Breaking the spell and transforming the overrun woods into a fairground will not be a walk in the park. Created by John Romero the co-founder of id Software and hit games such as Doom, Wolfenstein 3D, and Quake Ravenwood Fair takes players on an unusual adventure with cute animals in frightening locale. Tackle ongoing quests. Chop down spooky trees and bash monsters like the Domovois or notorious Grim Reaper. The gameplay is very similar to FrontierVille and Critter Island where players clear land to construct buildings. Build various entertaining attractions to draw visitors. Set up super sweet corn stands, hotdog carts, dunk-a-bug, Ferris Squeals, or Dirty Donkey Pubs. Construct Wondersites like the structures in Treasure Isle. Keep venues stocked and running properly. Visit your friends' fairs and help out or add different decorations to create the ultimate fairground in Ravenwood Fair.
Ravenwood Fair Screenshots
Ravenwood Fair Featured Video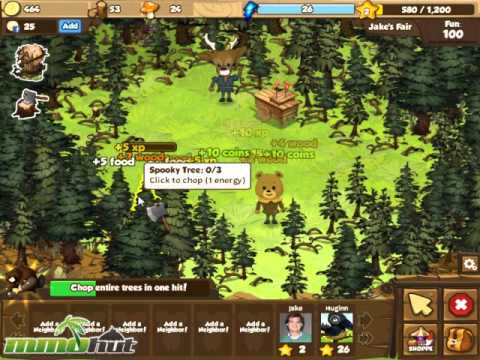 Full Review
Ravenwood Fair Full Review
By Ange Perdu
Ravenwood Fair is a 2D fantasy themed building management simulation RPG where players enter the cursed Ravenwood forest to create an amusement park for all the local woodland critters. Players have to clear the land while battling scary mystical creatures hiding in the trees. Complete challenging quests. Set up various attractions. Converse with visitors and calm them down when evil spirits in the forest scare them. Visit friends' fairs to lend a helping hand. Add decorations to spruce up the place and draw more guests. Build the biggest animal carnival with rides and games to be the talk of the town in Ravenwood Fair.
Deep in the Haunted Forest, the Gameplay
In Ravenwood Fair players get dropped in the middle of a haunted forest. After a brief tutorial from Huginns the raven players are left on their own to create an amusement park of sorts that will also serve as a place to host special events like the upcoming royal wedding. Similar to Zynga's FrontierVille in terms of gameplay players must chop down trees, smash rocks, and pull up twigs to clear the land. Coins, XP, and random resources drop as rewards. These resources are needed later for completing missions, the construction process, and replenishing energy. Occasionally ghoulish monsters like the Domovoi or infamous Grim Reaper will jump out when cutting down trees. Players must click on them to bash and destroy. On the left side of the screen quest icons appear. Quests usually involve tasks that assist in the growth of the fairgrounds or play into the story plot. Some missions require players to build 4 or more hotdog carts to start a hotdog eating contest. Find hidden Wondersites, build an Inn for guests to stay at, or collect various resources like 12 crystals. The gameplay can be slow at times since the majority of quests and construction relies heavily on collecting materials by clearing the forest. As players clear the land they must build attractions to draw more visitors to the park. To complete these structures woodland resources in the form of wood, food, energy, tree sap, crystal, ladybugs, leafs, or magical vitalin is required. Players can build food stands, cottages, rides, and games.
Mike the Mouse's Fun Level
At the top right corner of the screen is the fair's fun rating. Each attraction or special decoration increases the overall fun level of the park. The higher the level the more visitors will come. Buildings have an allotted number of uses, earnings, and a designated fun rating. After they reach their limit players have to click on them to restock and maintain the park. A cool feature in the game is character interaction. All the furry animals visiting the fair have names and back-story like a traditional RPG users can click to talk to them. Meet Mike the mouse, Jeffery the owl, Avalon the wild cat, Suki the Fox, Donovan the moose, and an assortment of other characters. Depending on your reply their response will change. Throughout the game wicked spirits will terrorize the visitors at the fair. They will shriek and shiver. Players have about 9 minutes to find them and quickly mouse over them to calm their fears. It can become annoying at times. Protectors like the magical Happy Oak, Gentleman Juggler, and Bright Boletes can be placed in the amusement park to help defend and comfort panic-stricken visitors.
Attending Fairs for Funds with Friends
The adorable doe-eyed animals in Ravenwood resembles LOLapps other popular game Critter Island. Players can visit their friends' fairgrounds and help out as well. Each user is allowed one visit per day to each buddy. For assisting energy, coins, XP, and random woodland materials are rewarded. Users can play games, visit rides or buildings, purchase food at venues. There is also an option to soothe other frightened guests or tend to their forest chopping down trees. Restock sold out attractions to keep your friends' fun rating up. Friends can help with the construction process by sending needed materials. For players who don't mind a little spamming on their pal's wall to get the job done asking for resources is also an option.
In the Ye Olde Shoppe
The customization in Ravenwood Fair is quite limited. There's a small selection of building structures, games, and decorations with minimal themes to choose from. Players can construct bland hotdog carts, dopefish stands, churro wagons, pilgrim houses, log cabins, Ravenwood Inns, Epic Chapels, and different colored cottages. Set up games like the Sarlacc Pegball, Ferris Squeal, Wedding Ring Toss, Whack-a-Bug, and Bumper bugs. Decorations consist of maple trees, hedges, hay wagons, tables, dirt paths, bushes, balloons, daisies, sunflowers, tulips, white picket fences, wooden benches, rock passageways, skeletons, pumpkins, barrel cacti, tombstones, bongo drums, lanterns, jagged rocks, tumble weeds, roses, clean grass, exquisite lawn, and royal gazebos.
It's somewhat disappointing since the game has such detail graphics and impressive sound effects. The attractions and décor should match but they fall short. Full resource packs along with exclusive shop items require Facebook Credits to purchase. Players who spend real cash on credits have a significant advantage over others in the quality and growth speed of their fairgrounds.
Final Verdict: Fair
Although created by FPS legend John Romero Ravenwood Fair is simply a watered down version of FrontierVille that replaces pioneers for clothed raccoons. The cuddly creatures might turn off some players but there is an underlying horror theme. The graphics and sound effects are great at creating a chilling atmosphere. It features a rare combination of cute and frightening which doesn't blend well. Due to the poor customization options that addicting factor is also missing. The small selection of structures combined with tedious land clearing makes it a more challenging game that fans of Critter Island and Treasure Isle will enjoy. At the very core it's a basic social resort management simulation game with a unique RPG story line implemented. Ravenwood Fair is entertaining at times and possesses potential but it may not be for everyone.
Screenshots
Ravenwood Fair Screenshots
Links
Ravenwood Fair Links