Overview
FishVille Overview
PetVille is one of the top Facebook virtual pet simulation games. As a 3D side scrolling browser based flash game it brings cuteness to an entirely new level. Each pet has the ability to dance, put on a rock show, practice high flying Kung Fu kicks, and thoroughly entertain their owners. The funky animated expressions give these creatures a cool playful style. Players can customize every aspect of their virtual pet from their fur pattern to their lovely abode. There is even a pet personality feature that allows players to change the way their pet interacts with other pets. Compete in challenges, visit friends, train them, and show lots of pet love in PetVille.
FishVille Screenshots
FishVille Featured Video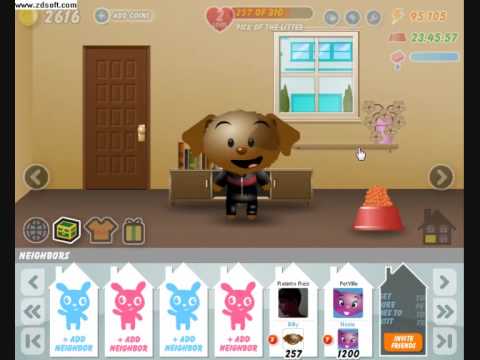 Full Review
FishVille Full Review
By Ange Perdu
PetVille is a 3D pet simulation game that allows users to create their dream virtual pet. Select your pet's color, head shape, mouth, ears, brows, fur pattern, and pick out a set of cool eyes to match. Each player can design their furry friend to look as wild or cuddly as they want. Players can clean, feed, care, and play games with their pet. Users receive a one room home that they can decorate and expand as they level up. Choose from an assortment of furniture or décor items to really spruce up your pet's environment. Virtually everything in PetVille can be customized.
Showing Pet Love – the Gameplay
PetVille is all about showing a significant amount of Pet Love which earns valuable Pet Love Points. Most of the gameplay involves caring for your pet through good housekeeping, feedings, participating in various activities, and shopping sprees. Good housekeeping is important in PetVille. Meters on the side of the screen monitor the cleanliness and hunger status of your pet. These virtual pets are messy. Smelly socks, dirty shorts, old T-shirts, rotten apple cores, banana peels, paper wads, and even knocked over coffee mugs are scattered throughout the home. Flies swarm around the garbage indicating it's time to clean up. Clicking on the trash will discard it and earn coins as well. It can be quite a hassle to constantly clean up after your pet but it's a major part of the gameplay and necessary. Although, the cleaning process sounds simple it can be frustrating at times. Some trash items are stashed in rather odd places making it easy to overlook at first glance. Banana peels on top of the refrigerator, socks on the window sill, and a few hidden apple cores high in kitchen cabinets slows down the process. Among the filth pets get dirty too. Smudges will appear on their face by clicking and dragging the soap bar repeatedly over them it disappears. All that cleaning requires an energy boost. Pet food comes in a variety of flavors each lasting a specific amount of time before running out. Peppermint lasts 5 minutes; Berry Swirl lasts 24 hours, and flavors like Mint Choco Chip keeps them satisfied for a whopping two days. If a pet's food bowl runs out they will check into the pound causing owners to pay a hefty fine to bring them back.
The Art of Cupcake Training
Visiting neighbors, completing challenges, and giving your pet personality training also earns XP or coins. Players can greet their neighbor by clicking the icon balloon on the left side of the screen. Options to perform a radical high five, spread gossip, tickle, dance, kiss, or a secret handshake appear. Tidy up a neighbor's pad to keep their pet status happy. This pays off in the later when you collect your Neighborhood Bonus which is one large sum for having X amount of joyful neighbors per day. Each week pets can participate in challenges. They include tasks like kissing 10 neighbors or sending a note to new members of PetVille. A very cool feature in the game is the Pet Personality training option. Users choose from outgoing, trouble-maker, and creative personality types. Eating special training cupcakes will boost skill point enabling players to unlock five distinct actions matching the persona. Characters will express these emotions when playing with other pets or standing still. New items are also unlocked. It's a fun feature to further customize your furry pal. Pets do wacky tricks when fed special cookie treats usually only given as gifts. Pets take off in flying saucers, hula hoop, and other mind-boggling tricks. It's entertaining and adds to the lighthearted nature of the game.
Bubble Pop Challenge
Where PetVille lacks is in the mini-game department. There is only one game that users can play called Bubble Pop. In this game a player must pop all the bubbles their adorable virtual pet blows by clicking it quickly before it floats out of reach. Although simple it is challenging. Speed and accuracy is essential in order to make it to the next round. Each level increases in difficulty with more bubbles blowing in the air at a faster rate. Players have to keep up and make sure they pop the required amount to progress. High scores are rewarded with coins. Bubble Pop is a surprisingly entertaining game. Currently, it's the only mini-game available in PetVille. Hopefully, since the game is still in Beta there will be more games added in the future.
Shop Til' You Drop – Customization Heaven
PetVille rules when it comes to customization. Players can add their own personality and style to create a special pet themed virtual world. It's the little details that Zynga's PetVille offers to users that really stand out. Clicking on the globe icon prompts a map of local shops. Customize your virtual pet with the latest trends or costumes at the clothing store. Most items can be purchased using in-game coins. Buy print screen t-shirts, dresses, shorts, shoes, and other accessories like flower pins. Pets can also dress up in costumes. They are slightly more expensive but Indiana Jones, Yellow Chick, and even Star Wars characters costumes are on sell. Remodeling your pet's home is done by taking a trip to the hardware store. Purchase décor items from wall hangings, figurines, scenic windows, wood finished floors, tiles, to a complete sushi bar with Chef. Hybrid vehicles and tools for the garage are also available. A build a yard feature requires users to spam friends for basic supplies like fertilizer, dirt, and rolls of grass to construct their yard. Once the yard is built users can buy special items to produce a traditional backyard or exotic jungle. The ability to customize the look and personality of virtual pets in PetVille separates this game from other popular pet simulations. Technology items like an iPhone that delivers a personal message to friends visiting adds a nice touch as well. Pet Cash is required for rare items.
Final Verdict: Great
The graphics and customization in this game sets it apart from other similar pet simulation games on Facebook. The brightly colored 3D graphics gives the game a cheerful appeal. The animated expressions are actually quite comical. Having a virtual pet knock on the computer screen to get my attention was a first for me. The personality training feature and unlimited customization make it easy for users to fall in love with their pet creation. Although, the mini-game options is minimal and some spamming is necessary occasionally PetVille is a solid game for virtual pet lovers.
Screenshots
FishVille Screenshots
Links
FishVille Links