Overview
Pet Society Overview
Pet Society is a 2D virtual pet simulation game that allows players to create their own colorfully animated pet and customize their world. Feed, clean, brush, and play with your new best friend daily to earn coins for shopping. Decorate their home by purchasing unique furniture and flooring. As players level up they can expand their house size and raise multiple pets. Play fun racing and fishing games with your furry companion. Visit neighbors, explore a huge virtual pet town, or hang out at the local Café. Although similar to other popular Facebook games like PetVille, Happy Pets, and even YoVille in terms of gameplay it adds in a few rare features for a higher level of pet interaction. Enter a world where cool animals rule in Pet Society.
Pet Society Screenshots
Pet Society Featured Video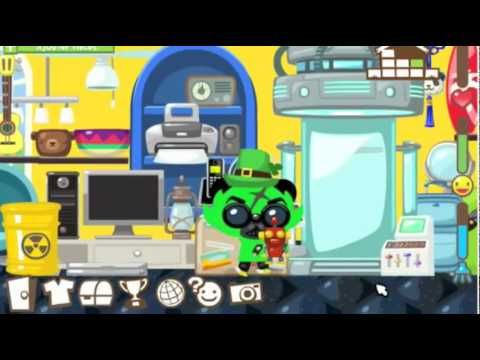 Full Review
Pet Society Full Review
By Ange Perdu
Pet Society is a social virtual pet simulation game where players enter a world filled with cuddly creatures. Create your own virtual pet. Customize their look with different fur patterns, eyes, mouths, ears, face shapes, and colors. Each player starts out with a small home that they can later expand as they level up. Purchase appliances and furniture to spruce up the ole' homestead. Similar to Facebook games like PetVille and Happy Pets players earn coins for shopping by taking care of their pet. Pet Society goes beyond the traditional rituals of washing, feeding, and visiting neighbors to incorporate a variety of special features. Players can cook meals and sell them. Start a garden. Go fishing in the local pond or dig for treasure. The mini-games and unique virtual pet system allows players to care for multiple pets while playing with friends.
Life in Pet Society, the Gameplay
In Pet Society it's all about being active. Players are in charge of caring for their pet and keeping them happy. Like most virtual pet games feeding, washing, and play is essential. Buy sandwiches, snacks, fruit, or veggies to feed your pal by clicking and dropping the item in front of them. Food can also be grown in the garden. When pets are filthy flies swarm. Simply drag a bar of soap back and forth over them until clean. The two basic games players can indulge in with their furry pal are Ball and Frisbee. The main objective of playing ball is to go as long as possible passing the ball without dropping it. The speed of the ball quickens as time passes. Trophies are rewarded for high scores. Frisbee is played the same way but it's slightly more challenging due to the faster pace.
Pet Society also has a cooking feature. Armed with a toaster oven and a cookbook players start out as novices and work their way up to Pet Society's Next Top Chef by cooking various meals. The recipe selection isn't that great and cooking times are too long. Make simple to odd dishes like vegetable soup, pineapple fried rice, bone soup, mega pancakes, Snowman Sundae, steak, or a giant hotdog. Most of the items take 8 to 18 hours to cook. Leveling up unlocks new recipes. All meals can be sold for profit or eaten. Similar to PetVille players visit neighbors. Interaction is limited to kisses, hugs, jokes, dancing, or a quick fight to earn coins. There is also a Café where players can socialize and grab an Espresso to go. Each day users are allowed to hang out at the local Café and make new friends. Random players will appear that are not neighbors. Clicking on them will transport you to their house for a visit. An icon lets users to mingle, view their profile, and become neighbors. Although it's a nice feature players are restricted to only nine social interactions at the Café per day.
Hurdle O' Games
The diverse array of games in Pet Society is impressive. Players can race, fish, and go treasure hunting in Ancient Egypt. In the Stadium pets compete against neighbors in an Olympics style hurdle race. The hard to jump hurdles and slippery banana peels makes it challenging. Winners earn coins. Options allow users to perform a practice run, race, bet on other friends' races, and compete in a Pro Race. Special Playfish Cash shorts are required to participate in Pro Races limiting player access. Clicking on the local fishing pond lets users fish. Clicking the pet and holding down the mouse reels in the catch. The pond has more than bug eyed flounders and ghost knife fish in the water. Useless junk like broken pots are floating in the pond too. This increases the odds of catching trash instead of fish. If you're lucky enough to catch some fish they can be displayed in an aquarium at home or sold. Clicking on a treasure map will prompt a treasure hunting game. Search in the town forest, enchanted forest, or Ancient Egypt for collectibles and rare furniture. Players have to use their five digs strategically or pay for extra turns.
Meet the Petlings
Pets can have their own virtual pet in the form of Petlings. There are different types of Petlings available. Buy a puppy, kitten, coyote, or lion. Feed them their favorite food to grow. These lovable creatures enjoy an exotic diet consisting of sushi, steak, strawberry milk, and bones. Players have to feed and care for them until they reach adulthood. Each player is allowed to own up to ten Petlings of their choice. Only one can be raised at a time. Petlings definitely enhance the virtual pet experience. They are very playful simulating a real puppy or kitten. Watch them run around, jump off of shelves, conduct flips, and take naps. Unfortunately the customization for these cute critters is restricted. Players who want a pink, purple, blue, or more colorful Petling have to use real money to buy Playfish Cash to get special biscuits that change their color.
Shopping in Pet Town
Players can explore the virtual world in Pet Society. Browse the Market, Boutique, Furniture, Clothing, or Grocery Stores for various items. Most items can be purchased with gold coins making it easy to customize your pet's environment. There's a large assortment of detailed items available for purchase like paintings, sofas, rugs, pillows, beds, chairs, clocks, radios, TVs, stuffed animals, patterned wallpaper, carpet, tiled floors, curtains, staircases, bathtubs, ceiling fans, chandeliers, cabinets, kitchenette sets, counters, dishes, stainless steel cooking utensils, glass panel doors, and windows with scenery. Change the appearance of your virtual pet with costumes and wigs as well. Dress them up as a pirate, princess, or in everyday attire. There is no shortage of cute little outfits to buy. Mystery boxes with a surprise items inside are also available for the shopper who likes to live life on the edge. The special items that require Playfish Cash give players an extra advantage in customization and gameplay possibilities. This makes it difficult for players who do not wish to spend real money to perform certain actions or changes in the game.
Final Verdict: Great
Pet Society is a great game for virtual pet lovers. Players can customize their own pet, raise Petlings, decorate their humble abode, and play a variety of mini-games. This game surpasses other virtual pet based simulations like PetVille or Happy Pets by incorporating creative features like cooking, gardening, fishing, racing, treasure hunting, and endless shopping. Own multiple virtual pets ranging from kittens to coyotes and design a cool environment for them to thrive in. Pet Society is a fun pet simulation game that is slightly better than the rest.
Screenshots
Pet Society Screenshots