Ninja Saga is a 2D social online action RPG featuring real-time PvP battles. Players become young ninjas in training working their way up to the prestigious status of Kage master. Learn the mysterious art of ninjutsu tapping into natural forces such as wind, water, fire, earth, and lightening to destroy enemies. Battle other ninjas, monsters, and challenge your friends in fierce combat. Earn the title of best Kage and save the local villages from darkness in Ninja Saga.
Publisher: NinjaSaga
Playerbase: High
Graphics: High
Type: Social Game
EXP Rate: High
PvP: Arena Battles
Platform: Facebook
Pros: +Great graphics. +Real-time PvP battles. +Over 100 animated skills. +Virtual pet system.
Cons: -Customization limited. -Missions can be repetitive at times. -Paying members have a significant advantage over non-paying users.
Overview
Ninja Saga Overview
Ninja Saga is a social action role-playing game where players train as young ninjas. Customize your character. Learn over 100 animated skills using physical, magical, and illusionary combat. Master moves like the Earth Strangle, Lightening Strike, Dance of Fujin, Pillar of Flame, Water Sphere, Rapid Uppercut, and Falling Leaf Illusion. Kill vicious monsters, pirates, thieves, and evil ninjas causing chaos in the streets. Complete various missions solo or with your friends to help bring peace. Enter the Battle Arena for intense combat against other top players. Adopt multiple virtual pets to assist in fights and shop for armor or weapons. Ninja Saga varies from other traditional Facebook games like Farmville or Mafia Wars by incorporating a Naruto anime based style.
Ninja Saga Screenshots
Ninja Saga Featured Video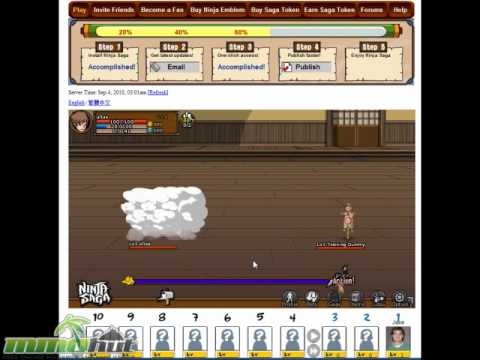 Full Review
Ninja Saga Full Review
By Ange Perdu
Ninja Saga is a 2D social action side-scrolling RPG where players become young ninjas in training. Set in a mysterious virtual world of ninjas and ancient legends their decade span of peace has been broken by a dark force. The magical scroll storing all the forgotten powers of the five surrounding villages have been stolen. Players must master the way of the ninja in order to save the land. Learn ninjutsu, taijutsu, and genjutsu. Complete challenging missions. Battle rival samurais, villains, thieves, and magical beasts. Test mastered skills against other players through real-time PvP battles in the arena. Adopt a virtual pet for assistance and companionship or form a team with friends in this anime-inspired adventure. Ninja Saga is similar to many turn based browser MMORPGs like AdventureQuest, DragonFable, and MechQuest.
Ninjas in Training, the Gameplay
In Ninja Saga players are young ninjas in training. Most of the gameplay involves completing various missions, special hunting expeditions, and practicing combat skills. The Kage Room is where players find available missions and special event quests. These tasks usually consist of retrieving villagers' stolen items, battling samurais, secret rescue missions, or delivering documents defeating assassins along the way. Every quest requires fighting which can make missions seem repetitive at times. All the battles in Ninja Saga use turn based combat. Stop mountain bandits, pirates, spies, hooligans, and even the undead from taking over the village. Once a quest is completed players earn gold coins and XP. Throughout the game users are permitted to recruit friends to assist in difficult missions. Friends are restricted to two per quest and they have to be at the same or lower level. Experienced NPCs can be recruited as well. The only requirement for them is a token fee. On hunting expeditions players have to defeat various mythical monsters like the Ginkotsu or Ape King. Gold coins earned through completing missions can be used to purchase skills in the Academy.
Art of Ninjutsu Igniting the Fire Fist Explosion
In order to reach Kage or be considered as one the most powerful ninjas players have to master skills in the art of ninjutsu, taijutsu, and genjutsu. Combined there are over 100 of these animated skills that players can use during combat. Ninjutsu uses magical combat skills that tap into natural forces like fire, wind, water, earth, and lightening. Once learned players can perform the Fire Fist Explosion, mighty Twin Tornado, Infinity Wind Chop, Lightening Spear, Earth Arm Combo, Rock Land Blast, and Water Shark Missile to destroy enemies. Taijutsu involves more hand to hand combat with moves like the Cannonball Strike and Assault Kick. Genjutsu teaches ninjas how to get the upper hand on foes by creating illusions. These moves usually stun enemies allowing a second turn to attack. The wide variety of skills in Ninja Saga is one of the best features in the game. The serious Wind Vortex maneuver to the somewhat comical genjutsu Fat Woman Transformation to shock opponents is fun to play around with. Various skills are unlocked as a player levels up. Only one new skill can be learned at a time. Players also have the option of visiting their friends' ninjas and learning a free skill from them.
Entering the PvP Battle Arena
Players at any level can enter the PvP Battle Arena to fight other ninjas. Opponents are randomly chosen from the system. Although the game attempts to match ninjas close in rank depending on the amount of available slots in the server users are occasionally paired with more advanced players. A cool chat interface opens during battles in the arena. Ninjas can talk trash with one another while contemplating their next strategic move. Once a player reaches level 20 they're allowed to enter the Pet Shop to purchase a companion to assist in missions and combat in the arena. The procedure for buying a pet is not easy. Ninjas must pass a five part Chunin Exam in the form of various missions and have enough currency for the purchase. Teach your pet skills to use during battle. Each user can own up to three pets but only one can be active at a time.
Ninja Necessities Smoke Bombs to Sacrificial Blades
Ninja Saga has a decent selection of special items, body gear, and weapons for customization but it can be limiting at times. Players can buy smoke bombs, healing and chakra scrolls for restoration. Body gear varies in casual, sporty, and oriental styles. Dress your ninja in a raider outfit or camouflage combat armor. Purchase weapons like the Stone Kunai, Tusk Sword, Carbon Dagger, Sacrificial Blade, Tenqu Spear, Katana, Ginkotsu Saw, or Windmill Shuriken. Availability is based on level status and some items can only be purchased using large sums of tokens which require users to spend real money to attain. There's also a more extensive list of shop items and missions set aside for paying Emblem members giving them a significant advantage over non-paying users. In the Blacksmith shop players can upgrade items through forging. Turn ordinary weapons like the Pointed Edge Kunai to a powerful Seden instrument. Switch an Ocean Sword for a Sea Bonze and transform a Sacrificial Blade to the mighty Disciple of Blood. Forged weapons cause higher amounts of damage and possess the ability to restore HP when used to attack foes. Unfortunately it requires expensive tokens to utilize this feature in the game restricting the free players in their selection of available arms.
Final Verdict: Good
Ninja Saga gives online social gamers a different type of experience. Players take on the role of a young ninja determined to move up the ranks to Kage status and save a land in distress. The RPG elements combine with colorful graphics to visually impress and create an anime Naruto-like feel. Although the missions can get redundant after awhile there's still plenty to do. Players can go on a special hunting expedition or fight with random players in the PvP Battle Arena. The game features an open chat interface during live combat and a virtual pet system. Unlike other popular games such as Mafia Wars or Farmville real-time combat and strategy is involved. Players searching for an action-packed adventure will enjoy Ninja Saga.
Screenshots
Ninja Saga Screenshots
Links
Ninja Saga Links