Overview
Nightclub City Overview
Nightclub City is a virtual nightclub simulation game where players run their own club and DJ. Manage staff, keep the music going, bar stocked, and popularity up. Hire friends as bartenders and bouncers. Work as a DJ selecting various music sets to get guests dancing. Promote your club with high profile celebrities and cool themed parties. Add leather lounges, flashy lights, glowing dance floors, and an assortment of décor items to create a nightlife atmosphere that club goers would enjoy. DJ sets at your friends' clubs to keep their bash going strong. Unlike other popular games such as Farmville or Café World Nightclub City is all about music and the fast paced nightlife. Do you have what it takes to create one of the hottest clubs around?
Nightclub City Screenshots
Nightclub City Featured Video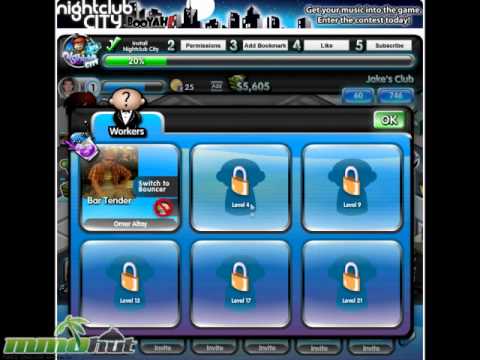 Full Review
Nightclub City Full Review
By Ange Perdu
Nightclub City is a 2D social nightclub simulation game that allows players to operate and DJ at their own club. Choose music sets from the latest artists to get guests on the dance floor. Hire friends as bartenders and bouncers. Book a themed party to draw massive crowds. Pay celebrities for special club appearances. Guest DJ at friends' clubs. Send drinks, flirt, and dedicate songs to new acquaintances. Decorate and upgrade your club with lighted floors, lounge furniture, posters, and state of the art DJ systems. This original social game stands apart from other traditional Facebook games like Farmville or Café World by combining an interesting concept with a funky beat.
Lifestyle of a DJ, the Gameplay
In Nightclub City players take on a dual role of DJ and club manager. As DJ users play music sets. The length of a set varies from 15 minutes to 30 hours depending on the type of DJ system used. As players level up they can buy more advanced equipment that will extend the length of time each set plays. There's no control of which song plays during the session. Players can only choose the genre of music. Play hip hop, pop, house, electro, disco, or indie rock to get guests on the dance floor. Unlike other popular games that only have bland elevator music playing in the background Nightclub City utilizes their nightlife theme featuring club hits by current music artists. Listen to Far East Movement, Zoo Seven, Ladyhawke, BBSR, Britney Spears, Jay Z, Crystal Castles, Lady Gaga, Daft Punk, Justin Bieber, and others. Click the BassDrop icon to make the entire club dance and boost sales. During sets DJs can also dedicate songs to unhappy guests. Managing the virtual nightclub is also a part of the gameplay. Players must hire their friends as staff. Bartenders and bouncers are required. Click on a bartender to make them perform tricks or serve drinks faster in Bottoms Up mode. A meter on the side of the screen monitors bar supplies. Drinks can't be served when the meter is low. Players have to pay a $100 fee to restock supplies. Throughout the night some guests my get drunk and rowdy. Fights disturb other customers and lower your popularity rating. Players can manually remove trouble makers by clicking on them or alerting the bouncer.
Celebrities & Parties
High-profile celebrities can also be hired to make a special club appearance. The animated celebrities in Nightclub City are based off of real life stars with the names slightly changed adding a funny lighthearted touch to the game. Recruit celebrities like Buckfitty, Celine Dijon, Puff Baddy, Knee Pain, Donald Hump, Vanilla Rice, and Drew Boogeymore to hang out at your club. Celebrities are not cheap they cost owners $2,000 to $5,000,000 and are limited in the number of appearances available. After a visit their photo is hung on the celebrity wall. The party option allows players to throw a celebrity, music based, or themed party to attract bigger crowds and make additional money. Throw a Ladies Night, Happy Hour, Disco, Heiress Guilton's Birthday, or Snoop Dogg's Skin 'n Juice Party. Each party has a required planning time they must wait. Planning times can range from 5 minutes to 24 hours. Once initiated a countdown clock starts. If a player is not logged into the game when it's time for the scheduled event it gets cancelled. The lengthy waiting periods for parties can be annoying especially since each party is only set for the duration time of 10 minutes. Booking parties costs a fee. Guests pay higher cover charges and drink prices for these special events.
Getting Gigs & Club Promotion
In Nightclub City players can serve as guest DJs at their friends' clubs. Clicking on a friend's club and selecting new set allows a user to spin for 2 minutes. Similar to working at their own establishment players choose the genre of music, hit BassDrops, and has the ability to dedicate songs to unhappy clubbers. Help out by restocking their bar supplies as well. There's a limit on how many buddies' bars a player can restock per day. When visiting or partying at other clubs users can click on guests to send a drink, wink or dedicate a song. Drinks and winks are sent directly to their mailbox. They function as a way to flirt and say hi. The game lacks a chat interface or ability to compose messages.
Designing Your Club
Redecorating your club boosts the luxury rating and assists in attracting more guests increasing overall popularity. The customization in Nightclub City is decent. Select premade industrial, gold sparkles, blue, red, disco, bollywood, retro, and imperial jade dance floors. Get creative and design your own floor pattern by buying individual floor tiles in a variety of patterns and colors. Add ceiling spotlights, dancers, singers, wall speakers, shark aquariums, paintings, chandeliers, pop art, vases, bronze fountains, ring partitions, colored amplifiers, roulette tables, posters, curtains, statues, and mood lamps.
Although, there's a nice selection of seating, bar furniture, and decorative wall items to choose from the game could use a larger assortment. The themes are restricted to Contemporary, French, Retro, Metropolis, Young Hollywood, Space2020, and the Far East.
Final Verdict: Good
Nightclub City combines music, friends, and fun to create a unique gaming experience. Players get to become DJs and run their own custom nightclub. Play music sets with songs from some of today's top artists while managing and expanding your club. Hire employees, keep customers happy, and the bar fully stocked. Dedicate songs, throw cool parties, flirt, buy people drinks, and even snag celebrities for club appearances. This simulation of virtual nightlife is not only entertaining but challenging as players progress. Although gameplay can seem repetitive at times Nightclub City is a nice change from more traditional games like Farmville and Café World. Music lovers and gamers looking for something different will thoroughly enjoy this virtual party.
Screenshots
Nightclub City Screenshots
Links
Nightclub City Links