Market Street is a 3D social department store simulation game. Players operate and run their own retail store. Hire friends as cashiers, order products from distributors, keep the displays stocked, shelves clean, and assist customers in need. Design and decorate your store to attract more customers, but beware of shoplifters! Enter the competitive world of retail to test your managerial skills and see if you have the chops to build a successful establishment in Market Street.
Publisher: Playdom
Playerbase: High
Graphics: High
Type: Social Game
EXP Rate: High
PvP: N/A
Platform: Facebook
Pros: +Great graphics. +Ability to interact with customers. +Nice selection of men and women products to sell.
Cons: -Customization limited. -Slow paced gameplay. -Mission feature repetitive. -Social options could be better.
Overview
Market Street Overview
Market Street is a department store simulation game where players become owner and manager of their own retail business. Assist indecisive customers with their purchase decisions and hire friends to work the registers. Order clothing, electronics, or home improvement supplies from distributors. Stock, re-stock, or liquidate merchandise for profits. Keep display racks and tables clean. Snatch up pesky shoplifters trying to score products for free. Complete to-do tasks for bonus cash. Visit your friends' stores and help them with their customer service by answering random shoppers' questions. Although, comparable to similar games like Retail Therapy or Mall World in Market Street players have a more even selection of merchandise available that appeals to female and male gamers alike.
Market Street Screenshots
Market Street Featured Video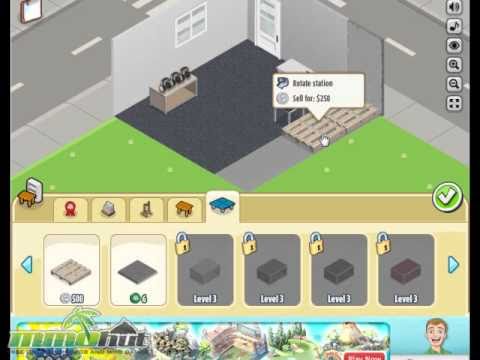 Full Review
Market Street Full Review
By Ange Perdu
Market Street is a 3D social department store simulation game that lets players create and manage a retail establishment from the ground up. Browse through the local distributor's catalog and order products to sell. Stock display tables and racks with merchandise. Hire friends to work the registers. Complete the manager's daily To-Do List tasks and keep the store running smooth. Answer customers' questions. Stop shoplifters from stealing. Visit friends and help out at their shops. Increase overall department rating by constantly redecorating adding new track lighting and other decorative items. Similar to games like Mall World or Retail Therapy players step into the wondrous world of retail to compete in shopping and managerial skills.
Open for Business, the Gameplay
In Market Street players start out in a small sized store with two displays. The majority of the gameplay is based on expanding the retail shop into a massive department store. Players need to balance inventory and overall customer service to make enough income for renovations. Before ordering the merchandise players have to buy displays in the form of hanger racks and various tables. Users browse through the pages of the local distributor's catalog and select products from the clothing, electronics, or hardware sections. Each item has a set price, delivery time or wait, and specific display type to use. The merchandise selection in Market Street sets it apart from other similar games like Mall World or Retail Therapy. There's an equal amount of female and male oriented products to sell. Choose to sell designer belts and purses, glitter pumps, dresses, blue jeans, cargo shorts, hoodies, PC games, Home Theatres, cans of paint, tool boxes, or portable generators. When items are ready they appear in the stockroom. Players must click on the product and drag it onto the display in the store. Once on display customers casually browse and shop until the items are completely gone. Cheap products disappear off the shelves faster than more expensive merchandise. Clicking on the dirty display racks and tables will clean them earning XP. Experience is primarily earned through stocking, cleaning, and re-stocking products. Depending on the type of items selected this process of gaining XP can make the gameplay seem slow.
To-Do's List for Market Street
The game also has a mission feature in the form of a manager's To-Do's List. Upon leveling new tasks will appear on the To-Do List clipboard for players to accomplish. These tasks vary from collecting 100,000 coins from the registers to re-stocking displays. A nice touch in the game is the ability to interact with customers and gage their likes or dislikes. Sometimes players are asked to assist 20 or more indecisive customers in the shop. Icons appear above shoppers' heads notifying players whether they're disappointed with the store's selection, pleased, or confused. A question mark bubble appears above indecisive customers' heads. Clicking the icon will automatically answer their question allowing them to make the right purchase. Most of the mission tasks are simple like buying 6 new wall panels but occasionally they are challenging. Selling large quantities of products or catching shoplifters can be difficult at times. Players do not earn any XP for completing these tasks only rewards.
Catching Shoplifters
Simulating the problems of real retail stores theft becomes an issue in Market Street. Some customers are mischievous shoplifters waiting for opportunity to grab an item and run. These criminals are hard to detect. They look like paying customers until they make a dash to the door without stopping at the register. A red masked face icon will appear above their head the last few seconds before they're home free. Players have to be on the lookout and quickly click on them before they get close to the exit. Although, the elevator music that plays in the background is somewhat annoying the sound effects are pretty decent. Shoplifters who escape without getting caught have this wicked laugh that is quite comical. Catching shoplifters is a fun element that almost feels like a mini-game. Special items like the security camera aid in catching thieves by making shoplifters stand out with a glow before making a run. Players can visit their friends' shops for a cash bonus and occasionally assist customers as well.
Shopping for Shoppers
Decorating and customization is big in Market Street. To keep the shop's rating high and a constant flow of customers coming in players must constantly redecorate. Add carpet, linoleum, checkered tiles, cement, slate, brick, hardwood, or pebbled floors. Select different painted paneled walls, posters, clocks, track lights, mirrors, lamps, sale signs, silk plants, vases, pillows, chairs, rugs, and built-in aquariums. Players can match their decorations with colored table displays and hanger racks from standard steel to polished pastel colors. Various signs, displays, and wall décor attract different shoppers. Players have to decorate with their products and shoppers in mind. There is a nice selection of decoration items to choose from but the small quantity limits users in terms of customization and creativity. With the continual need to buy new decorations players may end up purchasing duplicate items.
Final Verdict: Good
Market Street is a more diverse retail simulation game when compared to others like Mall World or Retail Therapy. It's made for both genders with a nice mix of merchandise to sell. Players run their own retail shop buying, selling, and liquidating products of their choice. Complete daily tasks, answer customers' questions, and stop shoplifters from stealing valuable merchandise. Although the customization and social options could use improvement it has potential to be a solid game. Whether you prefer strappy shoes or cans of paint there's something for everyone in Market Street.
Screenshots
Market Street Screenshots
Links
Market Street Links