Kingdoms of Camelot is a 2D real-time empire building strategy game. Players are appointed by the legendary King Arthur as a Lord. Construct a medieval city, carefully manage resources, build up a mighty army, and conquer other kingdoms in the name of honor. Work with friends to form strong alliances that can guarantee victories in battles. Travel back in time to rule in Kingdoms of Camelot.
Publisher: Water Cooler
Playerbase: High
Graphics: High
Type: Social Game
EXP Rate: High
PvP: Open
Platform: Facebook
Pros: +Plenty of quests. +Easy to use interface. +Ability to build multiple cities. +Cool mini-game. +Global and private alliance chat options.
Cons: -Gameplay slow at times. -Special acceleration items require the purchase of expensive gems. -Encourages spamming friends.
Overview
Kingdoms of Camelot Overview
Kingdoms of Camelot is a MMORTS set in the legendary days of King Arthur. Players become Lords in charge of creating and managing their own empire. With the approval of the king and some magical help from Merlin along the way users begin their quest. Build various structures, recruit troops, upgrade, and expand the city walls. Advance military through the study of new technologies. Join alliances with friends to participate in tournaments and increase defense during war. Similar to other games like Three Kingdoms Online, Evony, Travian, and City of Wonder players must build a massive kingdom.
Resources - Food (Farmland), Stone (Stone Quarry), Wood (Sawmill), and Ore (Mine).
Buildings – Knights' Hall, Embassy, Storehouse, Market, Alchemy Lab, Barracks, Watch Tower, Blacksmith, Workshop, Stable, Relief Station, Tavern, and Cottages.
Military Units – Supply Troops, Militiamen, Scouts, Pikemen, Swordsmen, Archer, Cavalry, Heavy Cavalry, Supply Wagon, Ballista, Battering Ram, and Catapults.
Kingdoms of Camelot Screenshots
Kingdoms of Camelot Featured Video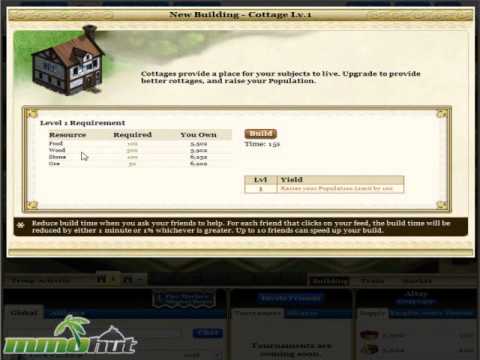 Full Review
Kingdoms of Camelot Full Review
By Ange Perdu
Kingdoms of Camelot is a 2D real-time empire building strategy game set in the time when King Arthur and his loyal knights of the round table ruled. Each player becomes one of Arthur's appointed Lords with the lofty task of constructing and managing a city from the ground up. Build an assortment of structures from cottages to barracks. Gather resources from local farms and mines to replenish the city's supplies. Upgrade, expand, and research new technologies to create a powerful empire. Kingdoms of Camelot is a challenging game that incorporates different aspects of social games like City of Wonder with traditional MMORTS such as Evony and Three Kingdoms Online. Train troops and join alliances with friends to win wars in the midst of the Dark Ages.
Building Your Empire, the Gameplay
Most of the gameplay in Kingdoms of Camelot involves building and strategizing attacks. Players start out with a medieval castle, empty city and outside field. They have to construct and upgrade various structures to build up their empire. There's a variety of functional buildings. Cottages raise population. Taverns like in real life boost happiness levels. Blacksmiths forge metal weapons. Barracks assemble and trains troops. Set up stables, workshops, rally points, watch towers, markets, embassy, and alchemy labs.
Resources are required in order to build, research, and train. They come in the form of food, wood, stone, and ore. Players earn them automatically through building or upgrading farms, a quarry, sawmill, and mines in the field area. Users can earn them through completing quests as well. All of the quests involve city or military expansion missions. Users have to accomplish tasks like building a relief station, researching logging, training 10 Pikemen, upgrading the wall, or increasing food base production to 5,000. The quests also serve as a guide notifying players of what needs to be done. The construction length for each structure varies. Some buildings can take hours to finish. The fact that players are restricted to one assembly process at a time makes the gameplay feel slow paced. Unlike construction research and the training of troops can be done simultaneously.
Strategizing Attacks & Conquering Lands
When the Alchemy Lab has been built users can start researching various topics to advance the overall technology of the city. Each research requires an allotted amount of resources, construction, or other level of study before being unlocked. Basic knowledge in fertilizer to smelting improves resource production. A higher level topic like metal alloys, magical mapping, or poisoned edge improves the troop's ability to attack. It also aids in the training process. Players can enter the barracks to create a diverse military. Train hundreds or even thousands of citizens in the art of war. Acquire heavy cavalry, ballista, battering rams, catapults, skilled archers, swordsmen, and resourceful Pikemen for strategized attacks. In Kingdoms of Camelot planning is everything. To create a worthy empire users have to form a strong military with capable knights and an impermeable fortress wall. Add buried ground traps, spiked barriers, mounted crossbows, and defensive trebuchets to the kingdom's wall for increased defense. Clicking the map tab gives an aerial view of the surrounding cities, wilderness, woods, mountains, and plains available for conquering. Players simply click on the area they want to scout or attack and choose the troops and desired knight to lead the battle. A report message is sent to the player's describing the outcome. There are no limits when it comes to battles. Players are free to attack any available land or city visible on the map.
Knights of the Round Table
The Knight system in Kingdoms of Camelot allows players to appoint their friends as knights and assign them special roles. It's a fee of 1,000 gold coins to hire your Facebook comrades. A single knight's salary consists of 20 gold coins an hour. This amount is taken automatically from the city's taxes. Once appointed players choose whether to place their buddy in the role of foreman, marshal, alchemystic, or steward. Each job focuses on a specific area of the kingdom from political to military. Knights are necessary because they serve as leaders during attacks. Troops can't be sent out to conquer without their head knight. Players are in control of their appointed leaders stats. As the knights in your court level up their skill points can be assigned in the category that the player sees fit. Friends also can help speed up the construction process of your buildings. Clicking the help from friends tab posts the request on profile wall and friends' walls. Due to the constant need for construction it can quickly become an annoying form of spamming. Kingdoms of Camelot also feature alliances and a nice chat option for players to communicate. Joining an alliance strengthens your defense against random invasions. At the bottom of the screen users have an open global and a private alliance chat box.
Shopping for Red Dragon Wings
In the Kingdoms of Camelot shop there is only special acceleration items and bundles for sale. Although theses items can be very beneficial they require the purchase of expensive gems. Gems are hard to come by. They usually have to be bought with real money. Players who splurge will find an assortment of tools that will give them a temporary boost. Enchanted hourglasses reduce building and research times. Mighty bark skin increases defense. Red dragon wings decreases the travel length of troops when attacking. Special prayers and blessings for resources are available as well as chest bundles offering a variety pack of themed acceleration tools to boost any player's productivity. There's also a mini-game called Merlin's Magical Boxes where players have the opportunity of winning some of these special items. Merlin has an assortment of boxes players have to guess and click on a box. They win whatever lies inside.
Final Verdict: Good
Kingdoms of Camelot is fun and addicting. Become a Lord for King Arthur appoint and your friends as knights to help lead your empire to greatness. Players can build multiple cities to rule. Manage every aspect of the construction process, resource production, control tax rates, citizens' happiness, train troops, and wage war. Use strategy to develop a powerful empire capable conquering others. It's a solid MMORTS on Facebook and that's rare. The nicely implemented social elements make it an entertaining game to play. Fans of Evony, Travian, Three Kingdoms Online, and City of Wonder should definitely give Kingdoms of Camelot a try.
Screenshots
Kingdoms of Camelot Screenshots