Overview
Happy Pets Overview
Happy Pets is a virtual pet simulation game where players adopt and raise animals. Although similar to other games like PetVille and Pet Society users choose from a wide variety of realistic looking pets. Select from cats, dogs, horses, chickens, pigs, hamsters, ducks, bunnies, ferrets, bears, iguana, and even unicorns. Raise them from infancy to adulthood. Feed, clean, and play games with your pets. Decorate and furnish their home to keep them comfortable. Expand homes with multiple rooms or yards. Play a variety of mini-games like fetch or treat toss. There's also a unique friend pet trade system in the game that let's players get rid of older pets in exchange for newer ones in Happy Pets.
Happy Pets Screenshots
Happy Pets Featured Video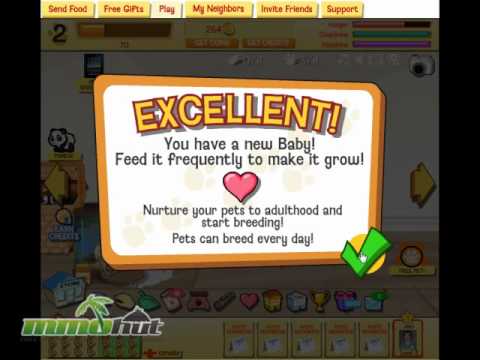 Full Review
Happy Pets Full Review
By Ange Perdu
Happy Pets is a 2D social virtual pet simulation game where players adopt and raise their own animals. Choose from typical domesticated pets like the cat, dog, ferret, bird, hamster, and rabbit to more exotic breeds. As a player levels up they unlock additional pets such as the horse, jackalope, iguana, panda, polar bear, and even mythological creatures like the Pegasus. Unlike Pet Society and PetVille players become an animal rescuer housing a large number of furry critters. Feed, stroke, clean, and care for them from the infancy stage well into adulthood. Play various mini-games to keep them entertained and happy. Visit friends' pets and trade. Expand and decorate to turn their home into a worthy animal sanctuary.
Caring for Your Virtual Pets, the Gameplay
Most of the gameplay revolves around feeding, cleaning, and caring for your virtual pets. Players start by selecting their virtual pet in the form of a cute kitten or puppy. Each user is given a single room home, two free food bowls, and a litter box. As they level up the number of virtual pets permitted increases as well as the ability to add additional rooms. Meters at the top of the screen monitor pets' happiness, hunger, and cleanliness. To ensure proper growth from babies to mature dogs or cats users must feed them regularly. Feeding them requires a quick click on the food icon and then repeatedly over the bowl to fill. Similar to real-life pets eat as they please. Some will rush over devouring the bowl while others take their time. The little realistic details that Crowdstar added into Happy Pets really makes it stand out from games like Pet Society or PetVille where the critters feature more human characteristics. Players need to clean up after their pet as well. Selecting the pooper scooper icon and clicking above the liter box will automatically clean the entire room. Clear away untouched food bowls that have spoiled to keep pets' environment sanitary. Users can show affection by gently stroking each pet. Moving the hand icon over a virtual cat will make them purr. Players earn gold coins and XP for taking care of their pets. When animals reach maturity they can be breed. Players pick their desired female and male pets to mate. It costs 50 coins for natural conception or pricey Facebook credits for a love potion to guarantee success.
Cat & Mouse Mini-Games
Another feature in Happy Pets is the mini-games. There's a nice selection of interactive games for users to play that are divided into categories based on animal types and toys. Playing games boost pets' happiness levels. Opening the toy chest will prompt a selection of toy based mini-games. Cat owners can dangle a fake mouse letting their feline attempt to snag it. Grab a ball of yarn. Double click and drag to toss it for kittens to frolic with. Dog owners can play a challenging toss-a-treat game using an arrow slingshot to accurately aim a doggy bone in their best friend's mouth or enjoy a traditional round of fetch. A universal game that entertains all pets regardless of their species is the instant laser game. Users click the laser pen and scroll their mouse around the room pointing at the wall, floor, or other objects to amaze their pets. Animations display doe-eyed furry pals leaping into the air trying to catch the mysterious red dot.
Not the Average Hotel for Dogs
A rather unique feature in Happy Pets is the hotel and pet trade system. At anytime players can check their pet or pets in the custom Happy Hotel. This option allows players to adopt and house extra animals. It also will enable them to maintain the health of their pet when they know it'll be a while before the next log in. This makes Happy Pets a very casual and less time consuming type of game. The pet trader system is slightly more complicated. Players click the pet trader icon and all the available pets up for adoption from friends appear. Some pets come with a protected security. Users must message their pal for the code in order to continue the adoption process. It takes a full day before the trade is final. Players can also visit their friends' animals. Cleaning, petting, and playing earn paw points or XP along with coins.
Unicorns in the Backyard
The customization in Happy Pets varies from other pet simulation games. There's a massive selection of virtual pets to adopt, care for, and breed. The wide assortment of virtual pets gives players the ability to house a mixture of traditional and magical creatures. Pets like chickens, horses, dinosaurs, and unicorns can be unlocked through leveling and building specific housing structures. Constructing a chicken coop, dino den, or horse stable requires spamming friends for materials. Changing your pet's eye color or fur to personalize is expensive. It requires a dye that costs Facebook credits. The home customization is limited in terms of furnishings and décor. There is a small selection of sofas, chairs, mounted fish plaques, flat screen televisions, candle racks, clocks, drapes, and plants to choose from. Themes are restricted to retro, country, and modern styles. Players can select panel walls, cherry wood flooring, and various wall decorations but nothing impressive. The option to expand your home and fill the backyard with unicorns or Triceratops is somewhat cool. It almost makes up for the bland furniture.
Final Verdict: Great
Happy Pets is a fun engaging virtual pet simulation game. Players create their own animal rescue sanctuary raising and caring for hundreds of pets. The ability to care and breed such large variety of animals alone makes this the perfect game for pet lovers. Feed, clean, and play cute mini-games like laser or fetch. Expand homes adding multiple rooms and yards. Decorate and even trade pets with friends. Happy Pets offers a lot to gamers that enjoy other games like PetVille or Pet Society.
Screenshots
Happy Pets Screenshots
Links
Happy Pets Links