Happy Island is a 2D tropical resort simulation management game. Players build and operate their own island oasis. Keep tourists thoroughly entertained with exciting attractions, markets, culture based festivities, and luxurious accommodations. Run special tours for guests. Pick up trash. Complete quests, decorate, upgrade buildings, and search friends' isles for treasure in Happy Island.
Publisher: Crowdstar
Playerbase: High
Graphics: High
Type: Social Game
EXP Rate: High
PvP: N/A
Platform: Facebook
Pros: +Cute graphics. +Nice customization options. +Quest feature. +Own multiple islands.
Cons: -Slow paced gameplay. –Limited multiplayer aspects. –Best attractions and venues require Facebook credits.
Overview
Happy Island Overview
Happy Island is a social tourism and management game where players have to turn a deserted island into a tropical resort. Add hotels, restaurants, bars, stands, décor, and entertaining attractions for tourists to enjoy. Keep beaches safe and clutter-free by picking up trash left by messy visitors. Complete challenging quests to help improve your resort. Upgrade and enhance buildings. Take guests on special boat tours. Visit your friends' islands. Search for buried treasure in the high seas. Own multiple islands. Decorate with colorful spiked sea urchins, coral, flowers, trees, waterfalls, bridges, roads, and streets. Similar to other games like Roller Coaster Kingdom, Social City, and Hotel City players design and run their own tourist hot spot in Happy Island.
Happy Island Screenshots
Happy Island Featured Video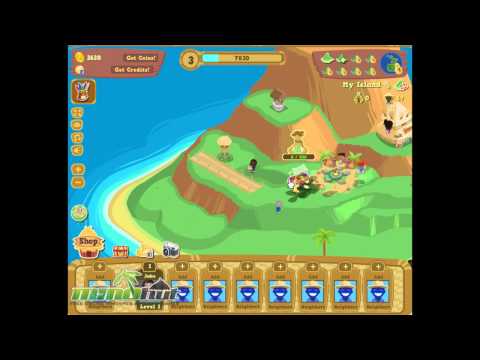 Full Review
Happy Island Full Review
By Ange Perdu
Happy Island is a 2D tropical resort simulation management game that allows players to create and run their own exotic retreat. Each player starts out with a barren deserted island. To turn it into one of the hottest tourist vacationing spots around players have to decorate and build various attractions. Add a variety of Beach Bungalows, Thrift Stores, Crab Shacks, Greek Theaters, and Two-Ring Circuses to keep guests happy. Design pathways and bridges for tourists to walk through. Complete challenging quests to improve accommodations in the resort. Clean up trash dropped by tourists, lead boat tours, hunt for treasure, and visit friends' islands. The city building and management aspects of Happy Island mirror other popular Facebook favorites like Social City, Hotel City, and Roller Coaster Kingdom. In Happy Island players create a paradise perfect for summer vacations or romantic getaways.
Creating a Tropical Resort, the Gameplay
The gameplay focuses primarily on building up the resort and the overall maintenance of the island. Players browse the Island Shop for available attractions to build and decorations to add. Select log cabins to a magical bastion for guests to stay in. Place various hot dog stands, bars, bakeries, sushi carts, and restaurants. For a splash of culture set up a fishing pond Greek theater, or cozy cabana. Tourists require multiple forms of entertainment. They pay a fee to access these buildings. When a building has earned two-thirds or more of the allocated amount it can be collected. As a player levels up more attractions can be added. Since setting up attractions is based on coin balance and level the gameplay becomes slow at times. Part of the maintenance of the island is keeping it clean. Vacationers frequently drop trash like empty wine bottles, spilled coconut drinks, candy wrappers, and discarded blankets. Users simply click to pick up unwanted trash.
Clicking on tourists will display their current status and mood. To keep guests happy players can buy bored or visitors in the process of leaving a drink.
There is a quest feature in Happy Island. The tasks involve setting up surfboards for tourists to learn to ride waves, planting flowers that can be given as gifts to visitors' significant others, or building beach rescue huts to assist lifeguards in protecting the shores. All the missions incorporate decorating or construction to boost resort's appeal to tourists. The reward for completing quests is a combination of XP, gold coins, and it usually unlocks another quest. Every day players also have an opportunity to find a hidden treasure chest floating in the ocean. Scrolling the island coastal shorelines and clicking on the treasure yields XP and coins.
Seaside Lounge & Bill's Steakhouse
Attractions come in the form of hotels, markets, culture, and entertainment venues. To keep tourist from getting bored players have to find a balance between attractions. There's a large assortment to choose from. Click and drag to construct the Shangri-La Hotel, Nero's Inn, Tanning Salon, Bazaar, Zen Garden, Mayan Temple, Luau, or Seaside Lounge. The best attractions and venues require expensive Facebook credits to purchase. Each can hold a specific number of guests. Upgrading attractions earn high levels of XP and changes the appearance of the structure. The price of upgrading is expensive and time consuming. Different buildings have specific reconstruction times. It can take a few minutes or several days for the unrevealing of a renovated Bill's Restaurant. Upgrading areas on the island like the standard rickety dock to a marina also attracts more visitors.
Sightseeing with Friends
There's not much to do at neighboring islands which limits the multiplayer aspects of the game. Users can scan their friend's coastal shorelines for floating treasure chests containing XP and coins or pick up trash left by tourists. In Happy Island players can also conduct boat tours or cruises. Rewards in the form of special attraction or decorations items are received for each successful sightseeing tour. Some spamming of friends is required to start a cruise. Players must have a certain number of guests sign up for the trip. A prompt has to be sent to friends online asking them to join your boat tour. It's a lot of hassle to go through for a free item especially if a user doesn't have a lot of active neighbors willing to participate. At any time players can click and visit their friends' islands.
The Island Shop
The Island Shop features a wide assortment of décor items for players to customize their tropical resort. There's a nice selection of colorful surfboards, umbrellas, benches, coolers, totem poles, rocks, sculptures, lakes, fountains, and waterfalls that can be placed throughout the island. Select tropical palms, bread fruit trees, grapevines, bamboo groves, ferns, shrubs, lavender, pineapple, savannah grass, and giant Venus flytraps to plant along rocky cliffs. Create pathways and streets for bustling tourists to walk on. Add golden paths, stairs, boardwalks, bridges, and even candy embedded roads. The small detailed shop items and the way the guests interact with them makes the customization of the isle fun. Animated tourists will occasionally snap photos of well-decorated areas making their trip memorable and boosting the resort's reputation.
Final Verdict: Good
Happy Island let's players take a desolated island and transform it into a tropical resort for vacationers. The vast array of decorations and attractions make it easy to customize. Similar to other games like Social City, Roller Coaster Kingdom, and Hotel City players main goal is to keep visitors satisfied. Build an Island Grill, Karaoke Booth, and host a Luau for guests. Conduct boat tours, find treasure, and help out friends on their retreats.
Players can own multiple islands and become a force to be reckoned with in the tourism industry in Happy Island. Although the social aspects of the game could use improvement it's still fun to play.
Screenshots
Happy Island Screenshots
Links
Happy Island Links