Happy Aquarium is a 2D aquarium simulation social game. Players create their own virtual fish tank where they can raise, train, mate, and sell tropical creatures. Choose from a large assortment of fish and other aquatic life to grow. Decorate multiple tanks using different themes and animated structures. Search for treasure in fun mini-games or visit  neighbors' aquariums. Set sail for a truly unique underwater adventure in Happy Aquarium.
Publisher: Crowdstar
Playerbase: High
Graphics: High
Type: Social MMO
EXP Rate: High
PvP: N/A
Platform: Facebook
Pros: +Cute animated graphics. +Several mini-games. +Cool mating feature. +Plenty of tank customization.
Cons: -Limited fish selection. -Gameplay can be repetitive at times. -Pop up ads during start of game. -Too many items require expensive Pearls to purchase.
Overview
Happy Aquarium Overview
Happy Aquarium is a virtual fish tank simulation game that allows players to design their own aquarium filled with exotic fish. Raise adorable baby fish into adulthood by feeding and caring for them. Unlike similar games such as FishVille or Fish World fish in Happy Aquarium do not die. Players can take their time training, mating, and eventually selling their tropical creatures. Adopt a wide variety of marine life from the humble goldfish to the pink platypus and various species in between. Decorate multiple tanks with cool themed wallpaper and animated decor. Play a few fun mini-games or go visit your friends' tanks and help out their hungry fish in Happy Aquarium.
Happy Aquarium Screenshots
Happy Aquarium Featured Video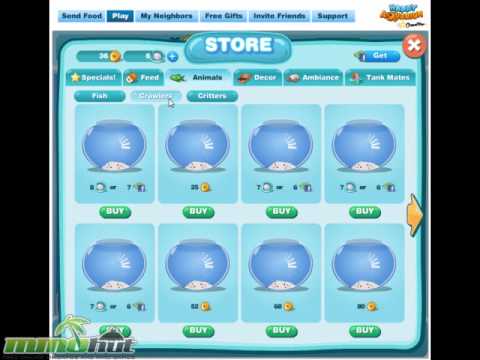 Full Review
Happy Aquarium Full Review
By Ange Perdu
Happy Aquarium is a 2D social aquarium simulation game where players grow, feed, and care for aquatic life. Adopt unique creatures like the Huriga Butterfly, Lemonpeel Angel, Yellowtail Damselfish, Spotted Cardinal, Porcupine Puffer, Comb Jellyfish, Snowflake Eel, and Redstriped Anthias. Although comparable to other fish tank games like FishVille or Fish World in Happy Aquarium users are encouraged to let their fish fully mature. Train them and play treasure hunting mini-games. Let fish mate to help bring in a new edition to the tank. Visit neighbors' virtual tanks to tend to their tropical fish or sell your own for a profit. Decorate your aquarium with animated props and create the coolest environment for your fish.
Raising Tropical Fish, the Gameplay
In Happy Aquarium players adopt and raise tropical fish and other sea dwelling critters in their own customized virtual tank. The fish must be cleaned up after and feed properly to grow into adulthood. Meters at the top of the screen monitor the cleanliness and hunger levels of the fish. Clicking the brush icon and then the tank repeatedly will help clear out unwanted scum. Fish grow through four phases. Feeding them regularly will maintain their correct growth rate speed. Hungry fish can't grow but they will not die if neglected. Players have to keep their aquatic life happy with a full stomach and in a clean environment for quick maturing. If a player has a female and male fish of the same breed they can mate them. Mating fish costs a small amount of coins. It's no guarantee the twosome will produce an offspring. Users have to take a chance. Romantic music plays and hearts collide in a cute animated display when mating. Fish can only mate once per day. Players can also sell their fish when they're adults to earn extra money and XP. Fish who know cool tricks are more valuable and can be sold at higher prices.
Cool Tricks & Treasure Hunting Mini-Games
Players can teach their fish to perform tricks like the zig, zag, loop, dive, figure 8, spiral, and follow the hand move. These tricks are learned through playing the training mini-game. Users simply click the train tab under their fish to start the game. A side-scrolling underwater obstacle course will begin. Players have to guide their fish past hazardous items such as an open umbrella, bomb, monster plant, dangling fish hook, and cat paw. Avoid falling poisons and traps while collecting random coins or fish food along the way. Players get three chances to complete the obstacle. Although, it may look simplistic the game is somewhat challenging. The process of training all of your fish can make the gameplay repetitive at times since you're playing the same game over and over again. Another mini-game available is called Treasure Hunt. In this game players get to choose one of their sea creatures to go treasure hunting. Players only have 45 seconds to quickly collect as many coins as possible before the timer runs out. This game is a great way to earn more money. The controls are a bit slow and clunky making it more of a challenge to loot.
Neighbors with Fish Snacks
In Happy Aquarium players can visit their neighbors' tanks. Clean up the aquarium to earn additional XP and click their treasure chest for bonus coins. When checking chests sometimes collection items can appear. Prizes are earned for completing collections. Acquire shells, bunny eggs, and even expedition crew members lost at sea. Most of the items are hard to come by. Players need a large amount of friends in order to search enough chests to find all the various collections. Users are also armed with a bottle of handy fish snacks. Feed hungry unhappy fish to create a joyous expression on their face. The animation in this game is absolutely adorable. It's very cartoonish but with an entertaining flair. Neighbors can also leave each other messages. Clicking the bottle icon will allow players to compose a note. These messages are not locked once sent. Other nosy neighbors can read them if they get the urge. A friend store icon let's players purchase special animated decorations like unicorns, rainbows, and blossom trees for their neighbors. All the items can only be purchased with pricey pearls or Facebook credits which comes off a little like spam.
The Aquarium
There is plenty of customization in Happy Aquarium. Players have a wide variety of creatures and décor to choose from when setting up their aquarium. Although the fish selection is somewhat small when compared to other popular games the ability to add a vast array of living sea creatures make up for it. Raise slugs, Atlantic starfish, shrimp, crabs, snails, yellow leafy sea dragons, purple swordfish, pink seals, seahorses, dolphins, and polar bears. Players can design their tank to look any way they please. Add textured gravel in an assortment of colors like deep blue, lucky green, hot pink, mosaic, black velvet, and gold rush. Select wallpaper with various themes or depicting a scene such as a tropical sunset, cityscape, shifting sands, coral reef, and emerald fantasy. There is also special track lighting that players can add to overall ambiance. Choose from gold, pink, and red to light up the entire aquarium. Toss in brightly colored corals, animated clouds, floating islands, spurting geyser, an aquatic groom, spindly urchins, bubble clams, and stackable blocks, Tiki heads, and arched rocks. The really cool specialty items in the store costs expensive pearls making it hard for lower level players to buy.
Final Verdict: Great
Happy Aquarium is a great virtual fish tank simulation game. Players are able to create their own animated aquarium filled with various species of marine life. Similar to FishVille or Fish World is some ways Happy Aquarium is able to set itself apart with a few mini-games and a more diverse range of aquatic life. Although the gameplay can feel a bit repetitive at times it's still an entertaining game. Happy Aquarium is perfect for beginner or a more casual gamers looking for a fun fish tank game to play.