Overview
FrontierVille Overview
FrontierVille is a farming and city building game with an unusual RPG style. Based off the classic PC game Oregon Trail and Zynga's FarmVille players enter the wilderness as early century pioneers. The game combines different aspects of all the popular Facebook games along with a rare Sims like virtual family feature. Players can get married have children, grandchildren, and even great grandchildren as they progress through the game. Grow and harvest crops. Gather food, chop down trees, complete quests, battle woodland creatures, customize your homestead, visit neighbors, and create your own rustic frontier town.
FrontierVille Screenshots
FrontierVille Featured Video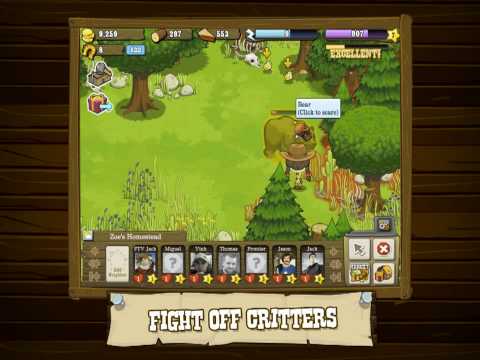 Full Review
FrontierVille Full Review
By Ange Perdu
FrontierVille is a 2D social farming simulation and city building game where players journey out west as pioneers in search of a new life. This dangerous virtual world based on the PC game Oregon Trail is filled with forests, tough terrain, unpredictable weather, and vicious animals. Similar to FarmVille players have to grow their own crops and raise livestock. Protect crops by fighting off troublesome critters, complete challenging missions, and visit neighbors to lend a helping hand. In FrontierVille players can find their significant other and start a family as well. Pioneers are able to decorate their homestead, build cottages, barns, chicken coops, general stores, and schools to form a prosperous town.
Into the Wilderness, the Gameplay
Players begin their adventure on a large plot cluttered with massive oak trees, overgrown grass, skull bones, and wild flowers. A major part of the gameplay is clearing land and farming. To tend or clear specific areas players simply move their mouse over the desired spot until its highlighted and click. Identical to FarmVille players buy seeds in the market, plant them, and harvest when ready. Grow clover, tomatoes, pumpkin, corn, sunflowers, wheat, cotton, and peanuts. Although it's a smaller selection of crops for pioneers to plant in FrontierVille farming is essential. Players earn coins, XP, and food for harvesting but they're not rewarded automatically. Pioneers have to quickly click on the icons to collect them. If you're not fast enough they disappear. This feature keeps players absorbed in the game but it can become frustrating after a while. Watching valuable coins or XP vanish in mid-air is not fun.
Every action in FrontierVille uses energy. Meals which can be purchased in the market with food or horseshoes replenish energy. The system in FrontierVille is somewhat unbalanced. Energy runs out quickly and takes over an hour to fully restore. Buying meals are very expensive leaving players with a significant amount of downtime if they're not plentiful in food or willing to pay real money for horseshoes. Other creatures also inhabit the woodlands. Occasionally after clearing an area or harvesting they will appear to wreak havoc and drain extra energy. Pioneers have to fight them off by clicking clobber repeatedly. Battle snakes, grizzly bears, groundhogs, and foxes. Quests can be completed as well. Most of them require players to perform distinct tasks like taking out six bears, making clothes, gathering firewood, buying animals, constructing buildings, or harvesting so many bushels of wheat.
Married Life on the Prairie
It can get lonely out in the great unknown. In FrontierVille players can build their own virtual family. Accomplishing special missions will allow pioneers to get married and have children. This is a very cool feature that is seldom seen in Facebook games. Similar to Sims users can pick their spouse and create a virtual life together. FrontierVille's character customization is basic but it has a decent variety of detailed appearances for users to choose from. Players can add cute little touches to their dream mate like a million dollar smile or a cookie-eatin' grin. These new editions to the frontier are not useless. By clicking on them players can switch and control multiple avatars. The only downside to this is that all of the family members use the same energy bar. As the family grows quests are directed towards certain individuals. Your spouse might have to chop down 25 trees or children chores are required. There's plenty of work to do in FrontierVille.
Relying on the Kindness of Woodland Strangers
Generous neighbors are crucial in this game. Although beggars can't be choosers in FrontierVille they rule. In order to construct buildings pioneers need coins, wood, and lots of supplies. Supplies are hard to come by. They can only be received as gifts from neighbors or purchased with rare horseshoes. In order to complete missions and progress in the game players will need to spam and spam often. Constructing one building may take up to 120 supplies. The more active friends who like to give gifts the better. This makes the game extremely challenging especially for players who do not like to ask friends to send items to them like nails or bricks. Build several cottages, barns, schools, general stores, sawmills, and Inns. Unlike the game Social City pioneers can collect bonuses from their buildings and customize them. Add different roofing, outside walls, and panel colors to make your western town stand out. Spruce up your homestead with ponds, rocking chairs, hitching posts, whiskey jugs, logs, signs, outdoor showers, fences, and clotheslines. Plant colorful fruit trees as well. Players can also assist neighbors by visiting their frontiers. Water their crops, tend grass, remove skull bones, wild flowers, or feed hungry livestock. Collect items that can be traded in for XP, coins, or energy and build up a reputation among friends. FrontierVille is somewhat buggy with connection issues and glitches when adding new neighbors.
Final Verdict: Great
FrontierVille is a challenging and fun game that incorporates different elements of popular games like FarmVille, Sims, Oregon Trails, Treasure Isle, Social City, and takes players on an adventure into the wilderness. Although the game can be a bit buggy at times, spamming mandatory, and the energy system could use improvement it's an overall solid game. Create your own virtual family, farm, battle critters, and build a frontier city. There are so many different activities to do in this game it's addicting. Players get the best of Facebook gaming in FrontierVille. If you're looking for a unique gaming experience then blaze the trail towards FrontierVille.