Overview
Farm Town Overview
Farm Town is a virtual farming simulation game where players start out as local farmers. Grow an assortment of fruits, vegetables, and herbs for income. Plant crops like rice, wheat, sunflower, bell pepper, mint, basil, sage, blueberry, coffee, and pineapple. Harvest and sell them at the Marketplace. Add cool decorations to spruce up your property. Raise domesticated animals. Purchase factories and manufacture various goods in between harvests such as cheese, yogurt, pastries, and clothing. Although similar to the slew of other virtual farming games like FarmVille, Country Life, and MyFarm Farm Town gives players a more social environment to explore. Chat with friends and make new ones in Farm Town's local hang out spots or get hired as a farmhand for extra money. Become the farmer you were meant to be in Farm Town.
Farm Town Screenshots
Farm Town Featured Video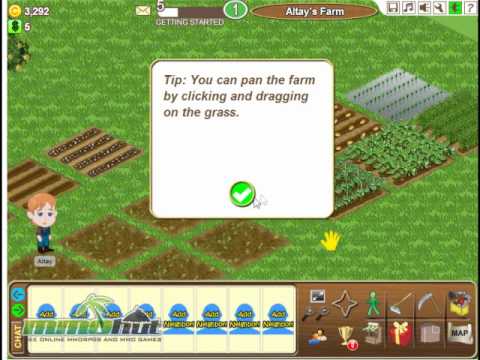 Full Review
Farm Town Full Review
By Ange Perdu
Farm Town is a 2D social virtual farming simulation game that lets players become virtual farmers. Plow fields, plant, and harvest a variety of crops. Grow cotton, soybean, artichokes, pumpkin, oats, grapes, tomatoes, cucumbers, and mushrooms. Harvest and sell them at the Marketplace for coins. Raise various livestock like cows, sheep, chickens, and goats. Players can expand and own multiple farms as they level up. Work as a farmhand for additional income. Chat with friends or help out at neighbors' farms. Set up large factories that produce products to sell. Similar to other games like FarmVille or Country Life users can design the entire layout of their farm.
Farmer Basics, the Gameplay
In Farm Town players start out with a small plot of land. Plowing, planting, harvesting, and selling are major parts of gameplay. Each player has to generate enough income to continually expand their farm. Up to 4 fields can be plowed at a time. Plowing costs a fee of 20 coins but earns XP. Seeds are purchased in the store and range from a watermelon to sugarcane. Depending on the crop it can take 2 hours to several days to grow. When ready they are harvested by clicking on the harvest tool and then pointing to the desired crop. To harvest more than one field users must purchase functional tools like the harvester. This machine allows players to harvest two plots at a time. Crops can be sold instantly upon collection or placed in storage to be sold at the Marketplace later. There are other tools that aid in multi-tasking such as the seeder, tree shaker, flower harvester, and bulldozer. Functioning tools are not cheap they cost $15,000 to $80,000 coins to purchase and run on fuel. Fuel is given daily but the amount depends on how many neighbors a players has and how active they are. Farmers are restricted to one refill on fuel a day.
Friends & Working as a Farmhand
Players can also work as a farmhand by clicking on the map and entering the Marketplace. In the Marketplace users can converse with other players through the open chat box, sell their goods to Tom, or get hired as a farmhand. Users looking for help in harvesting or plowing will click on a potential player's avatar sending an invite to work. Accepting the invite transports the farmer to the job site earning coins and XP for assisting. You don't have to know the individual to hire them. Farmers receive bonuses for hiring farmhands. Large farms can hire as many farmhands as they want creating a fun group atmosphere. This social feature in the game allows users to befriend new players that aren't previous Facebook friends and chat with random farmers. The Inn located on the map is also a place where farmers can socialize. Farm Town also has a buddy list that let's users add friends. It indicates when they're logged into the game and available for chat. Like other virtual farming games players can visit and tend to neighbors' farms as well. Tasks usually involve watering crops or raking up leaves.
Dive into the Agriculture Business
In Farm Town players are able to dive deep into the agriculture business by creating a specialized farm. Focus on manufactured baked goods, dairy, or even fish through functional facilities. The buildings range from Dairy Processing Plants to Sewing Mills. They are purchased through the store and produce various items that can later be sold for coins at the Marketplace. There's a wide variety of products to make including cheese, yogurt, organic juice, sugar, olive oil, pies, pizza, chocolate, wine, clothes, and accessories. Grow different crops to help create the ingredients in order to produce the product in the functional facility. It only works if the ingredients are available in storage. Farm Town doesn't have a mass production feature so players must manually start the manufacturing process for each bundle. Producing items in small batches can be time consuming depending on the product. Ponds, rivers, lakes, and sea coasts are inhabited with fish adding a very realistic appeal to the game. Players are able to go fishing at their own pond or friends' lakes by clicking on their rod at the bottom of the screen. Catch Northern Pike, Mackerel, Haddock, Catfish, Tilapia, Carp, Sturgeon, or Crab. Sell them for coins or use as ingredients at one of the functional facilities.
Mansion with the Big Swimming Pool
The customization is impressive in Farm Town. Players have hundreds of detailed decorations, flowers, topiary, fences, ground textures, and buildings to choose from. Since the goal of the game is to become the richest farmer in the virtual world players have access to a large assortment of items to create an elaborate farm layout. Add a quaint farm house and a white picket fence. Create a manor complete with a horse training area and outdoor fireplace or mansion with a big swimming pool. Players can place items anywhere on their land. Buy tall grass, red brick paths, dirt roads, asphalt, and cobblestone pathways. Make your farm coastal or rural by including lakes, rivers, or seas. Decorate with benches, scarecrows, hammocks, outdoor sofas, and sculptures. In Farm Town players can also own cars. Park a minivan, sports car, or limousine outside your abode. There's a lot to do in terms of customization. Most of the items can be purchased with coins. Some of the cool specialty décor requires expensive Farm Cash to buy.
Final Verdict: Great
Farm Town is one of the best virtual farming games online. Although it's often overshadowed by similar games like FarmVille and Country Life Farm Town has a lot to offer. The social multiplayer aspects of the game are exceptional. Players can actually chat and play together simultaneously which is something other Facebook farming games lack. Harvesting, raising livestock, producing goods, and decorating are major parts of gameplay. Any virtual farming fanatic will find Farm Town quite addictive.
Screenshots
Farm Town Screenshots
Links
Farm Town Links