Cupcake Corner is a 3D social cooking and management game. Players start their own bakery from the ground up. Cook a large variety of cupcakes, cookies, pies, cakes, brownies, and other delicious desserts. Manage your bakery by hiring friends as staff, collecting tips, and decorating with luxury items to keep customers satisfied. Master recipes and expand your repertoire as a pastry chef in Cupcake Corner.
Publisher:OMGPOP
Playerbase: Medium
Graphics: High
Type: Social Game
EXP Rate: Medium
PvP: N/A
Platform: Facebook
Pros: +Cute graphics. +Good customization options. +Extensive recipe list to choose from. +Nice theme selection.
Cons: -Gameplay can be repetitive at times. -Best items require expensive Quick Bake Dollars to purchase. -Occasional spamming of friends necessary.
Overview
Cupcake Corner Overview
Cupcake Corner is a social bakery simulation game where players become pastry chefs operating their own bakeshop. Get behind the oven and choose from wide variety of treats to serve. Make deluxe cupcakes, frosted sugar cookies, home-style pie a la mode, donuts, brownies, chocolate mouse, rum cakes, and ice cream sundae. Get creative and customize the recipes by adding different flavors. Hire friends as employees and collect tips. Purchase cool decor items from the shop to decorate and draw in bigger crowds. Similar to other popular games like Baking Life, Cafe World, or Restaurant City where cooking is essential players have to master recipes to earn additional XP. Step into the virtual culinary world. Open the old recipe book and become top chef in Cupcake Corner.
Cupcake Corner Screenshots
Cupcake Corner Featured Video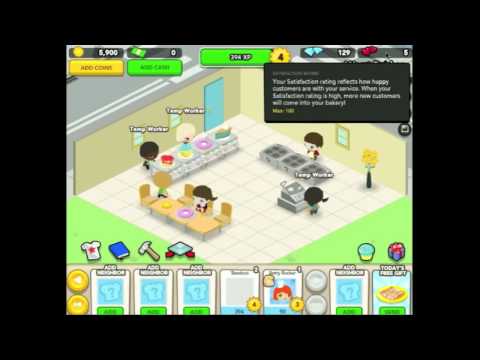 Full Review
Cupcake Corner Full Review
By Ange Perdu
Cupcake Corner is a 3D social cooking simulation and management game where players become pastry chefs starting their own bakery. Cook an assortment of mouth watering treats like strawberry shortcakes, dipped chocolate chip cookies, pecan pie, and truffles. Customize each dessert by adding a special colored flavor to make it stand out above the rest. Master recipes and unlock new ones as you level up. Collect tips from generous customers and keep them coming. Hire friends to run the registers and work the counters. Visit their shops to help out. Design the layout of the bakery and decorate with cool themed items or mix match. Conquer the business of sweets.
Pastry Chef Extraordinaire, the Gameplay
In Cupcake Corner players start out with a small bare bakery and a lump sum of 10,000 gold coins. A brief tutorial quickly shows users the basics and then it's straight to the oven. Similar to Café World or Restaurant City the gameplay focuses on cooking various recipes and mastering them. Clicking on the oven will open up the Recipe Book. Each dish has a designated baking length, profit per serving, and XP amount given. Treats can take anywhere from 3 minutes to 2 days to prepare and cost an allocated amount of coins to cook. There's a nice variety of desserts to choose from. Players can make caramel apples, tasty cupcakes, cinnamon rolls, fruit cobbler, jiggly jello, and meringue pie. As players master dishes and level up more advanced confections are unlocked like macaroons, flan, crème brulee, fudge balls, chocolate mousse, and éclairs. Once selected chefs are taken to the Flavor Station where they can choose a special topping changing the look of the dessert. It's a nice additional customization feature. Add caramel, chocolate, berry, lime, vanilla, or strawberry flavors to any recipe. There are no preparation steps that require continuous clicking in the game. Once a recipe is selected it immediately starts cooking. When done a loud ding will sound along with a bright green arrow pointing at the dish. Another click quickly decorates adding icing, toppings, or sprinkles and places the treat on the counter. Ovens get dirty after each dessert. Chefs have to click on each individual stove to clean. Timing and baking desserts can be repetitive at times especially when attempting to master a specific recipe.
Satisfied Customers & Cookie Crumbs
Just like running any other business in Cupcake Corner players have to keep customers satisfied. To maintain a steady influx of visitors users have to properly layout their shop, decorate, and always have sweets prepared. Customers will lower the rating if there's not adequate seating or desserts available. At the top of the screen is the bakery's luxury and satisfaction rating. Decorating the bakery boosts the overall luxe or luxury score. Purchase unique tables, chairs, flooring, tiles, and wall décor to impress patrons. The higher valued the item the more it will increase the score producing large hungry crowds. Serving up sweets and adding more seating as business increases maintains the satisfaction rating. The graphics in the game is cute. Customers chow down on cakes and pies in cookie monster mode devouring the snack at lightening speed with crumbs flying in the air. Hearts appear as happy customers leave the table. Occasionally satisfied customers will leave a tip. Players have to quickly click on the table to receive the coins. The bonus will be lost if you're too slow.
Friends with Tips
Friends as neighbors play an important role in Cupcake Corner. Similar to Baking Life players have temporary workers running the register and counters. Keeping temps on the payroll cost a portion of the shop's earnings. Although it's less expensive to hire friends some spamming is required to initiate the hiring process. Players must post banners on their Facebook wall and friends' walls. Expand the bakery is also difficult without a minimum of 14 neighbors. If a user lacks the required number of friends they'll have to purchase Quick Bake Dollars with Facebook Credits to increase the shop's size. Each day players can visit their friends' bakeries and pick up bonus tips left on tables. Sending and sharing desserts is also a way chefs help each other out.
Graham Cracker Doors to Vanilla Scoop Chairs
Players can design their avatar and bakery to look anyway they wish. Create a character in traditional attire with apron and chef hat or spice things up in a wacky costume. There's a nice theme selection and plenty of customization options available. Dress as a zombie, skeleton, scarecrow, biker, Viking, cheerleader, or simply go prep. Add a green rotten missing teeth type of smile, pouty lips, or seasoned veteran mouth. The different looks are fun to play around with. To decorate the shop players can buy cascading cupcake trays, giant green gummy bears, red gumdrops, truffle trio statues, celebration balloons, column, candy cane wall décor, bookshelves, huge picture windows, chocolate cone wall lamp, cookie crumbles decal, and cuckoo clock. Tables come in solid oak or shaped as sweets like ice cream sandwiches. Customers can sit and dine on vanilla scoop chairs or tree stumps it's totally up to the player. Click and drag a red pagoda or graham cracker door into the bakery. Select yellow, chocolate cake, cotton candy, peppermint, or sprinkles wallpaper. Customize the floor with mixed berry or icy floors. There are even a few special ovens designed as cupcakes and smores. Unfortunately majority of the cool items require expensive Quick Bake Dollars to purchase.
Final Verdict: Good
Although it isn't much different from other cooking games such as Baking Life, Café World, or Restaurant City in terms of gameplay it still offers a significant amount of customization that makes it fun. Players can customize virtually every aspect of the game from their avatar and recipes to the design of the shop. Dress your avatar up in a bizarre outfit and design a confection wonderland filled with gumdrops or chocolate sauce as you master a variety of dessert recipes in Cupcake Corner.
Screenshots
Cupcake Corner Screenshots
Links
Cupcake Corner Links