Crime City is a 2D, social, mafia-themed RPG by Funzio. Players become the newest member of a growing mob family. Compete against the local rival gangs for control, money, and respect. Create your own hood. Construct buildings, decorate, and collect the cash before the cops shut you down. Attack other players or protect friends from invasions. Show no mercy and rule the streets in Crime City.
Publisher: Funzio
Playerbase: High
Graphics: High
Type: Social Game
EXP Rate: Medium
PvP: Open
Platform: Facebook
Pros: +Great graphics. +Interesting gameplay. +Extensive city building feature. +Nice collection reward system.
Cons: -Character customization options could be better. -Jobs require expensive equipment to complete. -Friend spamming required for certain gear.
Overview
Crime City Overview
Crime City is a social, mafia role-playing game where players begin a life of crime. Join a rising mafia and move up the ranks. Complete quests. Start a racketeering business. Mug innocent citizens and kill those who oppose you. Instead of performing text-based jobs like in Mafia Wars, players actually explore a virtual world and make their character interact with other players. Attack and steal from rival mafias. Protect friends' hideouts. The animated gameplay gives Crime City an almost console feel resembling Rockstar Games' Grand Theft Auto. The combination of RPG and city building mechanics is also unique. Similar to CityVille, mobsters design and build their own hood. Construct apartments, deli, pawn shops, and add decorations. Load up your AK-47 and go on a crime spree in the treacherous streets of Crime City.
Crime City Screenshots
Crime City Featured Video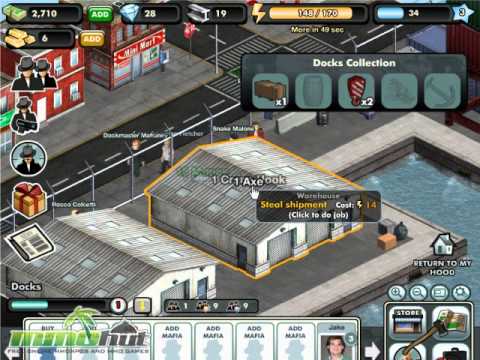 Full Review
Crime City Full Review
By Ange Perdu
Crime City is a 2D, mafia-themed RPG where players become aspiring criminals new to the mob scene. Complete challenging quests to prove that you have what it takes to be a gangster. Explore over thirty unlockable cities and perform various jobs, from breaking and entering to political assassinations. Build up your character. Earn respect by stealing, and fighting rivals on their on turf. Create your own hood. Construct urban housing, restaurants, factories, mills, garages, and shops, then collect money and resources from them. Boost income through racketeering. Avoid getting caught by the police. Trade in collectibles. Protect your friends' businesses, recruit, and reign in a virtual world where it's good to be bad.
East Side to Chinatown, the Gameplay
Crime City revolves around money, diamonds, and respect. As a new member of the mafia family players start their life of crime on Canal Street. Perform a hit on Pookie Grandin, break into some apartments, sell product at the basketball court, rob the mini mart, pawn off stolen merchandise, and pickpocket passersby. Cash, XP, and random items are rewarded for each job. Most of the jobs require expensive equipment that players have to ask friends for by posting wall requests to attain. Although necessary, it can appear to some users as spam. All the actions are animated instead of text-based, so when players execute jobs by clicking on buildings or pint sized avatars, they see their character shoot, stab, and strike. The graphics add a bit of excitement to the gameplay. As players level up they unlock additional cities to explore and corrupt. Control East Side to Chinatown and beyond. Crimes get more complicated as mobsters progress in the game. Similar to Mafia Wars players can master an area up to three times earning skill points that can be used to increase character attributes. All tasks require energy and the proper equipment. Quests often vary. Complete challenging missions such as getting revenge on the Ricci family in East Side, robbing an allotted number of Laundromats, and gathering info on rival mafias. At any time players can click on the rival icon and see a drop down list of random players in your level range from opposing mafias. Click to visit to enter their neighborhood, then walk around and case the joint. Rob their buildings, or fight the opposing gang for the opportunity to win a lump sum of cash and respect points. The winner of the fight is the criminal with the highest mafia attack, size, character strength, and specialty items.
Building Your Hood
Players can also build and design their own hood. The customization and detailed building options is quite impressive. Just like CityVille, users can construct a wide variety of housing units and businesses. Drag and drop lofts, warehouses, projects complexes, meat factories, adult stores, condos, hotels, strip clubs, churches, pizza parlors, gas stations, smoke shops, diners, art galleries, steak houses, boutiques, stadiums, and carousels. Collect money from these structures or start a racketeering business. Rackets can be in the form of firearms, money laundering, selling car parts, fake IDs, 3-Card Monte, or rent fraud. All of the operations are set at various times, from five minutes to two days. Players must collect before the cops catch on and the payouts start decreasing.
Coffee shops or fitness gyms can be built to generate energy, while steel mills and foundries produce steel for the construction process. Add paved streets, dirt roads, grass, and trees. Bus stops, fountains, dumpsters, pay hones, traffic lights, parking meters, and mailboxes are also nice touches that players can incorporate for an authentic urban setting.
Mafia: Connection & Collections
In Crime City mafia, connections are crucial. It's difficult to expand your hood, beat rivals, and even acquire certain items without a significant amount of mafia members in your crew. Visiting friends' hoods earns steel, money, and precious energy. Players can click on their buildings to protect them from rival invasions. Occasionally, cash or collectibles are dropped as well. The collection reward system in this game is excellent. There are collections for each district area, building type, and for fighting. Find drivers licenses, credit cards, jewelry, clothes, food, crime scene photos, and even gruesome body parts like eyeballs or severed pinkies to complete collections. The rewards are often rare weapons, cash, XP, and lump sums of gold.
The Gun Shop
Equipment can be purchased with money, diamonds, gold, or respect depending on the particular item. In the store gangsters in the making can arm themselves with an assortment of weapons, armor, vehicles, and boosts. The weaponry is realistic looking, ranging from the standard wooded baseball bat to the AK-47. Buy a crowbar, knife, Tec 9, Beretta 92, Mac 10, Uzi, Colt 45, machete, grenade, and pipe bomb. Each aids in improving overall attack or defense in battles. Armor varies from trench coats to mech suits. There are over 25 vehicles or getaway cars players can use. Buy a Winscott, BSD Motorcycle, Stampede, Titan, Roadster, City Bus, Nitro, and Crown Saber to name a few. The more equipment a mafia team has combined the stronger their mob will be. All of the currencies in Crime City are easy to get except for gold.
Final Verdict: Great
The gameplay in Crime City blends role-playing with city building. This interesting concept creates an addicting game that players of both genres will enjoy. Begin your career as a criminal in a large virtual world. Explore cities, perform jobs, quests, and attack rivals gangsters. Start racketeering, visit friends, and increase your mafia. Build and decorate your own hood. Add casinos, chop shops, dance clubs, bars, and crab shacks. Similar to games like Mafia Wars and CityVille, Crime City is loads of fun.
Screenshots
Crime City Screenshots
Links
Crime City Links