Overview
CityVille Overview
CityVille is a social simulation city building game where players construct homes, businesses, and roadways. Control and manage the economy as mayor. Grow a variety of different crops for supplies and income. Exchange goods with neighboring cities through the local train system. Become a serious mogul. Go into business with friends by opening and running various franchises. Complete quests, chop down trees, build, decorate, and expand. This game incorporates gameplay elements from FarmVille and FrontierVille to produce a city building genre game that goes beyond the basic mechanics of Social City. Players work with friends to establish a growing metropolis and franchise operation worthy of recognition in a place called CityVille.
CityVille Screenshots
CityVille Featured Video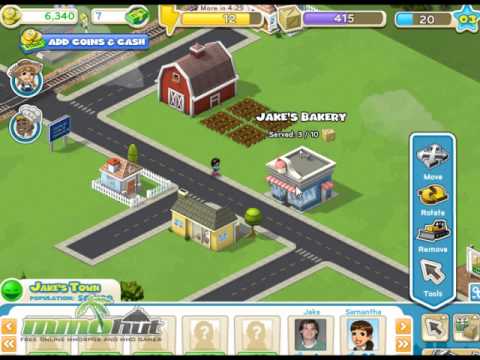 Full Review
CityVille Full Review
By Ange Perdu
CityVille is a 3D social simulation city building and management game that lets players build a city from the ground up. Step into the role as mayor and use strategy to balance the economy while expanding into a massive metropolitan area. Build an assortment of cottages, family townhouses, loft apartments, and hotel suites. Construct different businesses from fast food joints to coffee shops. Complete quests to unlock special structures. Produce resources through farming, importing, and exporting. Lend neighbors a helping hand. Start a franchise in your friends' cities and set up a main headquarter location. Add flowers, signs, fences, animals, and beautiful parks to enhance public appeal. Control and create your own city in Zynga's CityVille.
Birth of a City, the Gameplay
Players have to build their city from the ground up starting with a small plot of land in a remote wooded area. A brief tutorial runs through the basics and then users are left alone to begin the construction phase how they see fit. Housing, businesses, and roadways have to be built. Select country homes, suburban, modern chateaus, upscale condos, sprawling mansions, and even magnificent skyscraper condos to increase population. Since area is somewhat rural scattered trees can be in the way. Similar to FrontierVille players have to click to chop down trees and whack structures to complete the construction process. Energy is used for every action. Clicking on homes collects rent boosting income. All buildings must be located near roadways or sidewalks for townspeople to reach. There are also plenty of quests that help guide players in the construction of their metropolis. Tasks range from collecting rent from 25 homes to placing an arboretum. Businesses are more complicated. Set up a bakery, flower kiosk, toy store, burger joint, video game store, diner, pool hall, bike shop, French restaurant, sushi bar, or cinema. Each establishment has a listed earnings and supply amount required. Businesses need resources in the form of goods to function. The town's economy is based on their goods supply. A large portion of the gameplay revolves around the construction of buildings and the production of various resources. Players have to continuously collect coins and restock shops supplies.
Supply & Demand
All goods are non-specific. There are several options to produce resources. Similar to FarmVille players can plant and harvest a variety of crops. Grow strawberries, carrots, corn, cranberries, pumpkins, wheat, and peas. Plowing is unnecessary. Players can create a farm as large or small as they desire since there are multiple methods to gain stock. In CityVille there is a train system where goods can be purchased or sold through neighboring cities. Clicking on the train will prompt the schedule. Users can choose to exchange with SamVille, CharlieVille, or an allocated number of friends. Waiting periods vary from 5 minutes to 2 days depending on selection. Once elected as official mayor the shipping pier is unlocked. The pier is another location where resources are produced. Ship or exchange supplies from Sydney, Paris, Shanghai, London, New York, Rio, and Rome.
Other Cities in Need
CityVille relies heavily on their integrated social aspects. Although this feature does make the game more interesting it also requires players to have a large number of active neighbors. Without a significant amount of friends playing users will find their city's growth stagnated. Friends are needed for the completion of community buildings, franchise establishment, goods exchange, expansion, and additional energy. When constructing community buildings like the emergency clinic or city hall employees must be hired. Players have the option of spending expensive City Cash to fill each position or hiring a friend for free. The building can not be completed until all positions have been filled. Reminders often come off as spam but are necessary to advance. Franchises have to be built in your friends' cities on available empty lots. The franchise feature allows players take a specific business of their choice and create a towering main headquarter through building branches of the store in different neighboring cities. Friends have to approve and activate your franchise. Zoning permits for expansion and energy are given freely in the form of gifts as well. Much like FrontierVille players can visit neighbors to earn reputation, coins, XP, and energy. Help out by collecting rent, sending tourists to their businesses, chopping trees, or tending to their crops.
The Long Asphalt Road
There's a nice amount of customization in CityVille. Decorations not only add beauty but possess a bonus payout increase when located near establishments. Players have the freedom to design the appearance of their city. Lay down asphalt roads, cement sidewalks, flags, flower patches, flowers, trees, signs, fences, picnic tables, snack carts, blue dog houses, black labs, bronze statues, ornate fountains, marble arches, romantic gazebos, rocky hills, swimming pools, and tennis courts. All buildings can be fully rotated. Specialty items and collectibles are also available through the collections feature. Finding garden gnomes, loveseats, laptops, house plants, quilts, milkshakes, and other listed items from gathering rent are rewarded with new buildings or decorations. Earn a rare tavern, tuxedo rental shop, hot dog cart, bird fountain by completing various collections. The animated graphics are cute except for the lack of character avatars. When players visit friends they appear as their Facebook profile picture which look slightly tacky watering crops.
Final Verdict: Great
CityVille is an innovative city building management game that's more advanced than Social City. The unique combination of features and social aspects gives players a challenge. Create a massive city from scratch. Similar to FrontierVille chop trees, build, complete quests, and accumulate resources. Plant and harvest crops like FarmVille. Set up businesses and start franchises with friends. Use strategy to manage the economy as mayor. Decorate and design the metropolis of your dreams. This continuation of the series is equally addicting. Fans of Zynga games will thoroughly enjoy what CityVille has to offer.
Links
CityVille Links