Cafe World is a 2D social simulation game by Zynga. Millions of Facebook users log in daily to run their own virtual restaurant cooking up rare dishes, selecting decor, managing staff, and keeping customers satisfied. Add friends as neighbors visit their cafes and expand your diner from a meager start-up to an astounding cafe worthy of recognition.
Publisher: Zynga
Playerbase: High
Graphics: Medium
Type: Social MMO
EXP Rate: Medium
PvP: N/A
Platform: Facebook
Pros: +Nice Graphics. +Easy to use interface. +New meals added regularly keep gameplay interesting. +Cool cookbook feature.
Cons: -Gameplay slow at times. – Spamming of friends may be required. – Customization options could be better.

Overview
Cafe World Overview
Cafe World is a popular Facebook game application from Zynga that let's players start their own virtual cafe. Cook, serve dishes, earn coins, decorate your restaurant, and dine at neighboring coffee shops in Cafe World. Similar in other social simulation games like FarmVille and Playfish's Restaurant City users get to experience restaurant life with a focus on preparing a wide variety of meals. Learn how to make the perfect King Crab Bisque with Overstuffed Pepper while expanding your virtual restaurant to new heights. Create an affluent hot spot for you and all your Facebook friends to eat at in Cafe World.
Cafe World Screenshots
Cafe World Featured Video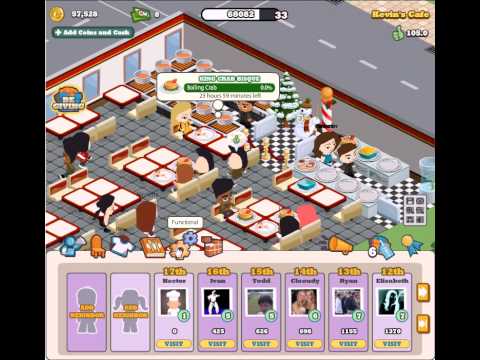 Full Review
Cafe World Full Review
By Ange Perdu
Cafe World is a 3D social simulation game application that allows players to become the owner of a virtual restaurant. Starting out small they must expand into a successful lavish cafe. Cafe World may appear to be the same game as Playfish's Restaurant City but it's far from it. This virtual restaurant doesn't concentrate on the staff, neighboring competition, or ingredients but solely on the food. Cook amazing meals step by step and serve them. Decorate the cafe to express your individual style. Hire Facebook friends as employees and visit other neighbors' cafes for bite to eat. In Cafe World the food speaks for itself along with the fun.
All About the Food, the Gameplay
The gameplay in Cafe World is all about the food. Players enter their tiny eatery as head chef armed with several stoves. Clicking on the stove will prompt a cookbook filled with an assortment of available dishes to create. Make a simple Bacon Cheeseburger, French Onion Soup, Smoked Salmon Latkes, Lemon Butter Lobster, and even a Spitfire Roasted Chicken for customers to devour. Each dish requires an allotted amount of coins and time to cook. Cooking times can vary from 5 minutes to 3 days depending on the particular dish. In order to prepare a meal the user must click on the stove for each recipe step. Click to start the gathering, chopping, mixing, boiling, and sauteing of the necessary ingredients. This process can be very repetitive since each step requires the user to click while it simulates the task and loads. When the dish is ready to serve it must be moved over to the counter where it will not spoil. Completed dishes sitting out on the stoves too long will spoil and attract flies. Timing the cooking process is crucial in Cafe World. Players will spend the majority of their time preparing meals and keeping the counter-tops full. Waiting for dishes to cook sometimes slows down gameplay especially when all the stoves are currently in use. The challenge in Cafe World is mastering the never-ending cookbook. New meals are added regularly to keep the game interesting. Stoves and counters are limited. A user has to level up in order to unlock additional ones. This feature can be annoying for more advanced players who wish to expand quickly. In between dishes players can decorate their cafe or visit their friend's restaurants.
Friends with Spice
Neighbors are another major part of Cafe World. For players to level up faster and the overall expansion of their cafe adding Facebook friends as neighbors is essential. Visiting your neighbors tasting their dishes and even spicing them up a bit turns into Cafe Points or XP. When friends decide to spice up a dish it adds extra servings to the counter. Dish spicing has the ability to save a friend's spoiled meal giving them a second chance to serve it before flies gather. Visiting friends to spice their dishes also gives players a nice break from the minding the stove. Users can also send free dishes to neighbors. These gifts are very helpful. They help keep the counters full when users are waiting on slow cooking dishes. Send friends 100 servings of Blueberry Cheesecake or Tikka Masala Kabobs. Any gift can be sold for gold coins as well. Like in other Zynga games, including Fishville, Petville and YoVille, spamming friends may be required in order to obtain certain items including custom Spice Rack or Super Stoves.
Expanding Your Cafe
The customization in Cafe World is decent. Owners can choose from a variety of colorful flooring, tables, chairs, walls, windows, and other specialty decor. Select wood, tile, textured patterns, or marble floors. Plain to extravagant seating and murals of picturesque scenery are also options. There's plenty of room for imagination when it comes to designing the cafe. Depending on a player's budget they can add stainless steel appliances, extra shelving, master chefs, magical tree spirits, indoor ponds, gushing geysers, arcades, slot machines, or even a hovering UFO in the center of their restaurant. The quantity of assortment may be lacking for the gamer that enjoys going over and beyond in terms of customization but it's an adequate amount of variety there.
A great feature in the game is the ability to continually expand your cafe at your own pace. Other games such as Restaurant City automatically increase restaurant size when a player reaches a particular level. In Cafe City it's totally up to the user how large they want their diner. Purchasing extra space only requires coins or Cafe Cash. The bigger the restaurant the higher amount of seated customers can fit and profits made. Cafe World has a good balance between items or expansions available through in-game currency and those that require Cafe Cash. There's no huge difference. Most specialty items can be attained easily.
Final Verdict: Good
Cafe World is a solid social simulation game. Despite its similar appearance to Playfish's Restaurant City Cafe World is very different in gameplay and features. Players must focus on cooking instead of management details like other games. The easy to use interface makes the game simple to grasp especially for novice players. The simplicity of the game gives players an environment that they can quickly level up and excel in.
Although the game could benefit from having more interactive features like Restaurant City it's still an entertaining game. Cafe World makes cooking unique dishes like Kung Pao Stir Fry, Voodoo Chicken Salad, and Ginger Plum Pork Chops fun. If you're new to the virtual restaurant industry Cafe World is a good place to start.
Screenshots
Cafe World Screenshots