Braaains is a social RPG. Players toss on their lab coats and become mad scientists on a mission to create a massive army of zombies. Train and equip them with wacky weapons. Fight in hilarious PvP combat. Play fun mini-games. Build a powerful military made of the living dead and compete with friends for top rank in Braaains.
Publisher: Broken Bulb Studios
Playerbase: High
Graphics: High
Type: Social Game
EXP Rate: High
PvP: Open
Platform: Facebook
Pros: +Amusing animations. +Wacky weapons and gear. +Over 100 achievements. +Cool mini-games. +Great soundtrack.
Cons: -Small number of battle environments. -Gameplay can be repetitive at times. -No real story line. -Special shop items require cash.
Overview
Braaains Overview
Braaains is a zombie role-playing game where players build their own army of the living dead. Exhume zombies from the graveyard. Equip them with plungers, frying pans, tricycles, baseball bats, garbage cans, and even tomb stones as weapons. Boost their agility, strength, health, and defense with precious brains earned throughout the game. Fight in PvP battles against other undead troops. As a mad scientist use various experiments, concoctions, and gadgets to give your militia an advantage over others. Accomplish various tasks in order to earn achievements. Play various mini-games. Similar to the games like Plants vs Zombies, Office Wars, and Ninja Saga players participate in a colorfully animated world. Dress your zombies in outrageous outfits. Compete with friends in different categories for highest scorer in Braaains.
Braaains Screenshots
Braaains Featured Video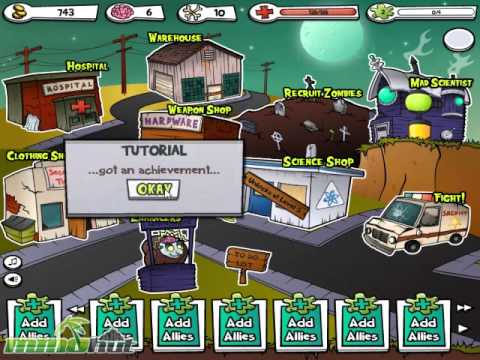 Full Review
Braaains Full Review
By Ange Perdu
Braaains is a social zombie themed RPG that allows players to create a massive zombie military. Recruit, train, and equip them with a variety of weapons from baseball bats to pitch forks. Pay in brains to increase health, strength, agility, and defense. Wage war in PvP battles against their armies. Fight monstrous bosses. Become a truly mad scientist adding different concoctions, enhancers, and experiments to give living dead militia an advantage. Make it rain acid on enemies or blow them away with a satellite blast. Complete a tedious to-do list to win achievements. Assist friends by playing mini-games or challenge them in a battle to the death. Comparable to games such as Plants vs Zombies, Office Wars, and Ninja Saga players compete for status in the elite top rankings.
Resurrecting the Undead, the Gameplay
Most of the gameplay in Braaains consists of recruiting, training, equipping, and fighting. Players have to build a powerful army of zombies. Each user has complete control of their militia size and strength. In the graveyard there are a variety of corpses available to exhume. Players can choose a depressed, timid, lazy, raging, OCD, or schizo personality type. A fee paid in gold coins or brains is necessary to resurrect the dead. When revived they're automatically stored in the warehouse where players can train and equip them. Training is primarily the distribution of brains among zombies. Adding a brain towards health, strength, agility, or defense attributes increases it by a point. Although brains are earned throughout the game from earning achievements it's still a chore accumulating them. Users have to use a little bit of strategy to dominate in this game. Zombies start out as privates but as they get stronger move up in rank. Promote them to specialist, lieutenant, major, or colonel. Equip them with wacky weapons like the lawn chair and push broom. Players have the option of completing various tasks to win achievements or scouting the PvP area for a rumble. Tasks listed on the to-do list can be accomplished for a brain reward. They usually involve quests like defeating an opposing zombie with a meat log, winning a fight without a weapon, recruiting 5 zombies with the same personality, or conquering a player that is 4 levels higher than you. There are over 100 achievements for users to earn.
PvP Zombie Mayhem
Fighting and leveling up is essential for earning gold and brains to assist in the growth of a player's army. There are no restrictions in the PvP area. Players can fight anyone they wish regardless of level. A drop down list appears of available players. Users can scroll down and pick an opponent to fight. All of the fights are automatic once a player initiates combat. The battles are colorfully animated creating an entertaining show. Slow walking zombies holding their golf clubs and lead pipes creep towards each other and then jump into a rolling dust ball. Yellow eyeballs roll across the ground and boney legs fly as the assault continues. The player with the last zombie standing wins. A reward of gold, XP, and occasionally special loot is given. They usually come in the form of a high damage weapon like the cheese wheel or tree branch. As players level up their army must tackle tough boss characters. Battle monsters named Miffles the evil cat, Frunkstein, Ying Yang panda, and Reznor. Attributes and boosts determine the victor. Players can purchase special moves for an advantage during brawls by entering the Science Shop. Cool moves like acid rain, transformer blast, freeze ray, sludge balls, and saw blades doom cause major damage. Each move lasts duration of 1 to 4 hours. The downside to this is that all of special science infused techniques requires expensive bones to purchase.
Zombie Mini-Games & Friends
A cool feature in Braaains is the mini-games. When players click to help out a friend one of several challenging mini-games pops up. It's a nice break from the sometimes repetitive PvP combat. The games are random so users can't select which one they prefer to play. Match up hideous zombies in a card memory game. Indulge in a human head version of the classic brick breaker with Militia Breaker or try for a round of Zombie Train. Braaains has diverse array of mini-games to spice up gameplay. Scoring high earns a lump sum of gold coins and XP. Send friends free gifts or challenge them in a fight.
Competitive players can also browse through their friends' profiles and check their ranking status. The rankings area displays the top players with the most wins, losses, longest winning streaks, levels, cash, and highest scores in the mini-games.
Browsing Second Hand Thrift Shops
The wacky weapons, gear, and enhancers allow players to customize their zombie militia in a fun unique way. Players equip their troops of the undead to clobber enemies with wood planks, frying pans, stop signs, bolt cutter, tricycles, fire hydrants, lamp posts, and an assortment of other ordinary to bizarre items. At the Second Hand Thrift Shop clothing with different levels of defense is available. Buy virtually any type of outfit including pajamas, ponchos, hipster, astronaut, hot dog vender, overalls, trucker, pajamas, hospital gown, or the basic t-shirt and shorts. Enhancers which can be quite expensive are well worth the money. They boost attributes for strength, health, agility, or all three. Purchase serums, plasma orbs, alien eggs, larva, rage virus, and even car batteries for an advantage in melees. Some special items like the overgrown molecule increases gold and experience bonus as well. The large selection of items is a bonus for users who enjoy the freedom of customization.
Final Verdict: Great
Braaains is a humorous zombie themed role-playing game. From the demented weapons and gear to the colorful animated fight sequences it's truly entertaining. It has a quite impressive cinematic soundtrack. Players build their own custom army of zombies, train, equip, and fight them against others. Although, the battle environments could use more variety the graphics are great and mini-games add to the overall gameplay. There's an endless supply of achievements to earn. It's similar to popular games like Plants vs Zombies, Office Wars, and Bitefight. Any zombie or horror fan would thoroughly enjoy Braaains.
Links
Braaains Links