Warriors of the Three Kingdoms
Warriors of the Three Kingdoms is a free MMORPG loosely based on the popular "Romance of the Three Kingdoms" book series.  Set in the midst of three warring nations, players must depend on strategy and their allies to unite a divided China.  Participate in PvP combat, aggressive crusades, raids, and large-scale Nation Wars in the pursuit of your destiny.
Publisher: Asiasoft Online
Playerbase: Medium
Graphics: Medium Quality
Type: MMORPG
EXP Rate: High
PvP: Combat/Arena/ Duels
Filesize: 2.5 GB
Pros: +Large game world. +Innovative gameplay. +Spy missions. +Large scale wars. +Endless PvP battlefields. +Crusades and raids.
Cons: -Character creation lacking. -Limited in upgradeable weapons. -Experiences lag during combat.

Overview
Warriors of the Three Kingdoms Overview
Warriors of the 3 Kingdoms (W3K) is a war-themed MMO that combines real-time strategy and the traditional elements of RPGs for a unique gaming experience.  Players embark on an epic journey towards their destiny as a hero battling warriors from distant nations, multiple bosses, and rebel troops.  The four distinct classes in W3K are:
Swordsman – Swordsmen are males notorious for their quick tactics using deadly two-handed swords.  They possess high levels of stamina, and master offensive attacks that are beneficial during war.

Crusader – Crusaders are females who are known for their swift, fatal blows.  They are armed with long swords for extreme accuracy during combat.
Warrior – Warriors are females with incredible strength to handle heavy weapons.  Armed with the great sword she can deliver steady accurate attacks flawlessly.
Brute – Brutes are males.  They possess monstrous strength and the ability to administer massive amounts of damage.  Brutes are armed with the heavy cudgel and a shield for protection.
Warriors of the Three Kingdoms Screenshots
Warriors of the Three Kingdoms Featured Video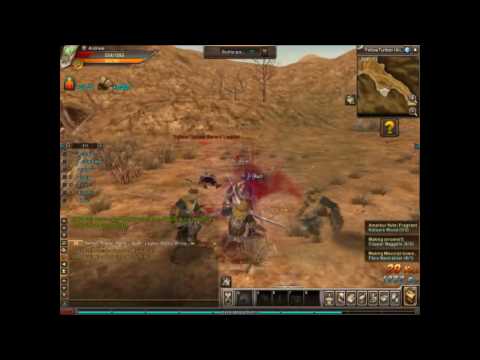 Full Review
Warriors of the Three Kingdoms Review
By: Ange Perdu
Warriors of the Three Kingdoms is a free-to-play MMORPG that sets players in the middle of the three warring nations: Wei, Shu, and Wu.  Players begin a journey towards their ultimate destiny, fighting among heroes in order to bring peace to the land.  The massive PvP battles, raids, and crusade wars create a war game worthy of playing.
Blood of the Warrior – Gameplay
This is a fighting game in all its glory.  Players are constantly under siege by opposing warring nations' troops.  There are thirty-nine cities, with designated battlegrounds and hundreds of enemies waiting to attack.  Capital cities and palaces serve as a safe haven, with the option of challenging another player if inclined.  PvP duels within the city limits can only take place if accepted.  NPCs stationed along specific spots highlighted with a green arrow in the city allow players to go on missions and participate in scheduled wars.  Missions in W3K can vary from collecting wood to invading enemy camps.  Even the simplest missions will require combat.  Killing an enemy will produce needed items to complete quests.  When an enemy is destroyed, blood splatters in the air and on the ground as the fallen warrior cries out in defeat.  The fast-paced bloodshed and mayhem of the game is very entertaining, and addictive as well.
The Art of Warfare
In Warriors of the Three Kingdoms, fierce arena battles, resource wars, city uprisings, crusades, raids, and large scale nation wars take place regularly.  At any time players can enter and participate in PvP arena battles.  They are held in designated battlegrounds with three rounds.  Winners receive a reward chest.  Parties of eight increase the odds of victory.  Resource wars require players to capture the flag of an opposing nation and defend their own nation's flag.  The winning nation gains their resources.  Players need to be level 20 or above to participate.  Throughout W3K, cities occasionally suffer from an uprising.  After the first day of uprising, players can enter the city to fight NPC rebels and generals.  Crusades take place in crusade battlefields.  Players must work together with their party to complete it successfully.  The raid wars last thirty minutes, and are open to all players.  Players battle other warriors to acquire the treasure.
Spying on Warring Nations
To start large-scale Nation Wars, players must vote using the NPC Policy Admin.  A minimum of three-hundred votes are required for a Nation War between two nations to be scheduled.  Players attack opposing nation's border battlefields, to their inner city walls, killing the enemy's Captain and draining their resources.  At level 35, players can activate a spy feature in W3K that allows them to infiltrate opposing nations to discover secret information that can be used during the next Nation War.  Players must use strategy to conquer victoriously.  Guilds can be joined after a player reaches level 20.  Guilds have a limit of 50 members.  The community in Warriors of the Three Kingdoms is pretty friendly.  It's easy to join parties and form guilds.
Mastering the Great Sword and Other Weapons
The weaponry in Warriors of the Three Kingdoms is limited.  Each class is only given two distinct weapons and one musical instrument.  A small assortment of Swords, Blades, Halberds, Spears, and Crescent Moons are available depending on the character's class.  Skill books can be purchased at the Goods Seller to help players perform more powerful combat moves using their weapon of choice.  Weapons can be improved with the assistance of repair smiths, craftsmen, and refine masters for a fee.  During combat, enemies will often drop weapons that players can use or sell later for coins.  Several varieties of each weapon are available for purchase at the Goods Seller.
ShuangHe Soup Does a Solider Good
Although customization isn't a strong point in W3K there are several cool features that slightly makes up for it.  There is a Goods Seller shop that accepts in-game currency, an Auction House to trade items with other players, and mount system that allows a decent amount of customization.  The Goods Seller shop sells and buys back an assortment of items.  Weapons, old militia bracer gloves, army boots, armor vests, shoulder pads, paper talisman, jade bracelet, conscript necklace, crafting tools, firestone, and fibre neutralizer can be found there.  ShuangHe and GeGen soup restores a player's health.  They can also be purchased at the Goods Seller.  The Auction House is an area that lets players sell items and equipment to other players.  The W3K mount system also allows users to customize their character.  They feature a nice selection of military horses that players can ride while attacking troops.  Horses have their own shop offering valuable horse equipment and feeds.  The controls in the game are completely customizable as well. Users can choose any keys or hot keys of their choice to maneuver through the game.

Final Verdict: Good
Warriors of the 3 Kingdoms is a solid, war-themed MMORPG.  The broad range of war concepts implemented into this game gives players an entertaining gaming experience.  The action is non-stop with battles, crusades, raids, and full scale war.  The storyline, which is based on the popular book series "Romance of the Three Kingdoms", collides the past with the future.  Players follow their pre-determined destiny and choose to fight alongside the greatest warriors of China's past, as well as defeating them from rival nations.  Although the game does lag during combat, the graphics in W3K is impressive.  Players can explore a vast world of three kingdoms while conquering other nations.  The PvP battles and wars are addicting . Warriors of the Three Kingdoms is similar to Dynasty Warriors.  This game is definitely worth trying out.
Screenshots
Warriors of the Three Kingdoms Screenshots
Videos
Warriors of the Three Kingdoms Videos
Coming soon…
Links
Warriors of the Three Kingdoms Links
System Requirements
Warriors of the Three Kingdoms System Requirements
Minimum Requirements:
OS: Windows XP / Vista / 2000
CPU: Intel Pentium 4 2.4 Ghz
RAM: 1024 MB (1GB)
HDD: 5.0 GB Free
Graphics Card: Any nVidia GeForce FX 6000 series GPU / ATI Radeon 9600 or better
Recommended Specifications:
OS: Windows XP / Vista / 2000
CPU: Intel Pentium 4 2.0 Ghz
RAM: 2048 MB (2GB)
HDD: 5.0 GB Free
Graphics Card: nVidia GeForce 7000 / ATI Radeon 1600