UPDATE: This game has been shutdown and is no longer available
Upshift StrikeRacer is a fast paced unique 3D battle racing MMO. Race to the finish across chaotic maps while blasting away at your opponents with machine guns, rockets and mines! This certainly isn't your ordinary racing game!
Publisher: Gpotato
Playerbase: Low
Graphics: Medium Quality
Type: MMO
EXP Rate: Low
PvP: N/A
Filesize: ~ 400 MB
Pros: +Unique Gameplay. +Fun fast paced races. +Plenty of maps. +Runs smoothly on older PCs.
Cons: -Too few upgrades / items available in the shop. -Many non English speakers. -Very small playerbase. -Only two real game modes.

This game has been SHUT DOWN – It is NO LONGER available. This means the official servers are offline and no one can create new accounts or log in to the game. For all intents and purposes this game is dead. This page will be updated if the game ever re-launches.
Overview
Upshift StrikeRacer Overview
Upshift StrikeRacer is a surprisingly fun fast paced 3D battle racing MMO. The game is one of the only of its kind, as instead of simply racing and collecting items to throw at opponents, players start with rockets, mines and machine guns which can be used at anytime to blast away their opponents. Ontop of the starting weapons, players can collect special boosts and other items throughout the track which only intensify this already chaotic racing game. The single biggest drawback to Upshift StrikeRacer is the game's low playerbase, which makes it difficult to find games at times.
Upshift StrikeRacer Screenshots
Upshift StrikeRacer Featured Video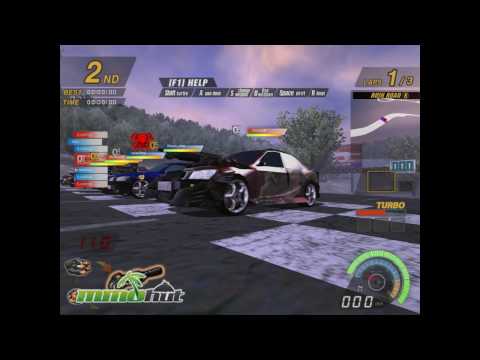 Full Review
Upshift StrikeRacer Review
By, Omer Altay
Upshift Strike Racer is a surprisingly fun battle racing MMO currently being published by Gpotato. The game is certainly not a big budget title like Aeria's Project Torque or Frogster's new MMORPG Runes of Magic, but the game has something that neither of those two big budget titles have, and that's uniqueness. Project Torque is a polished generic racing game and Runes of Magic is…. I hate to say this, but for a lack of better words… 'WoW Clone'. Both games are quite good, but neither is unique.  Races in Upshift StrikeRacer are fast, chaotic and fun. Players start with three weapons, mines, missiles and a machine gun and can use them to blast away their opponents while trying to reach the finish line. Unfortunately, 'uniqueness' and 'creativity' alone aren't the only two things important to a good game, but it's safe to say Upshift StrikeRacer is both unique and creative, but is that enough?
Well… probably not.
There is no doubt that Upshift StrikeRacer is one of the most unique racing games out there, but unfortunately uniqueness by itself doesn't mean that much. When I first logged into the game it took me a good five minutes to actually find a game room and start playing, because unfortunately there were only 10 or so game rooms in the entire server and all of them had already started. With so many other great MMO racing games out there, like Project Powder and Project Torque, games with low player bases cannot compete with the bigger titles. I was actually pretty patient, because I didn't simply close the game when I couldn't find a race to join, I patiently waited; something that most people probably wouldn't do. This is the game's single biggest drawback, the fact that it can take up to five minutes at times to be able to find a game to join. I'm glad I had the patience to wait because the core gameplay in Upshift StrikeRacer is surprisingly fun.
Missiles, Mines, Explosions, pileups and so much more.
Not only is the core gameplay in Upshift StrikeRacer unique, it's incredibly fun. Races usually entail explosions, pileups, collisions and so much more. If that doesn't sound fun to you, I'm not sure what will. Each player starts off a race with three different weapons, a machine gun, a missile launcher and a handful of mines. Ammo on all three of the weapons are limited, so players shouldn't use them up too quickly. Whenever a player's hitpoints reach zero, their car will explode and they'll have to wait to respawn, which slows them down significantly. To add even more chaos to the mix, players can also collect item boxes, like in most racing games, which can be anything from additional ammo to special boosts. Gameplay is both smooth and fast paced. In addition, each race usually only takes a few minutes to finish, the game doesn't require a long attention span like some racing games out there.
Why do SO many MMOs do this?
One of the most disappointing aspects of Upshift StrikeRacer is the game's extremely limited number of items available in the game's shop. I mean come on, what's the point of spending hours and hours racing to earn money if the game's store has only a handful of items available? There is absolutely no reason for Upshift StrikeRacer to have the limited number of items that it does, as the game has been out for years now. Another complaint with the game is that players gain 'rep', the game's currency, far too slowly. A single race usually yields 200 or so 'rep' and the faster cars usually require well over 20,000 'rep' to purchase.  Another complaint I have with most racing MMOs is that they usually only have a handful of maps, but that isn't the case here. Upshift StrikeRacer has over 15 playable stages, which adds a lot of variety to the game, especially if you plan on playing the game regularly.
Ugh. Only three game modes?
The single most important aspect of a racing game is variety, as unlike MMORPGs, racing games tend to get boring much faster. Unfortunately, this variety isn't one of Upshift StrikeRacer's strong points, as the game only has three game modes, only one of which is really playable. The game modes are Strike Racing, Racing and Time attack. The 'strike attack' mode is the main aspect of the game, as it is the mode where players get to blast each other with weapons while racing. 'Racing mode' is the game's generic weaponless racing mode which is incredibly dull, as Upshift StrikeRacer wasn't designed as a pure racing game, it was made to be a chaotic racing game, and if you take the chaos out of the game, it just becomes another boring racing game. The time attack mode is the single player component of the game that lets players race around the game's tracks to try and achieve the fastest time possible, which is far from fun, as if I wanted to play a single player racing game, I wouldn't be playing an MMO.
Final Verdict: Fair
The fact is that Upshift StrikeRacer is fun and fast paced, but the game has a severe drawback, an extremely small playerbase. If you don't mind waiting at times to find a game to join, then Upshift StrikeRacer is well worth the download, as the game is both unique and fun.

Screenshots
Upshift StrikeRacer Screenshots
Videos
Upshift StrikeRacer Videos
Upshift StrikeRacer Gameplay Video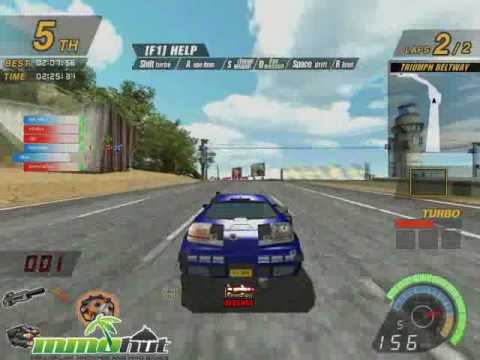 Upshift StrikeRacer Gameplay Video 2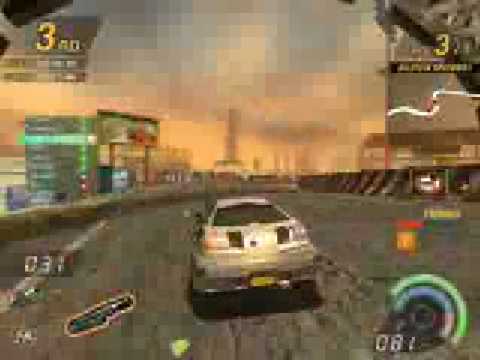 Upshift StrikeRacer Official Trailer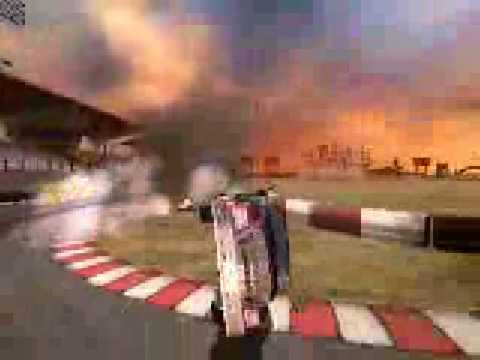 Upshift StrikeRacer Game Interface / Logging in Video
Upshift StrikeRacer Racing Video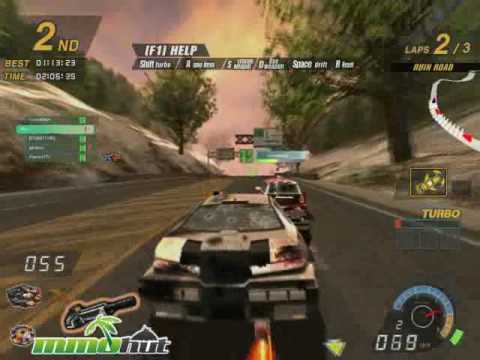 System Requirements
Upshift StrikeRacer Requirements
Minimum Requirements:
OS: Windows 2000/XP
CPU: 1.6 GHz Pentium 4 or equivalent CPU
RAM: 512MB Memory
HDD: 1.0 GB Free
Graphics Card: NVIDIA GeForce Ti 4200/ATI Radeon 8500 series

Recommended Specifications:
OS: Windows 2000/XP
CPU: 2.4 GHz Pentium 4 or Better CPU
RAM: 1024 MB (1GB) Memory
HDD: 1.0 GB Free
Graphics Card: NVIDIA GeForce FX 5950/ATI Radeon 9800 series