UberStrike is a 3D browser-based multiplayer FPS game by Cmune. In this virtual world skill and speed is everything. Players must kill or splat as many opponents as possible in an intense shooting competition. Jump off high-rising platforms, swim, run, and hide to prevent others from taking you out. Chat with friends. Participate in clan tournaments. Customize your character with a wide variety of weapons and protective gear. Join the list of MVP shooters in UberStrike.
Publisher: Cmune
Playerbase: Medium
Graphics: Medium
Type: Social Game
EXP Rate: Medium
PvP: Open
Platform: Browser / Facebook / Mobile
Pros: +Great graphics. +Fast-paced gameplay. +Large assortment of weapons. +Nice character customization options.
Cons: -Few game modes and maps. -No missions. -Powerful weapons require expensive credits to purchase.
Overview
UberStrike Overview
UberStrike is an online first person shooter where players wage war against each other in challenging environments. Somewhat similar to popular FPS games like Quake Live or Genesis AD users test their skills in a fast paced shoot out. Explore various maps from Monkey Island to the dangerous Temple of the Raven. Choose from a wide variety of weaponry. Use everything from machine guns to grenade launchers to kill or splat opponents. Equip your character with armor and protective gear. Form clans with friends. Chat. Compete in fierce tournaments. Try to stay alive while splatting the competition. The game modes in UberStrike include:
Death Match – In this shoot out free-for-all players operate solo. The user with the most splats wins.
Team Death Match – Players are divided into two opposing teams. The team that earns the most kills is crowned victorious.
UberStrike Screenshots
UberStrike Featured Video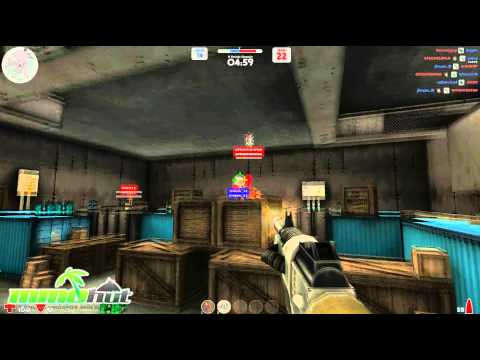 Full Review
UberStrike Full Review
By Ange Perdu
UberStrike is a 3D sci-fi theme browser-based multiplayer FPS set in a virtual world where only the fittest survive. The main objective of the game is to kill or splat as many players as possible. There are various maps and locales where users face off in a fast paced shooting competition. Similar to the way paintball is played players can divide up into teams or compete in an intense Death Match mode. Each user can customize their character with different apparel and protective gear. Choose from a large variety of weaponry to deal the most amount of damage. The player with the highest number of splats ultimately wins. Form clans with friends and battle rival teams in tournaments to earn a place on the coveted MVP list.
Splatting the Competition, the Gameplay
UberStrike is all about splatting or killing other players. The gameplay is fast paced but very basic. Players can choose from two primary game modes including Death Match and Team Death Match. In the Death Match players must splat as many players as possible while avoiding their own demise. Everyone is an enemy. The player with most splats wins. At the end of each round stat, points, and experience are calculated. XP is earned through accumulating various types of splats such as the headshot, nutshot, and melee. Experience is also rewarded for every 100 points of damage dealt. There are no missions to complete. Players have to do a lot of splatting to level up. Only 1 XP is given per splat. During Team Death Match users are divided into two teams with a designated color. The team with the highest number of splats before the round ends is declared the winner. Matches can usually last anywhere from 5 to 15 minutes.
Each mode is available in any of the four basic maps. Wage war at Monkey Island 2, Lost Paradise 2, The Warehouse, and the Temple of the Raven. Run on sandy shores blasting at enemies or try to stay in the dark shadows of dreary warehouse while selecting your next victim. Users navigate their character using the assigned WASD keys. The mouse is used for aiming and firing. The combination of tedious terrain and non-stop shooting makes the gameplay challenging. Instead of using boosters users rely on jump pads stationed throughout the maps. Once a character is on the platform they can project high into the sky almost as if taking flight. This enables users to leap from one island or floor to another in seconds. Players can dive deep into the ocean to find hidden secret rooms stocked with additional bullets or health packs.
Machine Guns to Grenade Launchers
The weapon selection in UberStrike is impressive. There's a large assortment of melee, handguns, machine guns, shotguns, sniper rifles, cannons, splatter guns, and launchers that players can equip as weapons. Each type of artillery has certain damage, accuracy, rate of fire, recoil, velocity, and sometimes impact statistics. Use the UberHammer, Mythic Edge, Executioner, UMG, Shadow Gun, Snotgun, Thunderbass, Vanquisher, Mad Splatter, Force Cannon, Grenade Launcher, and the Vandalizer to wreak havoc. The game features a typical lobby interface similar to Project Blackout that is relatively easy to use. Players can search through their inventory or click to enter the shop for the latest gear. There's a cool feature in the game that allows players to enter a practice shooting range when they click try on any type of artillery. Users can actually test out the aim and feel of a gun. Shoot at little robots while deciding whether or not to purchase. Although players can pick up various guns during the game it's only available during that particular match. The shop is the only place to buy items to keep.
Shop Gear
Players can customize their character's appearance in the shop with different armor, suits, boots, and gloves. Protective gear features a certain absorption rate defending users from high levels of damage. Purchase Superspy Jacket, Doctor Death, the Muscle Suit, Croc Skin Boots, Superstar Shades, Beard and Mo, SForce Ninja Claws, and more. The game has a nice selection of themes to choose from. Create a futuristic hero or urban gangster. There's even a holographic disguise kit called Julia Holo that will make a player resemble a sexy woman to distract enemies. All items require points earned in the game or pricey credits in order to buy. Unlike Genesis AD where players are able to complete missions for credits in UberStrike these precious tokens must be purchased with cash. Depending on the amount of points a user wants to spend an item can last a day, a week, a month, or permanently. New items are constantly being added.
Clan Rivalry
The integrated social aspects and multiple platforms set UberStrike apart from traditional first person shooters. Users can add their friends from Facebook or play from the original game site directly in the browser. Once a player has reached level 4 they can create a clan. Clans can hold and enter tournaments featuring 10 minute 50 splat rounds. It's entirely up to the clan leader to create the game, password, and send in the results to the administrators. Throughout the game a global and private chat is available. There's not really any time for chatting but it's a nice feature. There are also special arenas where players can wage combat with others in the same rank. The Veterans Battleground for users who've reached level 5 and up and the Elite Arena which only gives players level 20 or higher access are options for those seeking to really test their splatting skills.
Final Verdict: Great
UberStrike is a fun free-to-play MMOFPS. The fast paced gun action is addictive. Players will find themselves obsessed with splatting the competition. The shop is loaded with dozens of different types of weapons and gear for an advantage during battle. Although there's a limited number of maps and game modes like Project Blackout it's still quite challenging. Players have to be creative in dodging other snipers while maneuvering around warehouses, beaches, and abandoned temples. Similar to Quake Live and Genesis AD gamers who enjoy shooters will be thoroughly entertained. Load up and fire away in UberStrike.
Screenshots
UberStrike Screenshots
Links
UberStrike Links