UPDATE: This game has been shutdown and is no longer available
Overview
Twelve Sky Overview
Twelve Sky is a PvP oriented 3D Fantasy MMORPG. The game has designated classes, but each faction has its own strengths and weaknesses. Twelve Sky's three factions are the Guanyin, Fujin and Jinong. The Guanyin are balanced all; the Guanyin are the most agile and the Jinong are the strongest in melee. Each faction has its own unique skills and stat bonuses. Although Twelve sky has a more than adequate PvE world, the game's main focus is PvP, so if PvP isn't you fancy you may want to try another game.
Twelve Sky Screenshots
Twelve Sky Featured Video
Full Review
Twelve Sky Review
By, Omer Altay
Before you download and play Twelve Sky just understand that the game is rated "Mature". I Honestly have zero idea why the game was rated mature, because the game doesn't have any more gore or vulgarity that other MMORPGs don't have. After playing Twelve Sky for a bit, the first thing I noticed was the game's interesting XP gain system. Instead of gaining experience only when you kill an enemy you gain experience every time you do damage to an enemy. I'm surprised not too many other games use a similar system because it works really well. It also makes sense, the more you swing you sword, the stronger you get! Twelve Sky places a strong emphasis on Player versus Player combat, so if PvP isn't your cup of tea, I recommend you try another game.
Okay Here goes…
When you first start your career in Twelve Sky, you'll have to choose one of the game's three factions, Guanyin, Fujin and Jinong. Each faction has their own strengths and weaknesses with; the Fujin are the most agile but have the lowest health while the Jinong are the strongest in melee damage but are slower than the other two factions in terms of movement speed. The Guanyin are the jack of all trades sort of faction, they are balanced in all regards without any specific strengths or weaknesses. Each faction is distinctly different from the others because each grows their stats differently. The Guanyin for example get 15.31 hit points per point allocated to the vitality stat while the Jinong get 16.33. What I liked about Twelve Sky is the game's character building system, because it let you build your character the way you wanted rather than forcing you to choose an archetype. This is possible because there are no fixed 'classes' and new characters start with '1' attribute point in all of the game's four stats, Strength, Chi, Vitality and Dexterity. Twelve sky also has a whopping max level of 145, so there's a lot of potential gameplay here.
Starting Out
After you make your character you'll spawn in one of the three main cities depending on which faction you chose. At this point there isn't much to do except for grinding. The game doesn't offer any sort of tutorial or newbie quests for you to embark on, it just sort of tells you.. "ready.. set… go grind!" The only redeemable portion of the early game's lack of quests and repetitive gameplay is the fast experience. You won't be grinding away as a newbie for long because within 30 minutes or so you should have gained enough experience to hit at least level 8 and found enough basic equipment to start hunting slightly harder creatures. Although the leveling is fast, the combat feels repetitive and boring. Twelve Sky tried to "woo" their users by having authentic martial arts moves in the game by using motion capture technology, but it doesn't really add anything to the gameplay. I didn't even know the character animations were authentic martial arts movements until I read it on the official site. If you can will yourself to get past the boring early levels of the game, you'll enjoy the late game PvP battles.
Pee Vee Pee
A heavy portion of Twelve Sky's gameplay is focused on PvP. The game employs a Realm Vs Realm system or RvR for PvP. Each of the game's three factions are constantly at war with each other and in order to do well in PvP, players are encouraged to work together. The world of Twelve Sky is filled with holy shrines that factions compete to capture. Whenever a faction captures a shrine, that entire faction will benefit from the shrine's special benefits. The special benefits range from bonus experience to additional attributes. The single best thing I liked about Twelve Sky's PvP is that players can earn experience by killing members of the opposing factions. This is an incredibly unique concept that I haven't seen in any other free to play MMORPG, and the best part is that the developers say that the fastest way to gain experience is by participating in PvP. The whole Realm vs Realm concept is similar to an older pay to play MMORPG called Dark Age of Camelot and more recently Warhammer Online, so if you've played either of those games you should have a better grasp on how the Realm Vs Realm system works. Aside from faction based PvP, Twelve Sky also has the traditional dueling system, so you're not limited to only killing members of the opposing factions.
Events?! Awesome!
One aspect of Twelve Sky that I really liked was the game's frequent events. If you hop onto the game's official website you can view a calendar that outlines when and what the events are. You can expect 2X experience events on major holidays and other minor events throughout the week. During the month of January the game runs various events every single day ranging from item giveaways to monster invasions. Apparently Aeria Games, the publisher behind Twelve Sky has been doing a good job landing promotions with other companies like Xfire and Fileplanet to give away real prizes like game systems and cash.
Final Verdict: Good
Twelve Sky is a game that's not meant for everyone, but If you're a die hard fan of PvP and don't mind grinding through the earlier levels of the game, then you should definitely check this game out.
Screenshots
Twelve Sky Screenshots
Videos
Twelve Sky Videos
Twelve Sky Official Trailer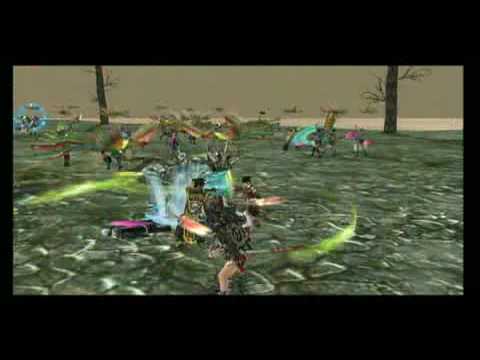 Twelve Sky Cinematic Video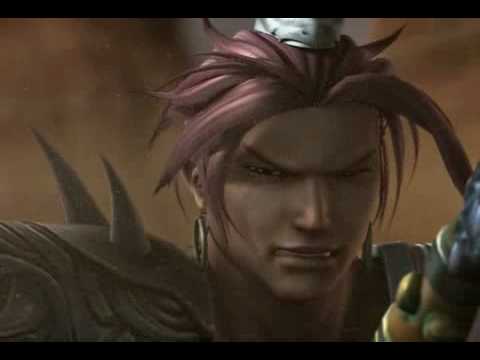 Twelve Sky PvP Video
Twelve Sky Gameplay Video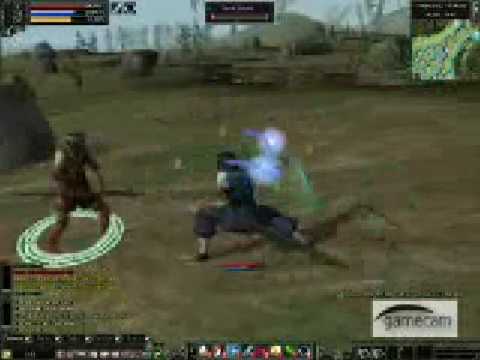 Twelve Sky Gameplay Video 2
Links
Twelve Sky Links
System Requirements
Tales Runner System Requirements
Minimum Requirements:
OS: Windows XP/ 2000 / 98 / Vista
CPU: 800 Mhz Intel P3 or equivalent
RAM: 512 MB RAM
HDD: 3 GB Free
Graphics Card: Geforce FX 5200, Radeon 7500 or equivelent 64MB VGA Card
Recommended Specification:
OS: Windows XP/ 2000 / 98 / Vista
CPU: 2.4 Ghz Intel P4 or equivalent
RAM: 1024 MB (1GB)  RAM
HDD: 3 GB Free
Graphics Card: Geforce FX 5600, Radeon 9550 or equivelent 128MB VGA Card