TrackMania Nations Forever
Overview
TrackMania Nations Forever Overview
TrackMania Nations Forever is the free to play version of the popular TrackMania racing series by Nadeo. Unlike other online racers, TrackMania has no power-ups or items. There are no car parts to purchase and no upgrades available. Everyone comes equipped with the same car which means both old and new players are on equal footing. Though TrackMania is a multiplayer game, there is little player interaction. Racers can see each other on the screen but their cars do not interact with one another. This means players can drive through each other as if they were ghosts.
There are 5 game modes in TrackMania:
Time Attack - This is by far the most common mode. Players race to see who can complete the map in the shortest amount of time. If you finish before time is up, you can start over and try to improve your time.
Team - Players are divided into two teams. The team with the highest average placement wins.
Laps - The first player to finish the set amount of laps is the victor. Other players 'retire' and the game moves on to a new map.
Cup - Like in other racing games, this is the longest game mode. Players race on various stages and earn points depending how they place on each map. The player with the most points at the end wins.
Rounds - Similar to Cup but much shorter in duration. Players earn points depending on how they place each race. The player with the highest point total wins.
TrackMania Nations Forever Screenshots
TrackMania Nations Forever Featured Video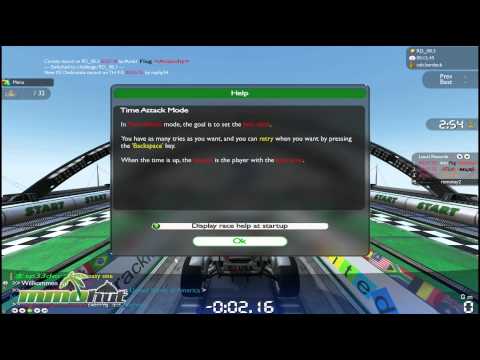 Full Review
TrackMania Nations Forever Seal Online Review
By Erhan Altay
TrackMania is a well known racing game series originally launched in France back in 2003. While most versions are released under the standard retail model, the developers tried something different with the 2007 release of TrackMania Nations Forever. Nations Forever follows a freeware model with the intention of enticing players to purchase the retail version, titled TrackMania United Forever. For the average user, Nations Forever has everything required for a deeply enjoyable racing experience so if you're looking for a racing game that emphasis racing over luck or items than read on.
Where to Begin
Since the game is entirely free, it has wound up on several places including Acclaim's MMO gaming portal and on Valve's popular Steam service. I've linked to both locations in the 'Links's section of this page but I personally prefer the original source; the game's official site. Account creation is handled in-game so there's no website registration involved if you take my recommended approach. There's one final point that needs to be cleared up before getting started and that is understanding just how TrackMania works. Players do not connect to a central server, instead all interactions are handled via a peer-to-peer system that shows you the movements of other player but doesn't allow you to really interact with one another. What this means is players can't collide with other cars and only see them as 'ghosts' for the sake of time comparison. This system has its obvious flaws but does have a few advantages — it allows hundreds of players to race 'together' in a single room.
Let's Drive
Before you start racing, you must select which nation's car you want to drive. Each nation has a different paint job with their flag and colors prominent. Being a Turkish citizen, I chose the red crescent and star adorned vehicle and was ready to go. For those with a bit more creativity than me, there are customization options that allow players to paint their vehicles and decorate them with stickers and other markings. Players can even import images and plaster them over their cars if they like. Once your car is ready, I recommend jumping right into online play. There is an interesting single player component to TrackMania but racing other players is the game's real purpose so be sure to try that out first. Navigating through all of the available servers across the globe is a huge hassle so be sure to use the 'recommend servers' button to get a short list of servers with players around your ladder rank.
Crazy Racing
The game's controls are very simple; the arrow keys control movement, 1,2,3 switch camera modes, enter takes you back to the previous checkout and backspace resets the race. The spacebar can be used to chat to other players but there's really never a reason to do so besides to flame someone. Tracks have a sleek look and there are literally 1000s of them available since players can create their own. Some tracks are simple and have a couple turns and ramps but others can get rather complex. Giant loops, jumps and sharp turns without railing mean you'll find yourself falling off the stage multiple times and resetting the race. One thing that players must always keep in mind when playing TrackMania is that they are not necessarily racing the other players — they're racing to see who can get the fastest lap time. What this means is you shouldn't be afraid to hit the enter or backspace key to reset the race. Just get the best time possible within the allotted time limit.
Realistic or Insane?
I'm tempted to label the play style in TrackMania as realistic since there are no missiles or items like there are in UpShift StrikeRacer or in cartoony racers like Tales Runner and Kart n Crazy. But It's hard to call a game realistic when players are driving at insane speeds in loops through the air and making crazy 100 meter. On the realistic spectrum, I'd place Trackmania below Project Torque but ahead of other free racing games currently available. What makes this game unique though is that it is a traditional racing game; you don't earn currency while playing and there are no experience points or custom car parts to deal with. All players start with everything they need to be the best possible racer. The only thing that can be improved upon is your skill. Playing the same stages over and over again and trying to shave off a few seconds from your previous time may sound boring but TrackMania found a way to keep it interesting.
You Against the World
Anytime player are in the lobby they will be reminded of how they rank when compared to all players across the globe, players in their country, and players in their region. There are several ways to improve this ranking, the simplest being playing the single player component of the game. There are a total of 65 missions divided into 5 difficulties. Each one must be completed in a certain amount of time to earn a Bronze, Silver, and Gold medal. Earning the gold is the most difficult while the Bronze medal is far easier to acquire. I found myself having the repeat some of the later missions multiple times just to earn Silver but seeing my global ranking increase my thousands of positions each time made it worthwhile. Other single player content includes the game's full featured track creator. Players can construct in deoth courses with multiple levels, ramps, boosters, loops, jump and more. You can always tell which tracks were fan made when you play online since they're usually much more difficult, with sharp turns and loops that require perfect timing. After spending many hours on TrackMania Nations Forever I never once felt as if I was playing an incomplete game. Players who enjoy the game may consider looking up the benefits of purchasing the upgraded version titled TrackMania United Forever but it is certainly not necessary to enjoy this fast paced racer.
Final Verdict: Good
TrackMania Nations Forever does what's intended to do. It is a wonderful racing experience without any of the fluff found in other racing games. TrackMania can be played casually or even alone since it is more concerned with lap times than beating other players but this lack of player interaction hinders it from earning a better score.
Screenshots
TrackMania Nations Forever Screenshots
Videos
TrackMania Nations Forever Videos
TrackMania Nations Forever Insane Track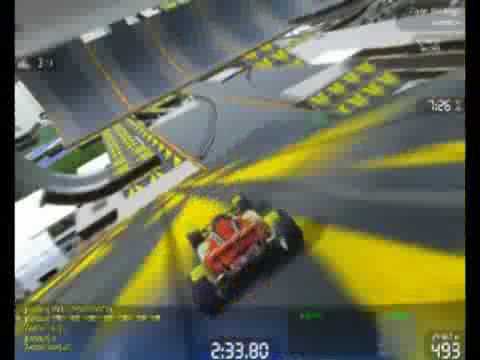 TrackMania Nations Forever Custom Tracks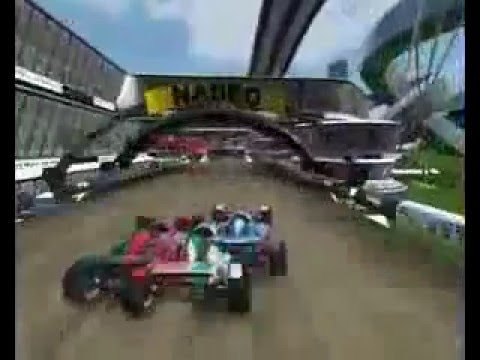 TrackMania Nations Forever Gameplay Footage
TrackMania Nations Forever Race Video
TrackMania Nations Forever Official Trailer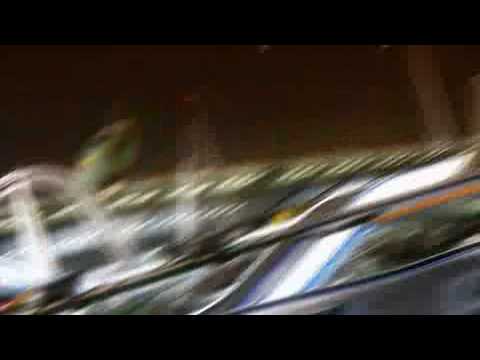 System Requirements
TrackMania Nations Forever System Requirements
Minimum Requirements:
OS: Windows 2000/XP/XP-x64/Vista
CPU: Pentium IV 1.6GHz / AthlonXP 1600+
RAM: 256 MB (512 MB with Vista)
HDD: 1.5 GB Free
Graphics Card: 3D accelerator 16 MB

Recommended Specifications:
OS: Windows 2000/XP/XP-x64/Vista
CPU: Pentium IV 2.5GHz / AthlonXP 3000+
RAM: 512 MB or more
HDD: 2.0 GB Free
Graphics Card: GeForce FX 128MB or better