UPDATE: This game has been shutdown and is no longer available
Overview
The Warlords Overview
The Warlords is a fantasy MMORPG by TQ Digital, and is in fact one of their latest game releases. According to the game's website, it is set during the later half of the Qing Dynasty in Ancient China. This particular period in history is rich with conflict and drama, but unfortunately the game doesn't capitalize on this, as the game lacks any meaningful story. The game has two classes; Footman and Marksman, and two factions; Soldier and Bandit. Yes, you read correctly, 'Soldier' and 'Bandit' are factions in The Warlords. Gameplay is fast-paced and feels sort of like Diablo 2, but with slightly worse graphics. I can't stress this enough, if you've played any other TQ Digital game, the gameplay in The Warlords should feel extremely familiar as the game seems to be built on the same engine that powers all of TQ Digital's titles.
Classes:
Footman – As the name implies, the Footman in The Warlords is the melee-oriented 'tank' class. This class can deal large amounts of damage in melee combat and has powerful defensive capabilities but lacks ranged attacks.
Marksman – The Marksman class in The Warlords is the traditional 'Archer' class. Marksman can deal damage rather quickly from a distance, but are vulnerable to melee attacks and must keep arrows stocked during battle.
The Warlords Screenshots
The Warlords Featured Video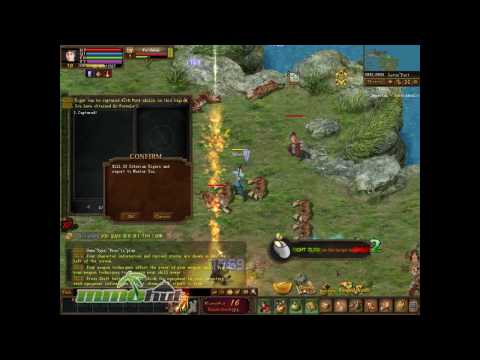 Full Review
The Warlords Review
By Omer Altay
The Warlords is yet another fantasy MMORPG trying to grab a piece of the lucrative MMORPG pie. Unfortunately, though, the game seems to have little to offer. Seeing that the game was developed and published by TQ Digital, so I suspect it will be similar to their other games.
Character Customization? Nope!
After logging into The Warlords, I was quickly disappointed by the fact that the game only has two playable classes and absolutely no character customization. Another thing worth mentioning is that the game's two factions are 'Soldier' and 'Bandit'. When I was first prompted to select my character in the character creation process, I figured I was picking my class, but nope!  These two are factions. Both the 'Soldier' and 'Bandit' faction have access to the same two classes, Footman and Marksman. On the positive side, I was a bit impressed with the login screen and character creation interface, as it felt quite modern. My thoughts about The Warlords being a modern game though were quickly crushed once I actually entered the game world. The graphics are quite dated and the music wasn't anything special. On the positive side, though, The Warlords has the best interface of any TQ Digital game, as its organized and easy to use.
Originality be Damned
Stick with what works. I guess that's the motto over at TQ Digital, because every single one of their games have virtually the same gameplay elements, controls, and interface. I can't really blame the publisher, because the fact is every single one of TQ Digital's games, except for perhaps Crazy Tao, are enormously successful. For those unfamiliar with TQ Digital, they're an MMORPG Publisher that currently publishes Conquer Online, Crazy Tao, Zero Online, Eudemons and The Way of the Five. All of their games are basically the same, but with different graphics.
Early On
Perhaps the best aspect of 'The Warlords is the game's ability to quickly grab the player's attention, as immediately after creating a character, you'll be given a quest to complete. Much of the game's starting quests are rather simple and usually involve running back and forth between NPCs in town. Luckily, this monotonous task can be easily automated using the game's built-in 'pathfinding' feature which lets players automatically move to any NPC in town and to quest locations. I was able to get to level 8 or so before I even had to leave the starting town.
Within an hour or so after creating my character I had reached level 23, so the experience gain in The Warlords is quite high. I would like to point out though that experience gain does dramatically slow down after level 23, so players should be advised to complete quests for experience rather than just purely grinding. A combination of both is likely the fastest way to level up. Another thing worth mentioning is that the newbie quests provide equipment rewards that are surprisingly powerful. If you're new to the game, don't skip the beginning quests.
Get Furious!
Like other TQ Digital Game's, The Warlords has a little something called 'XP Skills', which, in short, are absurdly overpowered special attacks that deal so much damage that it makes regular attacks worthless. These special 'XP Skills' can only be used every ten minutes or so after the player selects the 'Get Furious' button that appears on their screen. I really wish I could properly emphasize how absurdly over powered these 'XP Skills are', but the phrase 'omfgwtfbbq imbalanced' doesn't even come close to accurately explaining it. Players can easily kill enemies 20, 30, or even 40 levels higher than themselves while using these incredibly powerful XP skills. The stupid thing is that these 'XP Skills' can be used every ten minutes or so, without any player input. It's not like you have to 'Earn' them or anything. You can just stand around until the 'Get Furious' button shows up on your screen and then proceed to 'area of effect' 1 shot everything around your character. Not surprisingly, this is the best strategy for leveling up quickly. Just find a group of absurdly high level enemies and wait until your 'XP Skills' are ready and beat the crap out of them. After your character finishes his attacks, just wait around till you can use your 'XP Skills again'.
Little Progression
Even though The Warlords has a high level cap [Level 120+], gaining a level in the game just doesn't feel rewarding. Players aren't rewarded with stat or skill points, so the only purpose of gaining levels is to have access to better equipment. Higher level skills can also be learned upon reaching certain levels, but gaining a level in and of itself does nothing to improve your existing skills.  After only a few hours in the game, I found myself questioning why I was even playing the game. Experience gain is fast-paced, though, so unlocking new skills shouldn't take too long, but I would have enjoyed The Warlords a lot more if each individual level actually did something.
Other Features
There really isn't a lot going on with The Warlords; it's a basic cookie cutter free MMORPG. One of the few features that did interest me is the game's PK options. PKs, or player killers, can literally kill players anywhere in the game world. This 'open world' PvP adds a sense of 'danger' to the game which is something most games just don't have. Another interesting feature in The Warlords is the game's weekly and monthly 'PK Tournaments', which are essentially simple PvP tournaments. The winner of each tournament will be handsomely rewarded. As it stands, the weekly and monthly PvP tournaments are the only 'regularly' scheduled events in the game, but hopefully the folks over at TQ Digital will add some other fun events to the game.
Final Verdict – Fair
The Warlords is a fairly basic Fantasy MMORPG with little innovation. The game does have a large community and a high level cap though, which means there is a lot to do in the game. Personally, though, I just couldn't get into this game. The Warlords is simply too much like TQ Digital's other games, but if you you've never played any of the publisher's other games before, then The Warlords just may be worth checking out.
Screenshots
The Warlords Screenshots
Videos
The Warlords Videos
The Warlords Official Game Trailer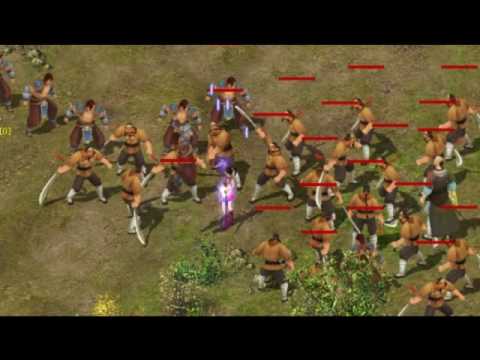 The Warlords Trailer 2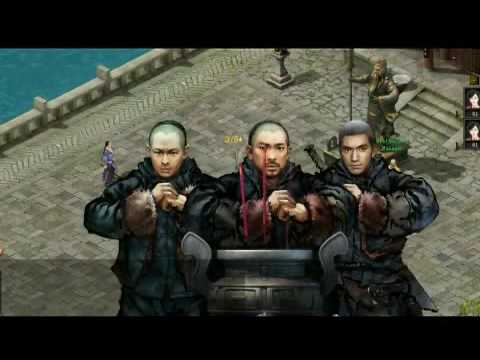 The Warlords Gameplay Video
The Warlords Gameplay Trailer

Links
The Warlords Links
System Requirements
The Warlords System Requirements
Minimum Requirements:
OS: Windows 98 / 2000 /Vista / XP
CPU: Pentium III 800 MHz
RAM: 128 MB
HDD: 2.0 GB
Graphics Card: Any Graphics card with 16MB or more memory
Recommended Specifications:
OS: Windows 98 / 2000 /Vista / XP
CPU: Pentium 4 1.2 GHz
RAM: 256 MB
HDD: 2.0 GB
Graphics Card: Any Graphics card with 32MB or more memory