Super Dance Online (SDO), previously known as Dance Online,  is a 3D rhythm dancing MMO that plays a lot like the the hit game Dance Dance Revolution. Players can dance using their keyboards or even use a dance mat to compete online with hundreds of other players. Win matches and earn 'points' which can be spent on new clothes for your avatar. If you're a fan of dancing or rhythm games, the large selection of songs in Super Dance Online will keep you coming back for more.
Publisher: CibMall
Playerbase: Medium
Graphics: Medium Quality
Type: MMO
EXP Rate: Medium
PvP: N/A
Filesize: ~2,200MB
Pros: +Fun DDR Like gameplay. +Dancepads supported. +Good dance animations. +Can save replays. +Large song library. +Good tutorial.
Cons: -Limited graphic options. -Items in the store are too expensive. -Very Large non-english speaking playerbase. -Some latency issues.

Overview
Super Dance Online Overview
Super Dance Online, previously known as Dance Online from Acclaim, is a 3D dancing MMO from the Malaysian publisher CibMall. Even though the service is located in Malaysia, the game is accessible by players worldwide. Since Acclaim shut down Dance Online, fans of the game can enjoy Super Dance Online, which is essentially the same exact game. The core gameplay is identical to that of Dance Dance Revolution, but the game spices up the traditional dancing gameplay by mixing it with the traditional MMO components of 'leveling up' and purchasing items for your avatar. Although Super Dance Online plays very closely like other Dancing MMOs, it's the only one that actually uses the Dance Dance Revolution like core gameplay, so if you're a fan of DDR and want to show your skills off online, then Super Dance Online is definitely worth your time.
Super Dance Online Screenshots
Super Dance Online Feature Video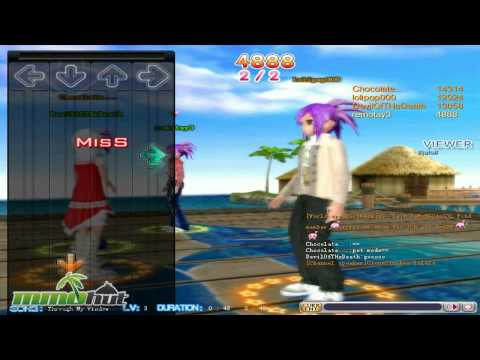 Full Review
Super Dance Online Review
By, Omer Altay
Before you get too excited about Super Dance Online (SDO-X), the game plays just like the two dancing games out there, Audition Online and ShowUp, but the twist here is that the core gameplay is absolutely identical to that of Dance Dance Revolution (DDR), and that's a GOOD thing! Other dancing games thought that they could reinvent the dancing genre, but needless to say, it didn't work too well. The core gameplay in Super Dance Online is quite fun.
Don't fix it if it ain't broken
I'm convinced Super Dance Online was successful in doing what it intended to do; create a massively multiplayer Dance Dance Revolution game. The developers definitely had a narrow focus, because the core gameplay in Super Dance Online is exactly like that of DDR. If you've never played DDR or heard of DDR, the best way to explain the gameplay is to just watch one of the videos on the 'videos' tab above. Super Dance Online's two competitor's Audition Online and ShowUp thought they could reinvent the entire genre by creating their own dancing systems, but I feel DDR had things right the first time – so the core gameplay in Super Dance Online is better than that of other dancing games. For those unfamiliar with dance-dance revolution, players have to click the UP, DOWN, LEFT and RIGHT keys at the correct time in order to score points. More difficult songs will require faster reaction times.
Starting Out
For those interested in actually downloading and installing Super Dance Online – I recommend downloading the game from the torrent file, as its much faster than the HTTP mirror. When I first opened up Super Dance Online I was upset to find out that the game has absolutely no customizable graphic options. The game runs on a single resolution, 800×600, which isn't terrible if you have a 15-17" monitor, but if you're using anything bigger or a widescreen monitor, your game is going to look distorted and stretched out. I'm actually on a 22" monitor, so the game looked poor on my monitor, but fortunately, Dance Online does work in Windowed Mode, so if you have a larger monitor, windowed mode is your only option to escape the stretched out graphics. After configuring my game to run on windowed mode, I joined my first game which was using the game mode 'Boys vs Girls'. The game mode is exactly what it sounds like, Boys vs Girls, but the twist here is that only two people can dance at once, one 'boy' and one 'girl' the rest of the players have to watch until it's their turn. Needless to say, 'waiting to play' wasn't too fun, but it's good to see that Super Dance Online has varied game modes. "Super Star" mode was my favorite game mode, as it let everyone dance at the same time.
The Extras
Aside from the core dancing aspect of Dance Online the does offer a fair amount of features to enhance the enjoyment of the game. One aspect of Dance Online that I liked was the fact that the game records your wins and losses in one convenient place. Not only can you store all your statistics, but the game also lets you save replays, so if you ever had an amazing 'dance' you can save it for future viewing. Another interesting aspect of Dance Online that I'd like to see further developed is the game's player housing. Everyone starts with a 'room' that they can access through the game's map, but the only downside here is that there simply isn't enough to do in your home; you can currently listen to the game's 130+ game tracks, try on new clothes in your wardrobe and watch your saved dance videos. I'd love to see CibMall add some more features here, like upgrading your room, as it would be a great way to keep people playing the game. On the positive side, the game's "item store" has plenty of shirts, accessories, pants and other items – so players can make their characters look unique.
Final Verdict: Fair
The Dancing MMO Genre has a long way to go before it reaches perfection, but until someone creates a genuinely unique and fun dancing MMO, Super Dance Online's core gameplay is still a lot of fun – even if the presentation is lackluster.
Screenshots
Super Dance Online Screenshots
Videos
Super Dance Online Videos
Super Dance Online Dance Off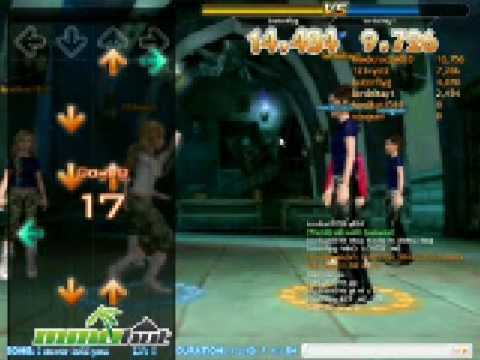 Super Dance Online Fast Mode
Super Dance Online Gameplay Footage
Super Dance Online Party Video
Super Dance Online Gameplay Trailer
System Requirements
Super Dance Online System Requirements
Minimum Requirements:
OS: Windows XP / Vista / 98 / ME / 2K
CPU: 800 MHz Intel P3
RAM: 256 MB RAM
HDD: 2.5 GB Free Space
Graphics Card: Geforce 2 series card or equivalent 64MB VGA Card
Recommended Specification:
OS: Windows XP / Vista / 98 / ME / 2K
CPU: 1.5 Ghz Intel P4
RAM: 512 MB RAM
HDD: 2.5 GB Free Space
Graphics Card: Geforce 3 Series card or equivalent 128 MB VGA card