UPDATE: This game has been shutdown and is no longer available
This game has been SHUT DOWN – It is NO LONGER available. This means the official servers are offline and no one can create new accounts or log in to the game. For all intents and purposes this game is dead. This page will be updated if the game ever re-launches.
Overview
Slapshot Overview
Slapshot is a new sports MMO that arms players with hockey pucks and sticks. The game is geared towards a general audience, and is set up as a 'street' version of the sport to encourage fast-paced gameplay over strict simulation. There's no need to worry about official rules or fouls in Slapshot, anything goes! Slapshot is currently published by the German portal Gamigo, but there is an English language server available to cater to an international audience. A short tutorial introduces players to the game's basics – offense, defense, and team work are all necessary to win, but new players will pick up the basics within minutes. There are currently three positions available in Slapshot:
Center - The main offensive position. Centers are responsible for scoring.
Defense - As the name suggests, this position plays a defensive role and prevents opponents from scoring.
Wing - A versatile position that plays the whole field. Wings can take offensive and defensive roles.
Slapshot Screenshots
Slapshot Featured Video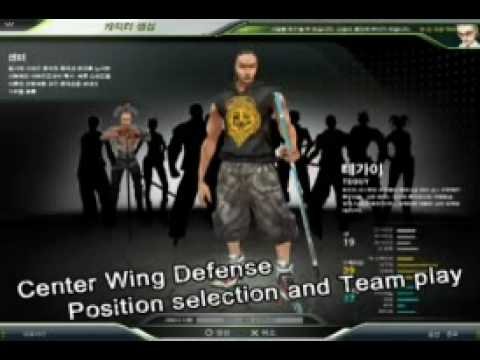 Full Review
Slapshot Review
By Erhan Altay
Slapshot is a new hockey MMO published by the European company Gamigo. While the Gamigo website is based in Germany, registration is open to players from across the world. Like many previous sports MMOs, Slapshot is a 'street' game, which means there's less emphasis on replicating an authentic hockey experience and more focus on fast-paced gameplay. Anything goes in the stadium, so if you're tough enough to compete, gear up!
Sign Ups
Prospective players will need to register for a Gamigo account and manually enable access to Slapshot. Gamigo has several other free MMORPGs available that can't be found in North America yet, including Legends of Qin, Smash Online, and Level R. Players have the option of selecting different usernames and passwords for each title, but I recommend keeping things simple and using the same information for all their services. The client is relatively small at 447 mb, but since the servers are located in Germany, it may take longer than average to download. Usually files this size doesn't come compressed, but Slapshot sure does, so be sure to extract the file before installing.
Cloned Athletes?
Each account is only given a single character slot in Slapshot, which can be frustrating since there are three positions to choose from. The center serves as the main offensive class, the defense position is adept at harassing opponents as they try to score, and the versatile wing position mixes a little of both styles. Sadly, players are not given any appearance customization options during character creation. Even gender cannot be changed; the wing and center classes are male while the defense role is played by a female. After naming their character, players must complete a short tutorial that explains the game's controls. The arrow keys control movement, shift is used to dash and the 'd', 's' and 'w' keys perform different functions, depending on who has the puck. Pushing other players to the floor is encouraged since there are no fouls in Slapshot. To encourage teamwork, the game was designed so that players who pass to one another before taking shots have a higher chance of scoring. All this is explained in the tutorial, which only takes three minutes to complete. There is a 10,000 'mix' reward for completing the tutorial, which can be used to purchase new clothes to distinguish players who otherwise look identical.
Calling All Hockey Fans!
There are currently two channels available in Slapshot: a rookie channel catering to those between levels 1-5 and a free channel for everyone else (6-50.) Unfortunately, neither channel has enough players. There were literally two other people online while I was playing. I managed to get in a quick 1v1 match but was left to play alone afterwards. The game only accommodates 1v1 and 2v2 matches, but players can either play against each other or cooperate against AI controlled opponents. There is only one map available to rookies, which is really a slap in the face. The position of goalie is always played by the computer, and it is the computer that drops the puck in the center at the beginning of each round and after each goal. Players can hit Q, W, or S as the puck is dropped to determine which side manages to wrestle control of it first. This system works like rock, paper, scissors, with Q beating W, W beating S, and S beating Q.
Missions and Partners
The experience rate in the game is set pretty high, with three matches enough to level players up. The experience and currency rewards for winning a match are higher than losing, but the differences aren't too large. Players are also given a letter grade at the end of each game to measure their performance. The number of passes, shots taken and shots scored, and body checks all help determine this grade. Rounds only take five minutes, but rookies will find it difficult to score more than once or twice during this time. The AI goalie is quite good, and must be 'faked out' by aiming the shot in one side of the net then switching directions after its powered up and ready to go. There is a simple mission feature available, which serves as a way of earning additional game currency. These missions are optional, but by completing their requirements (such as join a game, host a game, etc.) players can advance faster. To partner up with someone, players must first reach level 6 and sign a partnership agreement. This agreement provides bonuses when playing together, and can grow along with the individual characters.
Not What I Had in Mind…
It's not easy comparing sports MMOs; there just aren't that many of them around. But to give you a sense of Slapshot's quality, think Kicks Online, not Freestyle Street Basketball or MLB Dugout Heroes. This game just doesn't have the same depth offered by the two latter games, but does have the same jagged graphics, shallowness and overall lack of players found in Kicks Online. Hopefully, some of these problems will be remedied in future updates. There is a 'random' option when selecting maps, so more maps have to be in the works to complement the one that is currently available. More customization options will likely be added to the store, and perhaps the game will even find a larger audience when news of its launch reaches North America (especially Canada). Even so, Slapshot is a game I can only recommend to hockey fans looking for an easy way to play the game in short bursts without having to put on all that equipment.
Final Verdict: Poor
Slapshot is the first and only free-to-play hockey MMO currently available, but it just doesn't do the sport justice. With lackluster visuals and far too few gameplay options, Slapshot falls short of expectations. Future patches may improve the game, so hockey fans shouldn't lose hope!
Screenshots
Slapshot Screenshots
Links
Slapshot Links
System Requirements
Slapshot System Requirements
Minimum Requirements:
OS: Windows XP / Vista / 2000
CPU: Pentium 4 2.0 GHz
RAM: 512 MB
HDD: 1.2 GB Free
Graphics Card: Geforce FX 5700 / Radeon 9550
Recommended Specifications:
OS: Windows XP / Vista / 2000
CPU: Intel Pentium 4 2.6 Ghz
RAM: 1024 MB (1GB) Free
HDD: 1.2 GB Free
Graphics Card: Geforce 6600GT  or ATI Radeon 9800XT