UPDATE: This game has been shutdown and is no longer available
Overview
ShowUp Overview
ShowUp is a gorgeous 3D rhythm dancing MMO, which is known as 'HighStreet5′ in Asia and used to be called 5Street in the U.S. ShowUp breaks away from traditional dancing games by offering a persistent world where players can do as they please. Players have the option of dancing anywhere in the game's persistent world in a casual fashion as well as dancing in more competitive lobby based games. There aren't any strictly defined matches or competitions in the persistent aspect of the game, so you can start and stop dancing in the middle of a song if you choose to. A good way to practice is to actually dance by yourself in any of the dance halls. ShowUp adds variety to the game by allowing players to dance as couples as well as solo. The game's core gameplay is similar to that of every other dancing MMO, but the game offers much more than dancing; ShowUp offers a huge persistent world that players can explore and interact in. ShowUp is definitely one the most unique dancing game out there, so if you're into rhythm based games, this ones worth checking out.
ShowUp Screenshots
ShowUp Featured Video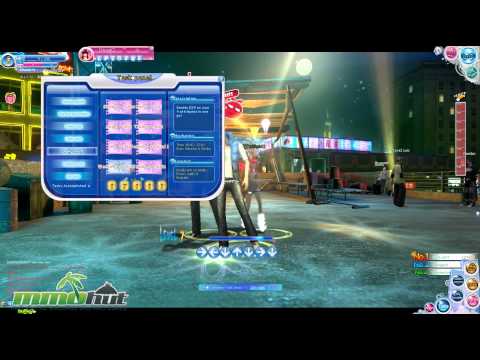 Full Review
ShowUp Review
By, Omer Altay
ShowUp is a 3D rhythm based dancing MMO published by Snail Games. Dancing MMOs have never been too popular in North America, as Audition Online from Nexon and Dance Online from Acclaim Games both shut down. Luckily, both games relaunched through other publishes, but it's clear that dancing MMOs aren't nearly as popular in the West as they are in the East – as games like ShowUp are extremely popular in China and South Korea. If you've played either of the other two dancing games I mentioned, and didn't like them, odds are you won't like ShowUp because just about every rhythm based dancing game has the same core gameplay mechanics. The one incredibly unique thing ShowUp has going for it is its social elements – players can hang out, get married and more in the game's huge virtual world. Unlike Audition and Dance online, players can do other things in ShowUp besides dancing.
The Dancing
The core gameplay of ShowUp is pretty straight forward. While dancing just hit the keys on your screen in the correct order and hit the space bar just as the rhythm line hits the glowing part of the meter. It doesn't make much sense trying to explain it, but to put it simply you just have to quickly hit the keys on your screen. Upon performing enough consecutive "perfects" you'll have the choice to start doing a special dance trick and these special tricks are the best way to earn points. The dance tricks make sure your character do some pretty crazy dance moves but all you have to do while performing a trick is basically keep doing what you've been doing before, except hit a lot more keys a lot faster. Every time you clear a series of keys the next set of keys will become more and more difficult. If you're too slow or you hit the wrong key your character will fall down and you'll start dancing again normally. The longer you do special dance moves the more points you'll earn. ShowUp has four different dance modes in its persistent area, they are Single Dance, Battle Dance, lovers Dance or group dance. All of the dance modes are pretty much the same thing and the dancing itself is incredibly repetitive, as after an hour or so of playing you've just about experienced everything the game's dancing system has to offer.
For those who genuinely enjoy the dancing mechanics in ShowUp, the game offers a standard lobby based "battle mode" where players can compete against each other. These games are much more competitive, as players cannot simply "join in" at anytime, like they can outside of battle mode. The lobby based battle mode features some 10+ game modes, which helps keep the core gameplay in ShowUp fresh.
Wait, Whats up with this?
When I first started playing ShowUp I expected it to be a straight out dancing rhythm game, but to my surprise the game seems to have just as much focus on player interaction as it does on dancing. In one part of the game there is no 'game lobby' or a 'game rooms', you can literally walk around and explore the game's persistent world. In order to dance with other people, you have to physically walk up to them and hit the "start dancing" button on your screen. The game only allows dancing in certain areas of the game world, but the fact that the game is in a persistent world makes the game unique. You don't even have to wait for a song to end to join a group of people and begin dancing, just walk up to them and hit the dance button. The game also lets you choose your difficulty before you begin dancing, which caught me by surprise because I imagined that everyone would have to be dancing at the same difficulty for it to be a fair match, but apparently this whole part of the game is more for fun rather that competition. If you want to compete you have to click the little competition button the corner of the screen. It's only when you click this button do you get the familiar lobby based system that other rhythm games have. Every player also has their own house, which is something I haven't seen in a dancing MMO before, but unfortunately there just isn't anything to do in your house or anyway to really upgrade it. I'm still not sure what the point of competing or dancing in ShowUp is because for some reason you start with practically infinite money.
Great Item Store!
The one thing I really liked about ShowUp is its item shop. Unlike most MMOs nowadays which have only a handful of items available to purchase, ShowUp's store has a huge variety of shirts, pants, glasses, hats and so much more. You can literally walk out of the game's shop with a huge robot costume, superman outfit or something normal. It's your choice. A lot of items require real cash to use, but there is definitely enough items to keep you entertained even if you don't pay for anything. ShowUp did an incredible job with its store and the sheer variety of items available in the game are quite impressive.
Okay, so Whats "good"?
The single best thing that ShowUp has going for it is the game's potential. If the company behind ShowUp puts some effort in developing its social features a bit more the game could really operate as a standalone social game with dancing as a secondary feature. The game has everything that a social MMO needs, a large detailed persistent world, objects to interact with (chairs, tables, benches, etc) and lots of clothes to buy! The only drawback to this is that the game currently has a small player base.  I'm not at all surprised at that because the game's official website is poorly designed. All of the screenshots on the game's site have Korean text in them and the translations are less than stellar. I could ShowUp doing really well if they refine their game, because the whole persistent world social dancing game sounds like a great idea on paper, I just wish ShowUp was a more complete game.
Final Verdict: Good
Even with its drawbacks, ShowUp offers a unique mix of social and a rhythm based dancing elements. ShowUp offers both competitive dancing matches as well as a more open ended social experience through its persistent world. Those interested in rhythm based games should definitely give ShowUp a try.
Screenshots
ShowUp Screenshots
Videos
ShowUp Videos
ShowUp Gameplay Trailer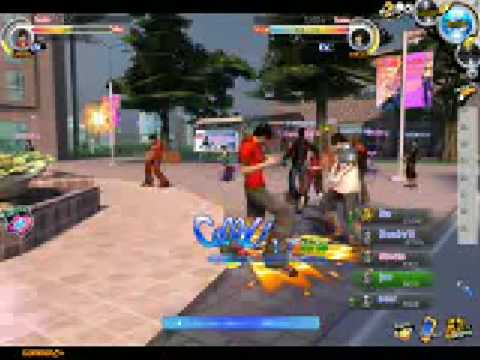 ShowUp Beach Dance Video
ShowUp Dance Video
ShowUp Clothing Mall Video
ShowUp Dancing Video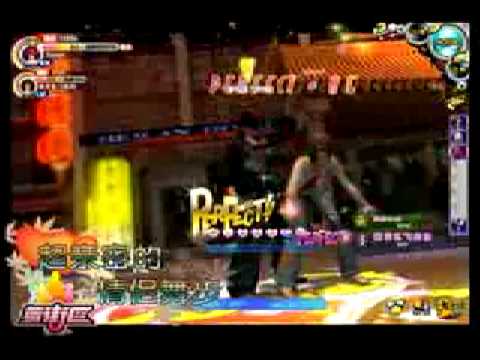 Links
ShowUp Links
Shut down.
System Requirements
ShowUp System Requirements
Minimum Requirements:
OS: Windows XP/ Vista
CPU: 1.0 GHz Intel P3 or equivalent
RAM: 512 MB RAM
HDD: 1.6 GB Free
Graphics Card: Direct x 9 Compatible VGA card
Recommended Specification:
OS: Windows XP/ 2000 / 98 / Vista
CPU: 2.4 Ghz Intel P4 or equivalent
RAM: 1024 MB (1GB)  RAM
HDD: 1.6 GB Free
Graphics Card: Direct x 9 Compatible VGA card