Racing Star: Come On Baby
UPDATE: This game has been shutdown and is no longer available
Overview
Come On Baby Overview
Racing Star: Come on Baby is a baby-themed, cartoony kart racing MMO game by Alaplaya. The game's core gameplay is similar to the other kart racing, cartoony MMOs out there. Unlike traditional racing MMOs, Come on Baby is more of a comedic, casual racing game rather than a more serious one. Heck, the game has an unusual baby theme to it, so it's certainly not a 'serious' racing game. Like all other cartoony racing MMOs, Come on Baby certainly drew a lot of its inspiration from Nintendo's Mario Kart, as the gameplay is virtually the same. The game's biggest drawback is the fact that it has an extremely small playerbase. If you can look past that and the game's weird baby theme, Come on Baby is actually a solid racing MMO.
Come On Baby Screenshots
Come On Baby Featured Video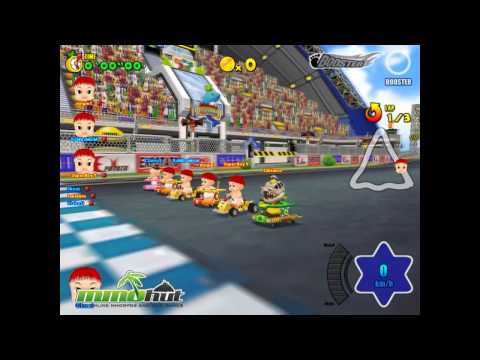 Full Review
Come On Baby Review
By Omer Altay
Racing Star: Come on Baby, or just plain 'Come on Baby', was actually one of the first kart racing MMOs I played. Back when I first played it, it was just called 'Come on Baby'. I'm not sure why the publisher decided to slap on the title 'Racing Star' to it. Come on Baby is cartoony racing MMO by Alaplaya that unfortunately didn't change too much since I first played the game a year or so ago, back before I was writing MMO reviews. Like all of the other Kart Racing MMOs out there (like Kart n Krazy, Kart Rider and GoGo Racer), Come on Baby draws a lot of its inspiration from Nintendo's Mario Kart. The game is more of a lighthearted comedic racing game that's meant to be played casually rather than a more serious racing game like Project Torque or Upshift Strikeracer.  All of Come on Baby's courses are all vibrant and colorful, and all of the playable characters, as the game's name suggests, are babies.  If you're looking for a serious racing game, then Come on Baby isn't for you.  Otherwise, it's a worthy distraction if you can find people to play with.
First Impressions
As with most MMORPGs and MMOs, the character creation is extremely limited in Come on Baby. Players can only select from one of six babies, each of which have a slightly different distribution of the game's four stats; SPE, ACC, CUV and DEF. SPE is speed, ACC is acceleration, DEF is defense. I'm not quite sure what CUV is, as the game makes no mention of it, nor does the game's official website, so your guess is as good as mine. Six playable characters aren't so bad, considering most games have only three or four. The game's lack of character customization comes from the game's small stock of items in the item shop. There are only a handful of new karts and items to buy, which makes playing the game feel like a waste of time. The game does have a short and informative tutorial that's worth checking out if you're new to the MMO racing genre. It's also rewarding, as players are rewarded with plenty of 'corn' (the game's currency) for completing the short levels, so do check them out if you decide to try Come on Baby.
The core gameplay mechanics are rather simple and fun.  The game has four game modes: Item single, Item Team, Turbo Single and Turbo team. The item modes are self explanatory – race to the end of the track while lobbing items at each other to try and slow down your opponents. The game's turbo modes are a bit more interesting. Items are completely disabled, so the winner is determined purely by player skill. Players do receive a speed boost every time they drift properly, so drifting is both encouraged and pretty much required in playing in turbo games. All of the levels are nicely animated and colorful, so they're almost always entertaining. Come on Baby is actually a surprisingly fun game, but the fact that it can be almost impossible to find people to play with really kills the fun.
Very, Very Low population
Now that I think about it, I wish I had implemented a 'very, very low' or 'very low' population rating for a game's playerbase, as Come on Baby has only a handful of players online at any given time. In fact, there are currently only three players online in the entire game at the moment. To be fair, it's not exactly 'prime time' for gaming, as it's 8:30 PM EST as I write this and the game's publisher 'Alaplaya' is actually located in Europe, so the time over there is around 5 AM. Alaplaya is the same company that publishes S4 League, Fantasy Tennis and Florensia. The most people I've seen online at any given time though is fourteen, so either way, Come on Baby has an incredibly low playerbase. At times it's almost impossible to find a game to join, as none exist. Most of the players I encountered in the game speak a foreign language, so communicating with other players is mostly impossible.
Some Innovation
Come on Baby does have a lot of interesting features that could have been great if the game polished them up and if the game population was a bit larger. The game has a 'Baby Park', where players can actually walk around outside of their karts and communicate with other players. It's like a social virtual world where players can just walk around and have fun. As is, players can only walk around, buy items, and participate in an occasional event, but that's about it. I'd love to see Alaplaya expand on this feature and create a 'social' MMO experience for players that want to kick back and relax after a few rounds of racing. I doubt this will ever happen, though, as the game currently has a tiny population and it most likely isn't worth the development costs for Alaplaya. One other 'innovative' feature I discovered in Come on Baby is the game's minigame mode, which is a series of fun games outside of the game's main racing component. Unfortunately, since the game has such a small population, it's almost impossible to find people to play with. I do applaud Come on Baby for these two unique features, but the game just doesn't attract a large enough playerbase to be worth playing.
Final Verdict – Fair
Come on Baby is a comedic, light-hearted racing game with a weird baby theme to it. If you don't mind the unusual cartoony baby theme, Come on Baby is worth checking out if you're willing to wait a few minutes to find a game. The game's biggest drawback is its very low game population, as at times there are only three or four players online.

Screenshots
Come On Baby Screenshots
Videos
Come On Baby Videos
Come on Baby Gameplay Video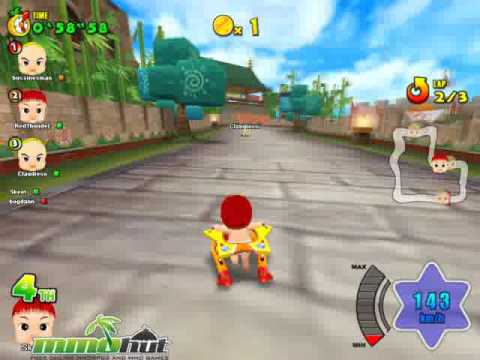 Come on Baby Racing Video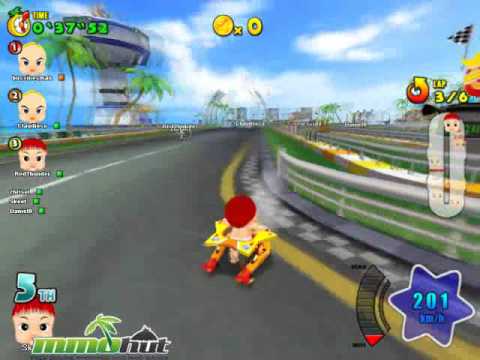 Come on Baby Racing Video 2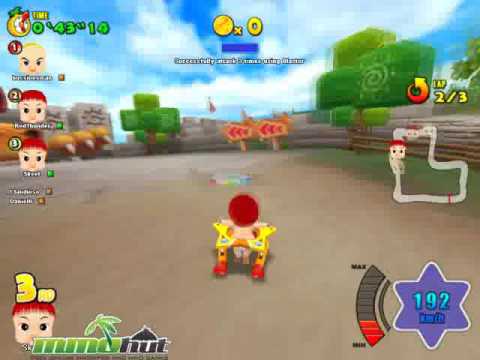 Come on Baby Item Shop Video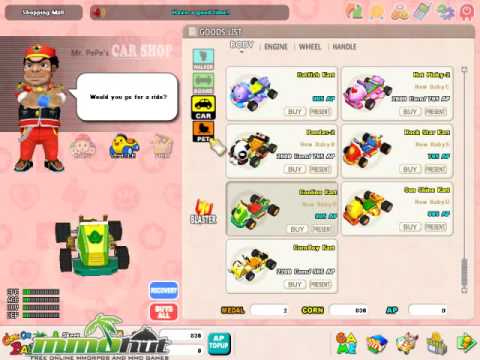 Come on Baby Tracks Video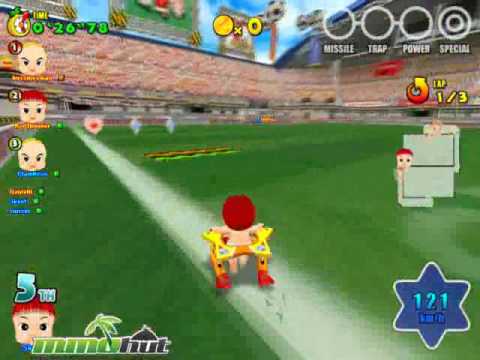 Links
Come On Baby Links
System Requirements
Come On Baby System Requirements
Minimum Requirements:
OS: Windows 2000 / XP / Vista / ME
CPU: 800 MHz Pentium 3 or equivalent AMD processor
RAM: 256 MB Free
HDD: 600 MB Free
Graphics Card: Nvidia Geforce 2 MX 400
Recommended Specifications:
OS: Windows 2000 / XP / Vista / ME
CPU: 1.4 GHz Pentium 4 or equivalent AMD processor
RAM: 512 MB Free
HDD: 1.0 GB Free
Graphics Card: ATI Radeon 9000